Looking for Wyoming restaurants that offer outdoor dining? The seemingly endless sunny days of Wyoming summer and early fall are the perfect time to take advantage of restaurants and eateries with beautiful outdoor seating. Laramie has a fantastic selection of restaurants, food trucks, coffee shops, and more with great outdoor seating options.
10.
Coal Creek Coffee
Coak Creek Coffee Downtown (photo credit Coal Creek Coffee)
Coal Creek Coffee has not just one, but two great locations with outdoor seating. Located in UW Plaza, Coal Creek Coffee Uptown is within easy walking distance of the University of Wyoming. Coal Creek Coffee Downtown is right in the heart of downtown Laramie. Both locations offer a variety of delicious coffees, teas, pastries, sandwiches, soups, and even pizza. Coal Creek Downtown also features the adjoined Coal Creek Tap for craft beer, cocktails, and wine.
9. Turtle Rock Coffee and Cafe
Turtle Rock is another local favorite. This inviting cafe is located on 9th Street, directly across from the University of Wyoming. The cafe offers wonderful coffees, smoothies, sandwiches, soups, and more on their charming patio area.
8. McAlister's Deli
Also located in UW Plaza, McAlister's Deli is a great place for fresh salads, comforting soups, and a huge assortment of sandwiches. They also serve "giant spuds" topped with a variety of savory options. Additionally, they have delicious cookies and amazing sweet tea, not to mention a great kids' menu. Download their app for convenient ordering.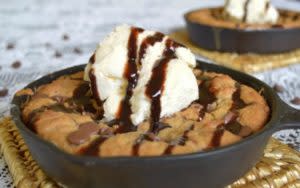 Skillet Cookie for Dessert (photo credit Roxie's on Grand)
7. Roxie's on Grand
Roxie's is another wonderful downtown option. This bar and restaurant recently added outdoor seating. They have tons of delicious entrees, desserts, and drinks, but their weekend brunch with bottomless mimosas deserves special mention.
6. Sweet Melissa Vegetarian Café
Sweet Melissa has recently added an open-air seating option right along First Street. Check out their sweet potato burrito, lasagna, and other vegetarian and vegan fare, with fantastic tastes to satisfy any omnivore too.
5. 17th Street Cafe
The 17th Street Cafe is a tasty little cafe located a few blocks from the University of Wyoming. With a shady outdoor seating area, 17th Street Cafe is the perfect place to enjoy breakfast or lunch. They have delicious burritos, pancakes, and breakfast skillets.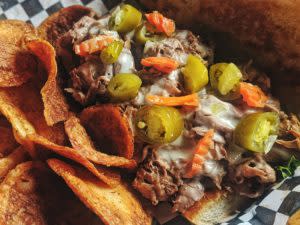 Italian Beef Sandwich (photo credit Born in a Barn)
4. Born in A Barn
Also located downtown, Born in A Barn has a wonderful "backyard" area to enjoy delicious and unique pub fare. Their wings have been called the "best in town." However, they also have a full bar and an array of delicious burgers and sandwiches, as well as frequent specials. The Italian Beef Sandwich is a definite "must try."
3. The Library Sports Grille & Brewery
A true Laramie classic, The Library has great appetizers and entrees ranging from pizza and burgers to pasta and salads. They also have local craft brews and a full bar. Some menu favorites are the fried mac and cheese bites, "frickles" (fried pickles), pub steak, and sweet potato fries.
2. Wyoming Rib & Chop House
Located near the University of Wyoming Campus, Wyoming Rib & Chop House is a great place for appetizers, steaks, burgers, pasta, and more. Their covered patio is a wonderful spot for al fresco dining. Favorites include the Baseball Cut Top Sirloin, Baby Back Ribs, and Fried Green Tomatoes.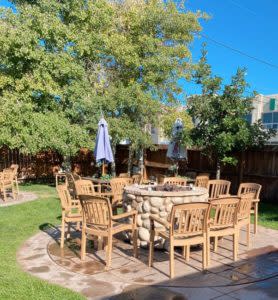 Gather around a fire pit at Alibi (photo credit Alibi Wood Fire Pizzaria & Bakery)
1. Alibi Wood Fire Pizzaria & Bakery
Alibi recently underwent a remodel that added a front patio area to their outdoor dining offerings. They also have a beautiful backyard area complete with firepits. Alibi specializes in artisan pizzas, sandwiches, and baked goods. They have a full bar with amazing and unique cocktails. The "Backyard Mule" is the perfect adult beverage to accompany the delicious and fresh fare.
Food Trucks 
Laramie has several wonderful food trucks to choose from. These trucks can often be found downtown, at the two farmer's markets, and many other locations around town. Follow them on Facebook to find out where they will be next.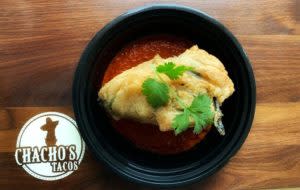 Poblano Pepper stuffed with Roasted Cremini Mushrooms and Cotija Cheese (photo credit Chacho's Tacos)
Chacho's Tacos
Chacho's Tacos cooks up not only a variety of mouth-watering tacos but also unique and flavorful dishes with a south-of-the-border flair. For something out-of-the-ordinary and delicious, Chacho's Tacos is a great option. Follow Chacho's Tacos on Facebook.
Bear Bait Grill
Bear Bait Grill has a rotating menu of burgers, brisket, loaded fries, and more. Their savory concoctions are sure to satisfy. Find the Bear Bait Grill on Facebook for more information.
Curry Time
Garlic Naan and Chicken Kabab (photo credit Curry Time)
A relatively new addition to the Laramie Food Truck scene, Curry Time will not disappoint. They specialize in authentic Indian food. For spicy, flavorful, and exceptional food, try Curry Time.
Weitzel's Wings aka Double Dubs
For delectable wings and other yummy chicken offerings, look no further than Weitzel's Wings aka Double Dubs. This Double Dubs has been operating in Laramie for years, and they never disappoint.
On the Hook Fish and Chips
On the Hook has line-caught Alaskan cod fried to crispy, golden perfection. Their fish and chips are a true treat. Check out On the Hook on Facebook.
---
Sweets, Treats & Beverages with Outdoor Seating
---
These awesome local spots are not exactly restaurants, but they still offer wonderful treats and beverages in an open-air setting.
Bond's Brewing Company
Bond's Brewing has locally brewed beers in an array of interesting flavors—try the Rhuberry! They have a patio area, are near Hollyhock Commons, and frequently have food trucks parked outside. They also often have bingo, music, and other fun things happening.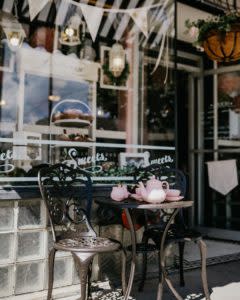 Tea for Two (photo credit Sugar Mouse Cupcake House)
Sugar Mouse Cupcake House
When you need a sweet treat, Sugar Mouse is a great place to go. Sugar Mouse features out of this world cupcakes, ice cream, tea, scones, and more. They even have gluten-free cupcakes. The adorable window displays, fancy china, and pink interior make Sugar Mouse a magical little sweet shop.
Night Heron Books & Coffeehouse
Night Heron has a great coffee menu, of course, but they also have wonderful baked goods. Try one of their delicious quiches, scones, or muffins. Looking for gluten-free and vegan choices? Night Heron has that too.
The Lodge
Power Tea and Protein Donuts (photo credit The Lodge)
The Lodge is a newer addition to Laramie and is very unique in its offerings. They are a coffee shop, but not in the traditional sense. Their menu is centered around health and wellness. All of their coffees, teas, shakes, and baked goods are packed with protein and other vital nutrients. They even have Wellness Coaches to help you with nutritional mapping and goals. For easy ordering, download their convenient app.
Undoubtedly, Laramie has wonderful restaurants and eateries with delicious food and beautiful outdoor seating. What better way to take advantage of the beautiful summer and early fall weather than trying one of these amazing options?
You might also like these posts: Best Places to Eat Lunch in Laramie, Top Five Restaurants in Laramie, and The Best Restaurants for Kids in Laramie.
Note: Leah Veinbergs is an independent writer and the author of the blog Two Little Time. She is contracted by Visit Laramie. Views and opinions expressed here are her own and do not reflect those of the Albany County Tourism Board.