Boasting some of the country's best snowmobile territory, the mountains of the Snowy Range in southeastern Wyoming are a superb destination for all levels of riders, from the very beginner to the advanced. The Snowy Range is located about 30 miles west of Laramie, Wyoming, and earns points from snowmobilers for being both scenically beautiful and vast while also offering plenty of amenities. Plus, visitors get all this without the crowds common to other snowmobile destinations in the Rocky Mountains.
My wife and I recently tried our luck with snowmobiling for the first time. This experience, coupled with conversations with more experienced riders, has given us valuable insight into what beginners to the sport should know.
---
Ride With Experience
---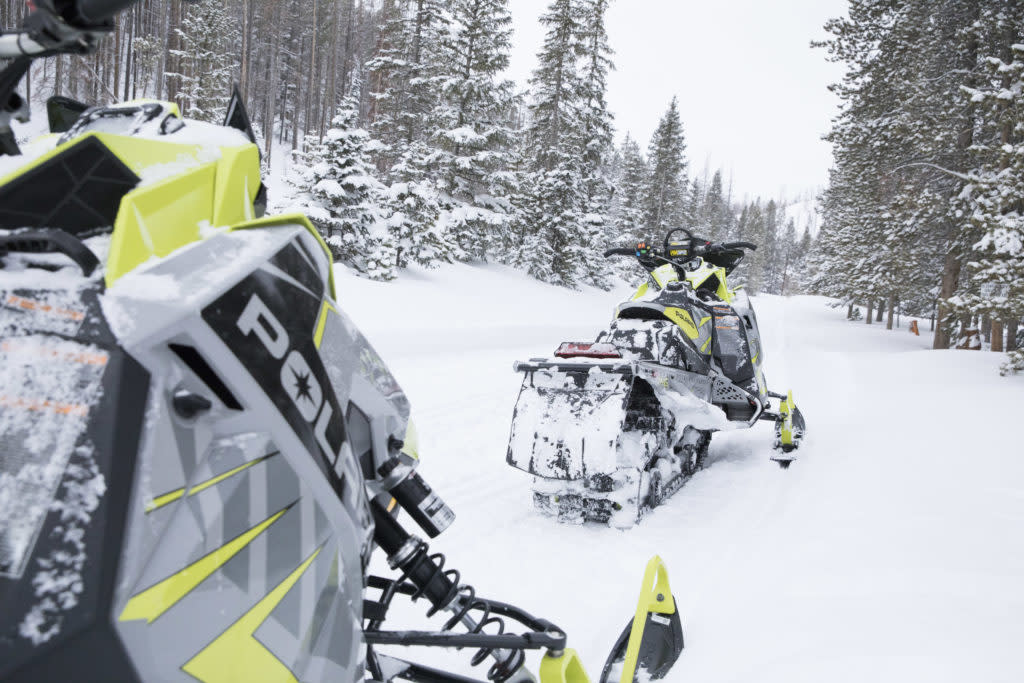 If you have never snowmobiled before, you should definitely make sure that your first trip out is with someone who has a fair amount of experience. This could be in the form of an experienced friend, but a guide who is trained to teach beginners is perhaps the best choice.
Fortunately, Albany Lodge offers snowmobile tours and classes headed by professional guides who have been certified through Polaris Adventures, a world-renowned company that prides itself on offering safe, memorable adventures. Albany Lodge is located in the foothills of the Snowy Range and offers easy access to hundreds of miles of groomed and marked snowmobile trails, as well as access to spectacular backcountry territory.
Never having sat on the seat of a snowmobile, my wife and I were exceptionally thankful to have a guide by our side on our first time out. The guide at Albany Lodge was able to answer all our questions and put our minds at ease. With a guide, we knew would be safe, stick to trails suitable for our level, and have a more enjoyable time.
---
Dress Warm (Seriously!)
---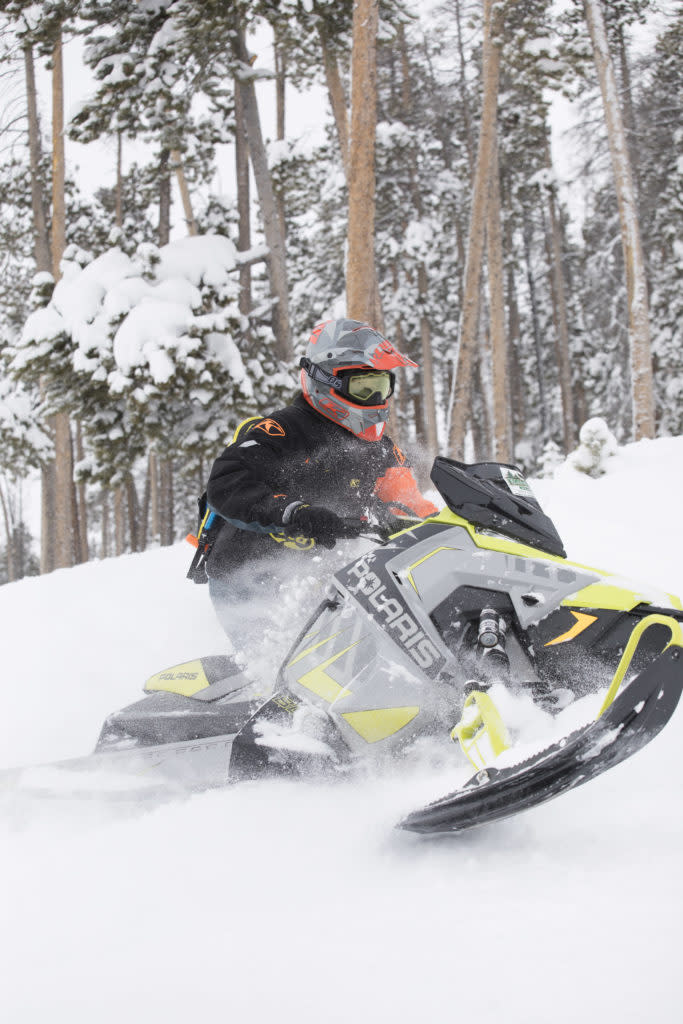 While it seems obvious to remark that participants of winter sports should dress warm, the point we're making here is that snowmobiling requires warmer clothing that you might be used to, especially if your previous experience with winter sports falls into the non-motorized camp.
As fans of snowshoeing and cross country skiing, I'll admit that my wife and I were not completely prepared for how cold snowmobiling can get if you fail to dress the part. While we did up our game knowing we wouldn't be generating much body heat through movement, we could have done better.
Layer it on, and don't skimp on quality. Start with a well-fitting base layer, such as thermal underwear, that will pull moisture away from your body and keep you dry. From there, put on snow pants or similar water-resistant, insulated pants, and then go for a mid layer such as a fleece jacket. Your top layer should be a quality outerwear jacket that is both water and wind resistant.
Keep in mind that any exposed skin will get very cold as your machine rushes through the trail, so cover it all up. Protect your face with a buff or face mask, and make sure you have insulated, waterproof footwear and an insulated helmet. Air-activated hand and toe warmers might also come in very handy!
So long as you dress well, you will stay warm, dry, and therefore safe. You can then fully focus on getting the most of your outdoor experience.
---
Wear Gloves, Not Mittens
---
Why? I would have asked the same question before my first trip out. However, as I was gliding down the trail, it became obvious that snowmobile etiquette requires the use of gloves, not mittens. Every time we passed a group of other snowmobilers, each rider would signal with their fingers the number of riders who remained behind them. A closed fist indicates that you are either a solitary rider or the end of a party. This hand-signal system helps everyone stay safer, especially around narrow or blind corners. You can bet that my wife and I felt a bit like jerks when we couldn't reciprocate the gestures (alas, we wore mittens.)
---
Maintain Your Bearings
---
Many snowmobilers find joy in the sport because it allows them to reach remote destinations that would otherwise be unattainable. Snowmobiling also allows you to get to these destinations fairly quickly, which means that it is important to maintain your bearings and bring a map, particularly if you aren't riding with a guide.
---
Be Extra Prepared
---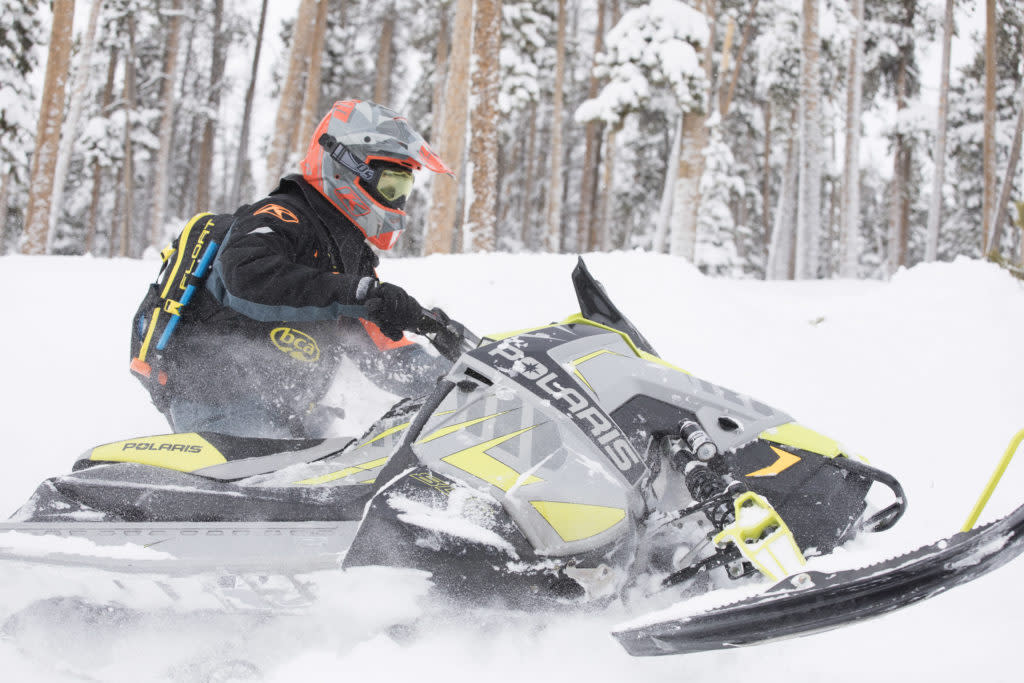 Planning for the unexpected and keeping safety at the forefront will make your snowmobiling adventure more enjoyable, as with any outdoor experience. While snowmobiling is a relatively safe activity, riders do face several potential hazards. Exposure, avalanches, getting lost, getting stuck— these are just some of the dangers that riders may face.
As such, always pack additional supplies. This means extra food and water and a few emergency supplies such as space blankets and fire starters. It is also wise to bring a shovel for digging your snowmobile out in case you or someone in your party gets stuck (hey, it happens.)
---
Be Assertive, Smart, and Have Fun!
---
If you don't feel comfortable going down a certain path or if something doesn't look or feel safe, don't be afraid to assert yourself. Also remember that snowmobiling is not a competition, and everyone is out there to have fun. You may want to push your personal limits a little, and that is okay, but be sure to do so wisely and to focus on building a solid foundation of basic skills.
For more on snowmobiling, check out our blogs, "A Guide to Snowmobiling near Laramie, Wyoming" and "The Premier Snowmobiling Destination in Wyoming."
Note: Brian and Dani Harrington are independent writers contracted by Visit Laramie. Views and opinions expressed here are their own and do not reflect those of the Albany County Tourism Board.