The mountain biking around Laramie, Wyoming is among the best you can find anywhere. Single-track trails leave right from town, and within a short drive's time, you can access more miles of trails than any one person deserves. Before you hear from the locals about their favorite trails, I'll briefly introduce the main areas for mountain biking around Laramie.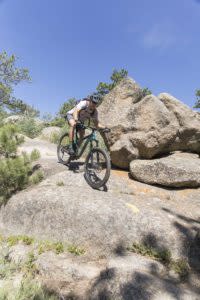 Mountain Biking in Vedauwoo
Located halfway between Laramie and Cheyenne on Highway 210 / Happy Jack Road, Curt Gowdy State Park boasts 35 miles of amazing mountain biking trails for all skill levels. The park is well-known to mountain bikers from all over the country. I've been riding here for years and have always enjoyed the "play areas" where riders can climb and descend massive granite boulders.  
Another great area for mountain biking is Happy Jack Recreation Area, about 12 miles to the east of Laramie. Notable in this area are flowing, at times technical rides through dense and beautiful aspen and pine forests. 
You can also find a few great trails in the Snowy Range Mountains, which are located about 35 miles to the west of Laramie. Departing from the Green Rock Trailhead, the Barber Lake Trail is one of my favorites and descends for more than six miles. My preferred method is to shuttle to the top and enjoy the endless downhill, but a more intrepid rider might choose to brave the ascent for an awesome workout.
The Schoolyard earns points not only for great trails, but also for its extreme convenience. The parking area is literally in a Laramie neighborhood! The Schoolyard is leased by a local nonprofit, Laramie BikeNet, and is managed to bring safe, convenient, and fun mountain biking to Laramie. 
If all this weren't enough, the City of Laramie is currently in the process of securing an additional 5,500 acres of public land at its eastern boundary. Known as the Pilot Hill Project, this is a publicly-driven initiative to acquire land and keep it free from development indefinitely. Once completed, Pilot Hill will connect single-track trails at the top of Pilot Hill directly to Laramie neighborhoods. But don't try it out just yet—the project is still ongoing and accessing it now would be trespassing. You can check on the progress of the Pilot Hill Project here. 
And now, let's hear from a few Laramie locals about their favorite mountain biking trails:  
---
Laramie's Best Mountain Biking Trails
---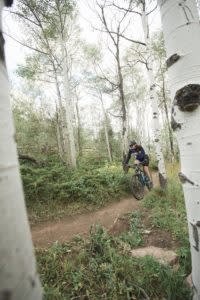 Mountain Biking at Happy Jack
"My favorite trails right now are on the schoolyard. I love the easy access to the community, it makes biking so convenient. If you are thinking about riding in Laramie, start with Lunch Lady on the Schoolyard. It will make you smile." - Dewey Gallegos - Owner of the Pedal House Bike Shop
"El Alto. The best!" - Jeff Smith - Laramie Local
"My favorite place to ride is headquarters trail in pole mountain. The views you get of the mountains are insane. The flowy and techy sections make it really fun on the bike!" - Jim Fried - Director of the Wyoming Conservation Corps
"So my favorite place to ride is the Schoolyard east of town, which is state land currently leased by Bike Net. Over the past few years a ton of new trails and features have been built here. I can get to it within minutes of my house. Once the [Pilot Hill] Land purchase goes through it will be a great place where we can have access to happy jack without driving up the summit. I think if you were visiting from out of town it would be amazing because you can ride for a few hours and then hit up one of the local restaurants or coffee shops for a bite and then ride again. It's also super close to the Pedal House, so if you break something or forget your riding shorts you can make a quick stop there and get you back in the saddle." - Abby Lozano - Laramie Local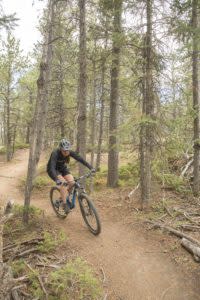 "When I get a chance to take a ride it is almost always on Stone Temple. It has great flow and enough technical terrain to keep me coming back." - Patrick Harrington - Superintendent of Curt Gowdy State Park
"My favorite place to ride is on the School Yard trails adjacent to the new Pilot Hill annex. Great place to take my kiddos and we can ride there from home" - Britt Thompson - Laramie Local
"My favorite trail is the new descent on Aspen trail at Happy Jack Recreation Area. It's got fast, flowing single track with just a little bit of tech and some fun corners." - Bob Lefevre - Laramie Local
"My favorite place to ride is Happy Jack because it has options for everyone, great views, and you can camp nearby. There is a large effort underway to fix some of the old trails so they are getting better every year!" - Evan O'Toole - Laramie Local
"My favorite place to mountain bike is Happy Jack. My favorite trail at Happy Jack is either Aspen Trail or Haunted Forest because the scenery is beautiful and the trails are fun yet challenging" - Dan McCoy - Laramie Local
"My favorite trail to ride is the headquarters trail - the section on the way to the top of Browns Landing. There's something about the forest in there and the way the trail moves through it that is always exciting to me." - Emily Siegel - Laramie Local
"The Stone Temple Circuit at Gowdy is an awesome trail to practice because there are great "alternates" and play areas to try out as your skills progress. Then at Happy Jack, I love Aspen because of the tight turns through the trees and it also received the most recent face-lift and that always improves the trail." - Lindsay Olson - Owner of Atmosphere Mountainworks
You may also enjoy some of our other blogs, "Epic Mountain Biking at Curt Gowdy State Park," "Local Favorites – Laramie Area Hiking Trails" and "5 Must-See Summer Destinations in Albany County."
Note: Brian and Dani Harrington are independent writers contracted by Visit Laramie. Views and opinions expressed here are their own and do not reflect those of the Albany County Tourism Board.