The Snowy Range Mountains and Medicine Bow National Forest, located just 35 miles west of Laramie WY, are wonderful places to visit any time of year. With breathtaking views, amazing wildlife viewing, great fishing, and fantastic outdoor activities for all seasons, it is the perfect place to plan your next vacation.  
Throughout the winter months, the "Snowies" are home to world-class snowmobiling, skiing, snowshoeing, and other winter sports. Come spring, the mountain meadows explode with wildflowers and animal life. Summer is the perfect time for fishing, boating, hiking, and picnicking. In the fall, the mountainsides are bathed in autumn gold and there is ample opportunity for hiking, fishing, and hunting. There is something for everyone in the Snowy Range and there are just as many ways to stay!  
Old Corral Hotel & Steakhouse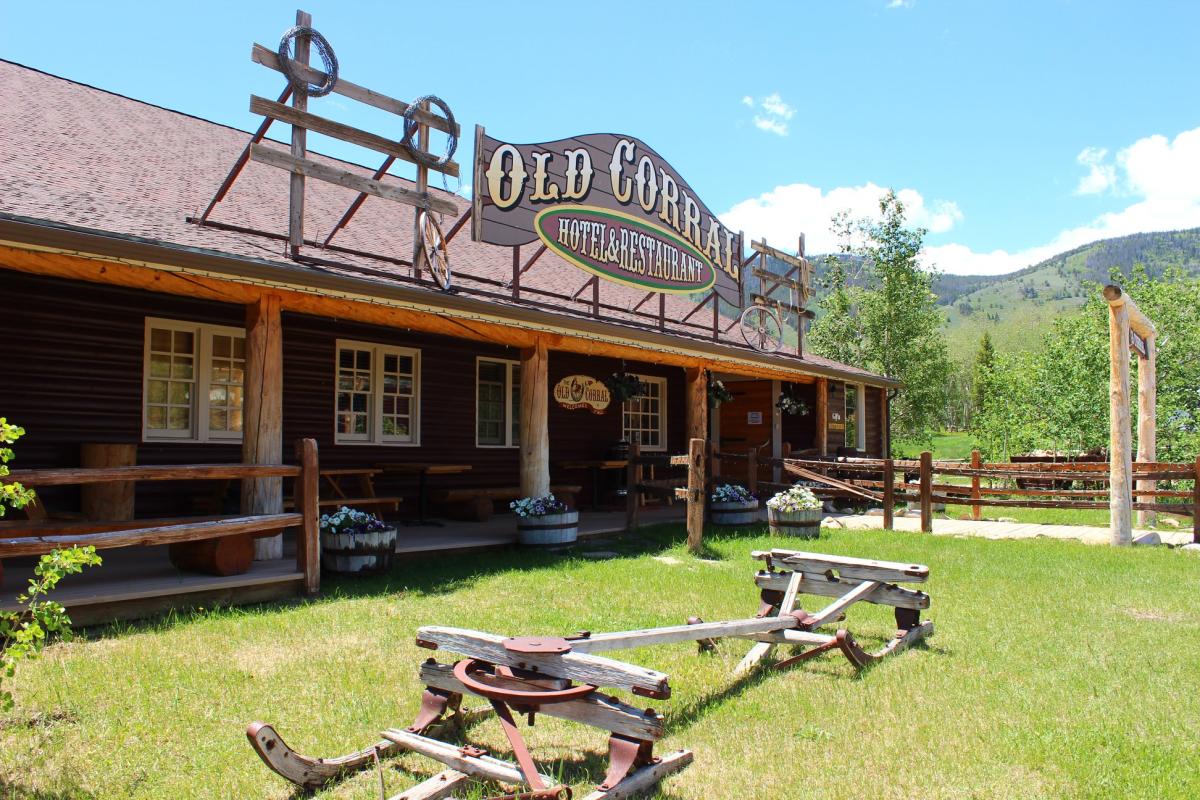 The Old Corral's beautiful and rustic front porch (photo credit The Old Corral Hotel & Steakhouse)
The Old Corral Hotel & Steakhouse is located in the small mountain town of Centennial. The Old Corral offers hotel rooms with a variety of configurations to accommodate both individuals and families. Rooms have TV, Wi-Fi, mini-refrigerators, beautiful log furniture and décor, and stunning mountain views. The on-site steakhouse, which has amazing food, and the proximity to other restaurants and shops make this an extremely convenient and comfortable place to stay.
For more lodging in Centennial, click here.
Brooklyn Lodge 
A short distance west of Centennial, on Highway 130 (Snowy Range Scenic Byway), is the historic Brooklyn Lodge. Originally built in 19922-1923, Brooklyn Lodge is on the National Register of Historic Places. The lodge sits in a lovely meadow surrounded by towering pines and stunning views. The rustic log building exudes historic charm inside and out, from its full-length covered porch to its cozy guest bedrooms. Brooklyn Lodge is operated as a bed and breakfast, vacation rental, and wedding venue. Guests can stay in one of two cozy and private guest rooms (the bathroom is shared) and enjoy a delicious home-cooked breakfast provided by the proprietors, or they can rent the entire facility to accommodate groups of up to 12. 
Mountain Meadow Cabins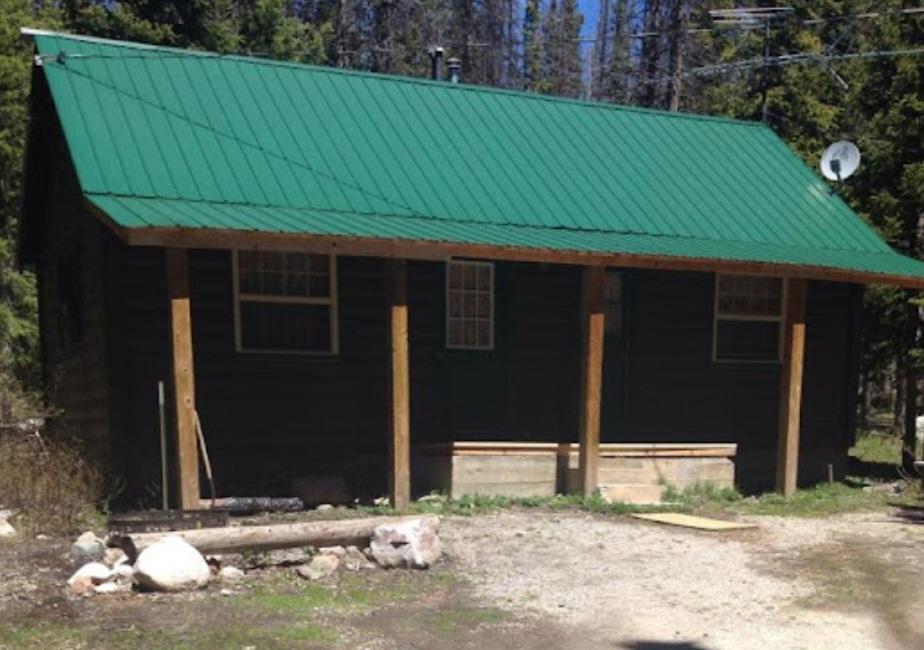 Cabin at Mountain Meadow Cabins (photo credit Mountain Meadow Cabins)
Another great place to stay is the Mountain Meadow Cabins. This charming mountain resort is also located off Highway 130 near Centennial. Mountain Meadow Cabins consists of several picturesque cabins with beautiful views of Medicine Bow National Forest. Each cabin is equipped with a bathroom and a kitchen. The cabins vary in size and number of bedrooms and can accommodate from two to six guests accordingly. Amenities include TVs with satellite TV, VHS or DVD players, dishes, and basic supplies like towels, linens, and soaps. 
Albany Lodge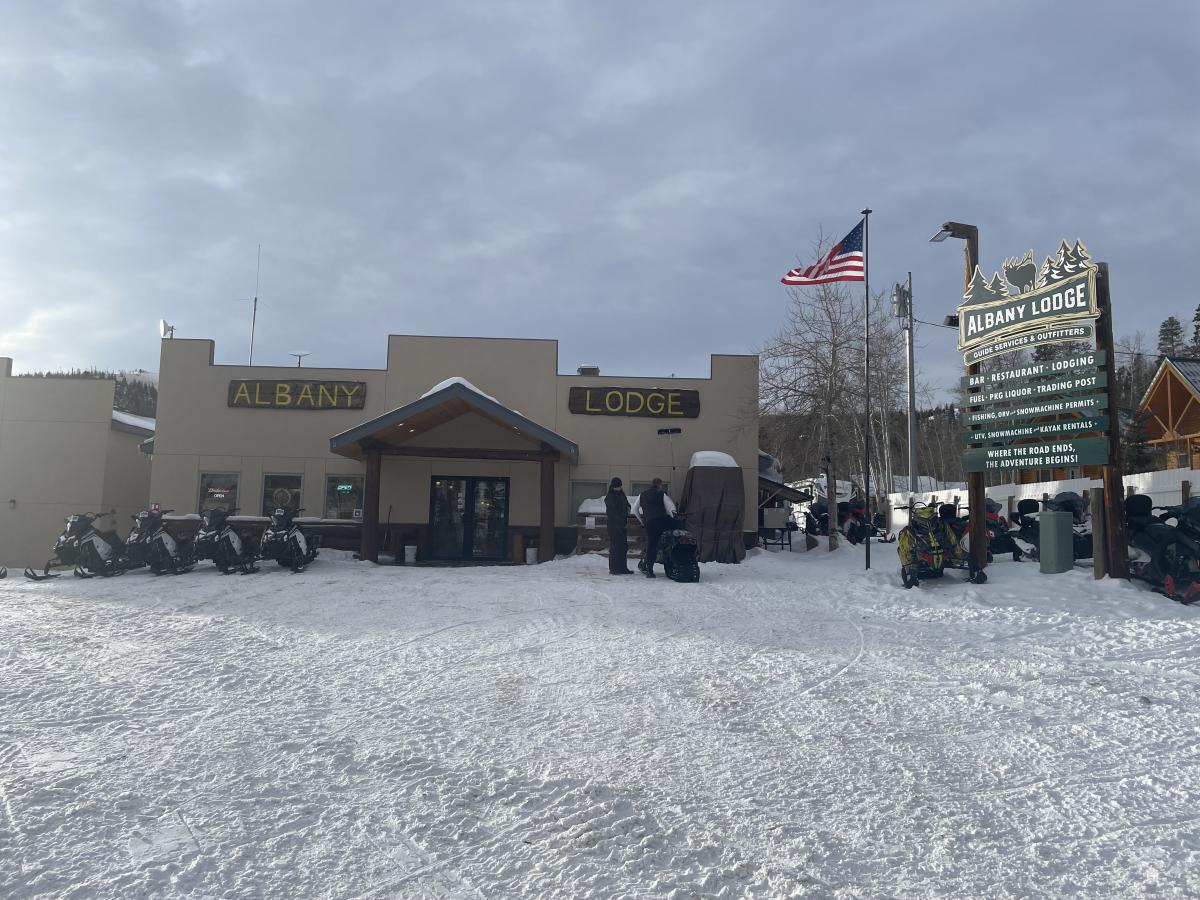 AA Mecca for Snowmobilers (photo credit Albany Lodge)
South of Centennial on Highway 11 is the tiny community of Albany and the Albany Lodge. This beautiful retreat is nestled right at the foot of the mountains and is an excellent base from which to explore them. The Albany Lodge consists of a hotel and several cabins to suit a variety of group sizes, as well as a full-service restaurant and bar. In addition to great food and lodging, the Albany Lodge also offers snowmobile, UTV, and kayak rentals. Guests can also schedule guided UTV or Snowmobile tours. 
Aspen Creek Cabin 
Aspen Creek Cabin is a beautiful three-unit cabin located near Albany. These modern accommodations are equipped with full bathrooms, kitchens, and multiple sleeping areas and bedrooms. The individual units can accommodate from four to eight guests. Amenities include satellite TV, DVD players, grills, fire pits, and Wi-Fi (additional charge). One unit, Moose Lodge, even has a jacuzzi tub. This is a mountain getaway with all the comforts of home. 
Claimed Cabins of Keystone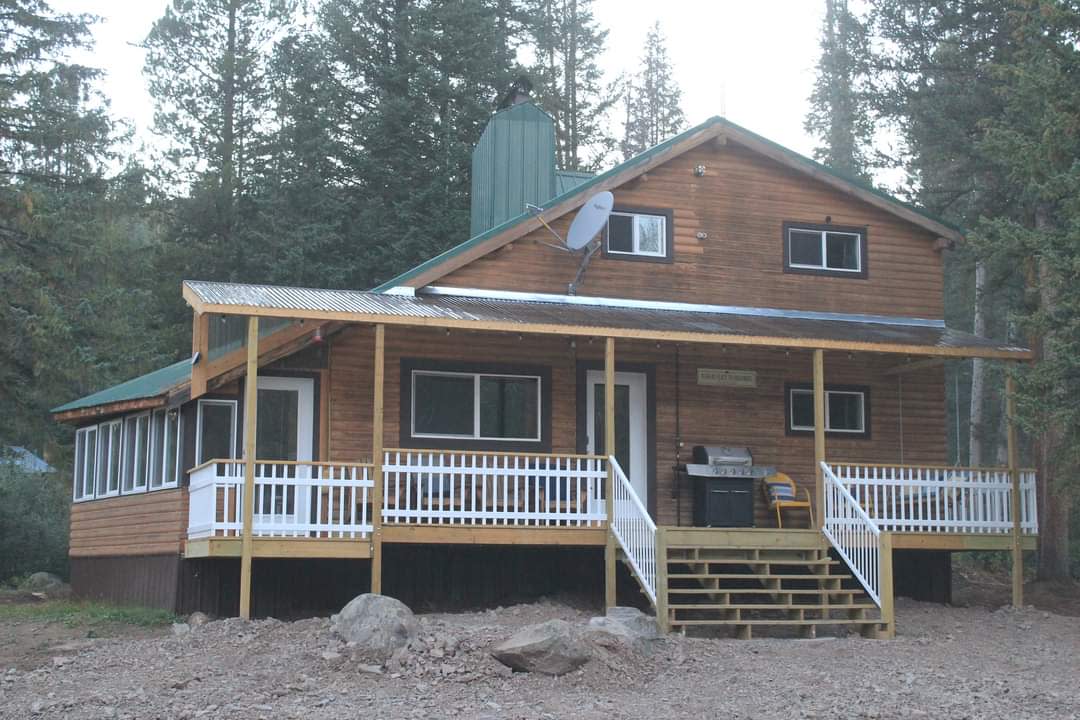 The beautiful "Barker Cabin" (photo credit Claimed Cabins of Keystone)
Claimed Cabins of Keystone currently consists of one beautiful cabin in the exceptionally quaint mountain community of Keystone. The "Barker Cabin" is gorgeous, nestled deep in Medicine Bow National Forest on Douglas Creek, this cabin is only accessible by snowmobile or tracked vehicle during the winter months. Barker Cabin is the perfect place to relax after a busy day exploring the Snowy Mountains. Recharge in front of the stone fireplace, or drink in the tranquility of nature from the three-season porch. The Barker cabin is tastefully decorated and consists of three comfortable bedrooms, one full bath, laundry facilities, and a full kitchen. It also includes a propane grill, free Wi-Fi, and a selection of games, puzzles, and movies.  
Woods Landing Resort 
Southwest of Laramie on Highway 230, near the Wyoming/ Colorado border is Woods Landing Resort. Woods Landing consists of a bar and café, a dance hall, a general store, several guest cabins, and RV sites. The cabins range from the Rustic Cabins, which offer single rooms and no running water (there is a bath house available) to the three-bedroom River Guest House, which features a full kitchen and bath. All of the cabins are clean and comfortable and perfectly nestled among the cottonwood trees along the Laramie River. One of the most interesting aspects of Wood's Landing is the Woods Landing Bar and Café (and dance hall). The hewn log building is on the National Register of Historic Places because of its unique construction and spring board dance floor.
U.S. Forest Service Cabins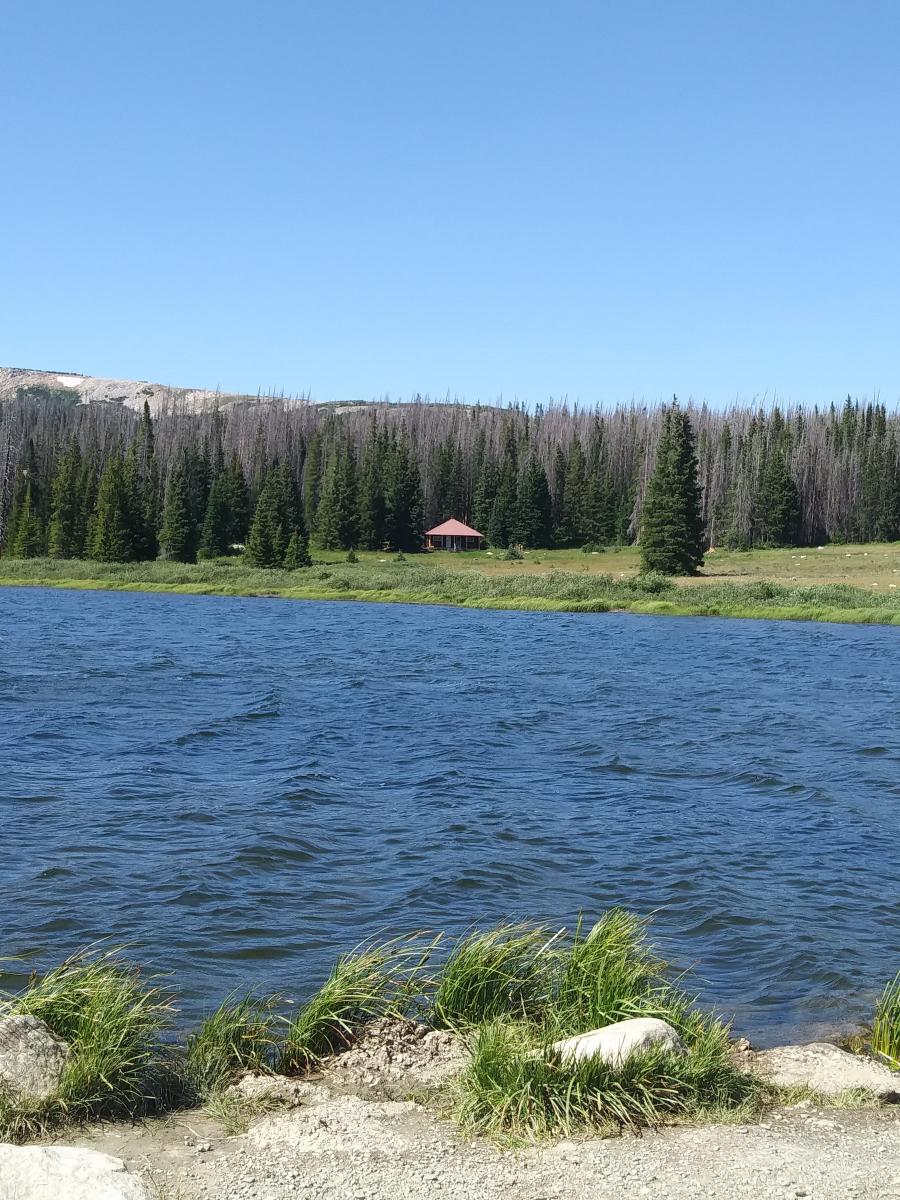 A view of Little Brooklyn Guard Station from across Little Brooklyn Lake (photo credit Leah Veinbergs)
The U.S. Forest Service also has several cabins available for rent in Medicine Bow National Forest. These cabins are generally more rustic, and most do not have running water or flush toilets. They accommodate between two and eight people. Some are also closed during the winter season. Despite having more basic amenities, the Forest Service cabins provide breathtaking views (one is a converted fire lookout tower) and amazing proximity to nature. They are also more budget-friendly than many other options. 
The Snowy Range Mountains and Medicine Bow National Forest cannot be adequately experienced in a single day. Stay a few nights in one of these wonderful accommodations and find out how truly amazing they are.