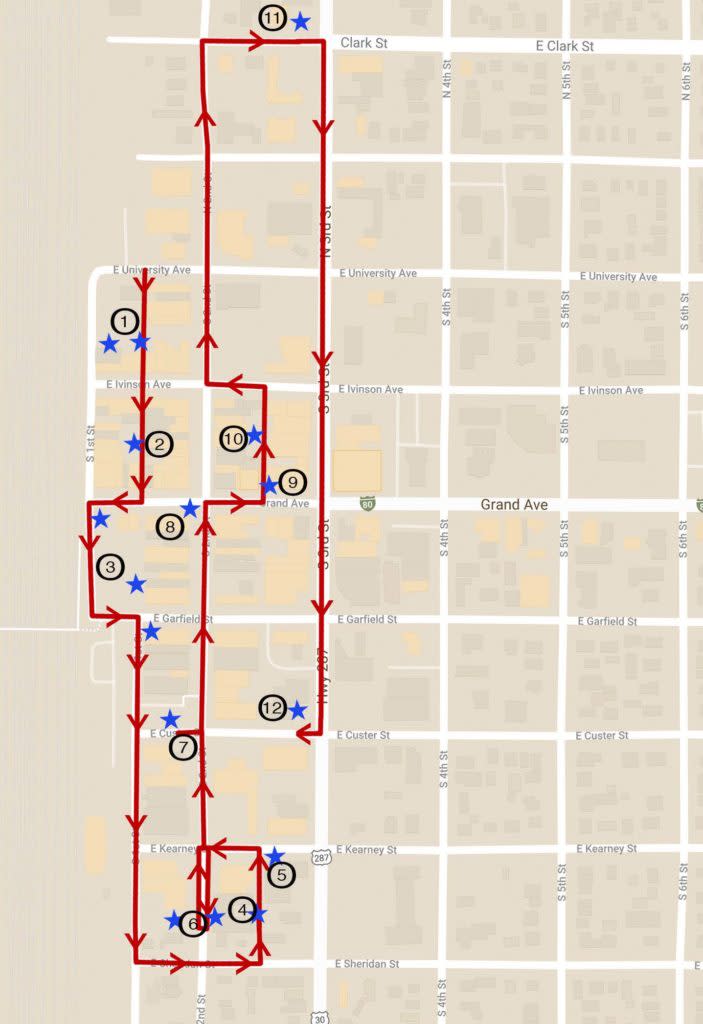 Map of the Mural Tour
---
We've gone back to the drawing board to re-imagine what it looks like to safely share our community with you during these times of social distancing. In this post we offer visitors a creative way to experience one of our favorite things about Laramie: The Laramie Mural Project. Starting in 2011 as a collaboration between the Laramie Main Street Alliance, University of Wyoming Art Museum, and, of course, artists, the Mural Project uses paint for placemaking and community building. Nearly 10 years since the first murals went up, Laramie is still adding murals. Follow this guide to visit the Laramie Mural Project from the comfort (and safety) of your car.
Menu
Stop 1 Stop 2 Stop 3 Stop 4 Stop 5 Stop 6 Stop 7 Stop 8 Stop 9 Stop 10 Stop 11 Stop 12 Bonus Stops
Stop #1
Pulling into the parking lot behind Big Hollow Food Co-Op, you'll be greeted by Talal Cocker's two-story mural titled "Tierra y Libertad." This mural was one of the first completed as part of the Laramie Mural Project.
Wrapping the corner of the building along the alley you'll also see Meghan Meier's "Grainery Grove," named after the beloved (but no longer in existence) Whole Earth Grainery, another original Mural Project mural.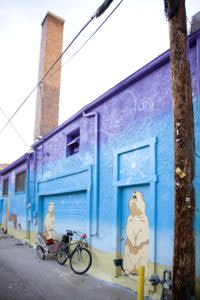 Stop #2
In the alley behind the Curiosity Shoppe you'll find a tribute to the most under-appreciated animal on the plains: the prairie dog. Painted by Jeff Hubbell and Lindsay Olson (owners of Atmosphere Mountainworks), this light-hearted mural is sure to bring a smile to your face.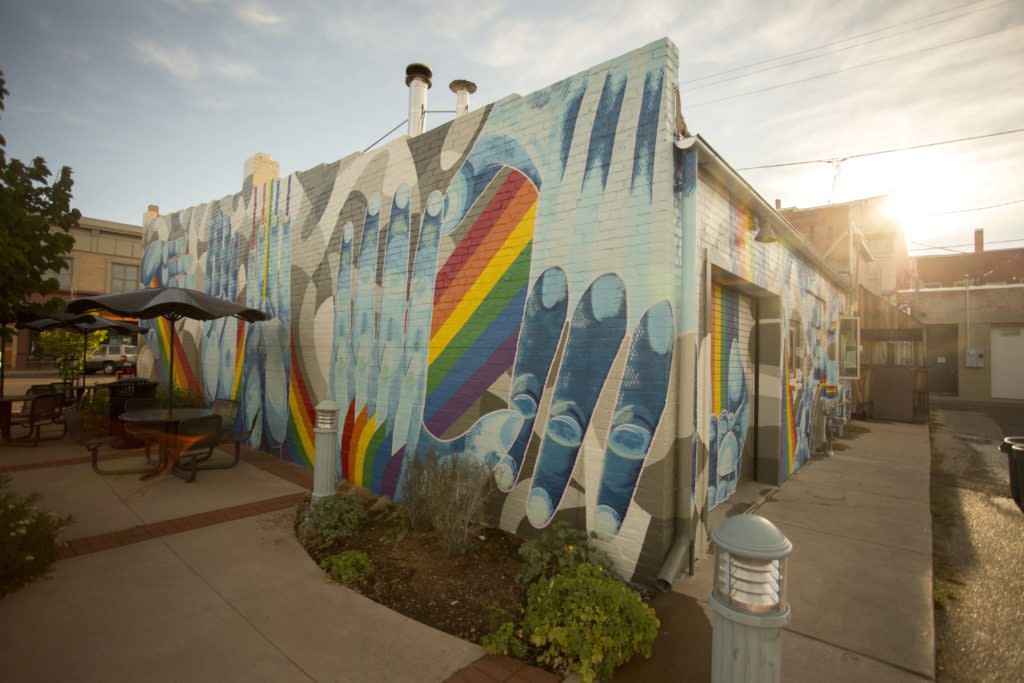 Stop #3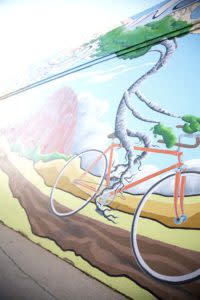 Stop #3 showcases one of Laramie's most lively murals. Gracing the walls surrounding the First Street Plaza, "Many Hands" by Meghan Meier earned its name not because it is composed of, well, many hands, but instead because it was painted by the many hands of our community. Meghan created this mural as a paint-by-numbers and invited anyone to join in the painting. You'll notice on the south side of this mural that the hands begin to morph into fish, leading you into the "Gill Street" mural.
Gill Street is a collaboration of the many talented artists of the Laramie Mural Project. In the summer of 2015, the original 12 fish were painted by 9 different artists. In 2017, the Project was able to secure more wall space to the north of the original mural (easily identified by the brick background). This addition to the Gill Street mural was completed by 14 new mural artists who had the support and mentorship of the more experienced artists. Choose your favorite fish - it's no easy task!
Finally, you'll meet Walter, the bicycle-riding aspen tree featured in the whimsical mural by Meghan Meier titled "Escape." Painted in 2012, this is still one of my favorites. The artist decided to leave some of the clouds unpainted to show the former condition of the building's exterior, contrasting these spots with the vibrant mural that is there now.
Stop #4
Tucked into a pocket garden behind the Laramie Downtown Clinic is a wrap around mural by Laramie mural artist Dan Toro. This community garden is open to the public and is a great place to have coffee or enjoy a picnic in the summer. The botanical artistry that surrounds the garden bends creates a wonderful sense of prosperity and community.
Stop #5
Just down the alley from the Downtown Clinic Mural is Travis Ivey's "Crossing Sherman Hill". This mural depicts the Big Boy Locomotive pulling a Union Pacific train over the Sherman Hills between Laramie and Cheyenne. It is especially eye-catching in the summer, when the plants and flowers that grow in front of the mural appear to be part of the painted landscape.
Stop #6
You'll need to double back for this stop to find both Adam Skadsen's mural on the side of the Downtown Clinic and Talal Cocker's "We Built the Dream Mural" Located in the parking lot of Napa Auto Parts.
Stop #7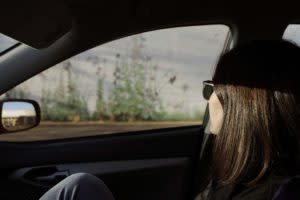 Hollyhock Haven by Travis Ivey brings summer to Laramie on a year-round basis. Depicting the highly-anticipated summer bloom of hollyhocks and referencing a natural history diorama, this mural also features a "Mr. Peanut" character in homage to Vince Arbour, a long time business owner and entrepreneur in downtown Laramie. Vince owned and operated the "Whole Earth Grainery" for 42 years and during many events he would dress up as "Mr. Peanut". Hollyhock Haven is especially lovely in the summer when the live hollyhocks that surround the mural are in bloom.
Stop #8
Though this mural of a mounted pronghorn by Dan Toro was a private commission and not officially a part of the Laramie Mural Project, it is well worth a stop.
Stop #9
As you enter the alley between 2nd and 3rd Street on Grand Avenue, you'll be greeted by a vibrant, abstract mural depicting racing pronghorn. Brought to you by Travis Ivey, this mural was also commissioned by the business owner.
Stop #10
This stop should be thought of as more of a slow-roll through the alley. The "Hidden Figures Alley" is a collaborative effort amongst a long list of artists to hide lesser-known local historic figures throughout the alleyway. Each figure is painted in black and white with only one element in color. Find figures like Caroline Lockhart, Sherman Sage, and the "Angels" from the trial for the murder of Matthew Shepard. Don't forget to look up!
Stop #11
In the parking lot of Hot Power Yoga you'll be welcomed by June Glasson's kaleidoscope mural, "Laramie". Completed in 2017, this was another mural painted largely through a community paint-by-numbers process. It has quickly become one of the most popular selfie locations in town.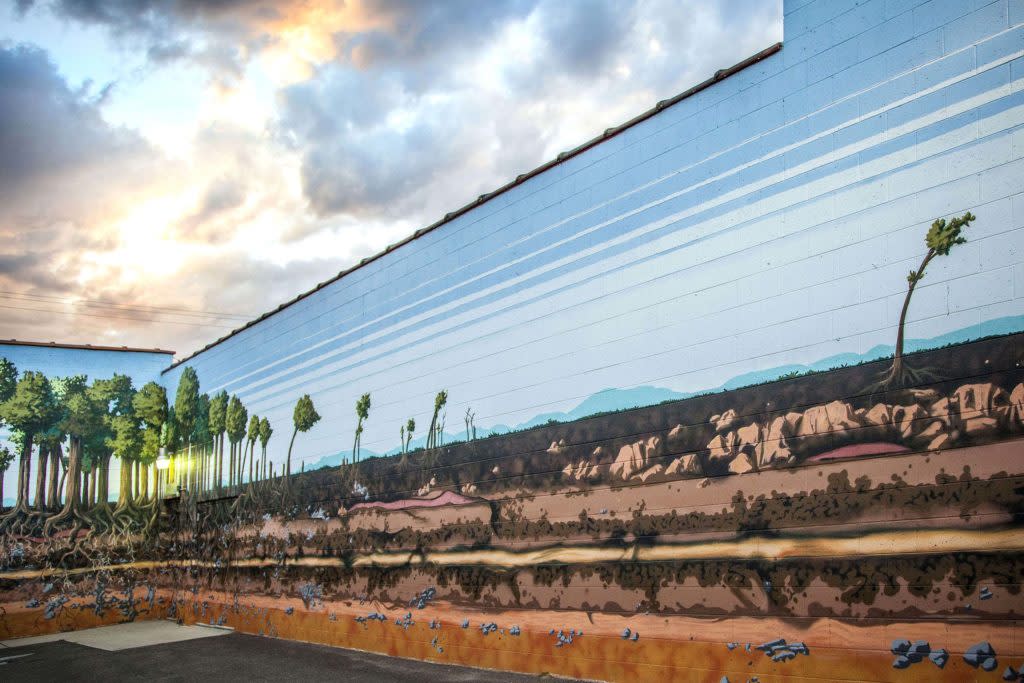 Stop #12
Completing your tour at Dan Toro's "Growth" feels to me like the best possible place to end. This mural speaks to the power of community and cooperation. These characteristics continue to be integral to the Laramie Mural Project's success. You'll notice that the trees grow smaller as they move away from the grove, representing the benefits of community for us all.
Bonus
Looking for more? There are murals and great public art all over Laramie. Give these 5 extra stops a try!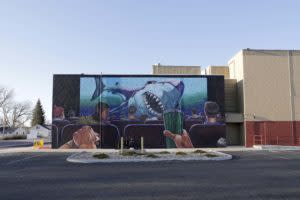 - The Laramie Free Wall, in the alley between 3rd and 4th and Custer and Kearney. This wall changes constantly as artists experiment. It's great to constantly be surprised by what you find!
- The Regal Fox Theatre - Dan Toro's mural shows famous movie characters watching JAWS.
- There is a great mural hidden on the side of a shop at 5th and Fetterman of Vedauwoo.
- The "File Folder" at the Labonte Skate Park. This is also a free wall and is always a great place to see something new.
- Moose Lodge Mural at 3rd and Custer. "A burden heavy to one is borne lightly by many". For more information:
For more on area murals, check out our Laramie Mural Page, or visit the Laramie Mural Project.
Note: Brian and Dani Harrington are independent writers contracted by Visit Laramie. Views and opinions expressed here are their own and do not reflect those of the Albany County Tourism Board.