Shopping in Downtown Laramie takes any ordinary shopping experience and elevates it to something special. Whether you are stopping by for a cup of coffee on your way to the mountains or buying a gift for just about any occasion, you can find what you need right here in Laramie. Shopping downtown brings you the joy of supporting small businesses and the simplicity of carefully curated shops. You get to enjoy a little exercise and fresh air while simultaneously evading the eye-strain of scrolling through online shopping sites.
Browsing Laramie's local shops is rewarding not only for what you can find but also for the experience of strolling through the Laramie Downtown Historic District. This district comprises the historic core of Laramie, which was founded in 1868 along the trajectory of the Union Pacific Railway. As you enjoy your time shopping, you also get acquainted with Laramie's wild-west and railroad-era history. You can download the walking tour brochure here, or pick up a physical copy at the Visitor Center at 800 S. 3rd Street.
---
Author's Favorites
---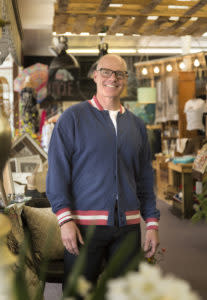 The Curiosity Shoppe
Honestly, I can't bring myself to choose a single downtown shop as my favorite. I am partial to many of them for different reasons, and simply put, I feel lucky to live in a town with as vibrant a retail scene as Laramie's, especially in this era of online shopping. As a community, Laramie has proven our commitment to buying from our neighbors and working hard to support one another.
As I considered choosing a favorite, I struggled between the Big Hollow Food Co-op, the Pedal House, Atmosphere Mountainworks, Chalk and Cheese, and frankly, about 10 other businesses. I will say that I end up visiting the Curiosity Shoppe just about every time I need to find a unique gift. This locally-owned gift shop has a large and constantly shifting selection of gifts for just about anyone in your life, and you'll always be greeted with a smile.
Now, let's hear from other Laramie residents about their favorite downtown shopping locations:
---
Local Favorites
---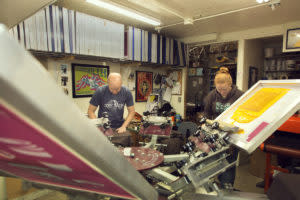 Screen Printing
"My favorite place to shop downtown is Night Heron because I can grab a coffee and browse for a new book." - Jordan Collingwood - Laramie Local
"Laramie's Basecamp is a wonderful spot to find unique outdoor gear, insider information about adventures, and to sign up for a number of different classes they offer. Atmosphere Mountainworks has the best jackets and custom outer layers I've ever seen. NU2U Consignment Shop always has a treasure you didn't know you even needed and Poppy's has the perfect gift to send to a friend plus the most beautiful flowers (I regularly pick up a $10 wrap of flowers from them to deliver to friends on their birthdays)" - Britt Thompson - Laramie Local
"One of my favorite places downtown is Art & Soul Pottery, of course! it is a great place to relax and paint pottery with friends and family!" - Caley Meyers - Laramie Local
"I love shopping at Basecamp downtown because they have great customer service!" - Kaley Holyfield - Laramie Local
"My favorite place to shop downtown is Poppy's! Every time I visit Rachel's shop, I am greeted with a smile from her friendly and welcoming staff. Her product lines are curated to perfection and her flower arrangements are unique and so unforgettable! Poppy's has a big place in my heart!" - Cassidy Biggs - Laramie Local
"My favorite place to shop in Downtown Laramie is the Herb House because they have the best selection of tea, and other items that you just can't find anywhere else." - Candice Pisciotti - Laramie Local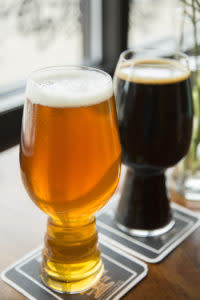 Seek out one of the 5 Microbreweries in the Downtown District
"Shopping local is easy in Laramie. Atmosphere Mountainworks is my go-to for outdoor gear, gifts, and handmade clothing. Big Hollow Food Co-op is a great spot for groceries or to grab a quick snack on your way through town. Sweet Melissa's and the Crowbar are my staples for going out to eat or to get a beer, but Cask 307 is quickly becoming a new favorite." - Rob Joyce - Laramie Local
"My go-to place to shop downtown for a gift is Poppy's! Not only do they create unique, modern, and beautiful flower arrangements, Poppy's has a huge selection of gifts for that special person in your life. From as simple as candy and cards, to jewelry, candles, perfume, and clothing. You can't go wrong shopping for a gift at Poppy's!" - Tanna Nagy - Laramie Local
"My favorite place to shop in Downtown Laramie is Night Heron Books & Coffee shop because they not only have great coffee and pastries they also have a whole collection of books to browse!" - Rine Kasckow - Laramie Local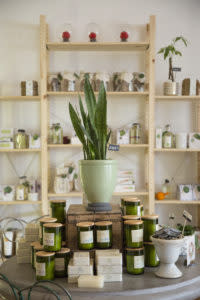 Poppy's Gifts
"One of my favorite places to shop in Laramie is Poppy's. I could spend hours in there because the store always looks and smells amazing! They have such a well-curated selection of clothing and jewelry and candles and lotions and etc. from different artists and small companies, and the flower arrangements that Rachel and her team put together are just gorgeous. I so recommend stopping at Poppy's if you visit downtown Laramie!" - Julia Obert - Laramie Local
"One of my favorite places to go in Downtown Laramie is Pairings at at Chalk n' Cheese because they have the best selection of specialty cheeses and wine pairings and the owner Misty is the sweetest. Their charcuterie boards are absolutely amazing!" - Haley Stebbins - Laramie Local
"My favorite place to shop in Downtown Laramie is The Herb House. They have a diverse selection of high-quality body and health care products. They offer the best selection of locally wildcrafted herbal medicines in the Rocky Mountain region. (They are the only shop listed in this part of the country in many reputable herbal medicine books. Specifically Stephen Buhner's books)" - Chelsea Lowry - Laramie Local
"My favorite spot to shop downtown is the Bent and Rusty because the store is run by a bunch of badass females." - Trent Weitzel - Laramie Local
"I'd throw a shout out to Atmosphere Mountain Works for the eclectic experience and Jeffrey's Bistro for my favorite food in town!" - Jeff Smith - Laramie Local
"One of my favorite shops downtown is Big Hollow Food Co-Op! When I want a tasty loaf of bread, some locally roasted coffee beans, or a good avocado - I hit up the co-op. It's fresh and it's friendly at Big Hollow!" - Conor Mullen - Laramie Local
You may also enjoy some of our other blogs, "Best Places to Eat Lunch in Laramie," "Spectacular Shopping in Laramie," and "Fascinating Laramie Walking Tours."
Note: Brian and Dani Harrington are independent writers contracted by Visit Laramie. Views and opinions expressed here are their own and do not reflect those of the Albany County Tourism Board.