The warmer months have arrived in the Rocky Mountain West, making adventuring outside pretty much everyone's favorite activity. Laramie is a spectacular home base for a wide array of outdoor adventures. It is also a great place to find a little peace and quiet. In this blog, you'll find five recommendations for outdoor activities that you can enjoy while staying socially distant and escaping the crowds. With adventures ranging from birdwatching to alpine hikes, folks from all walks of life will be sure to find something that suits their interests.  
When generating this activities list, we decided to add an extra challenge. We resolved to only include activities that are less than 30 minutes' reach from Laramie. Spoiler alert: it wasn't hard! It reminded us of how truly fortunate we are to live where we do.  Here is our top five picks to escape the crowds in Wyoming and still keep close to the prime vacation hub of Laramie.

1. Bird Watching in Hutton Lake National Wildlife Refuge
On the high plains just south of Laramie, you'll find the hidden gem of Hutton Lake National Wildlife Refuge. Managed by the U.S. Fish and Wildlife Service, this nearly 2,000-acre preserve has been protected as a refuge for wildlife since 1932. Hutton Lake, and the four additional small lakes contained in the refuge, provide crucial habitat for migratory birds and many other species that use the surrounding, more arid, areas for safe harbor. 
Bring your binoculars for a chance at sightings of a variety of wildlife. On my most recent trip, I saw several mammals, including pronghorn, prairie dogs, rabbits, and more bird species than I could imagine. The sightings began right as I pulled into the parking area. There, I found myself eye to eye with a Swainson's Hawk quietly sitting on the fence post. We silently watched one another for several minutes before it leapt into the air in search of breakfast.
Meanwhile, a bald eagle circled in the distance, hovering over the lake. The song of the migratory blackbirds filled the air. I poured a cup of coffee from the thermos I'd brought along and enjoyed being in the company of these creatures, the only person for miles.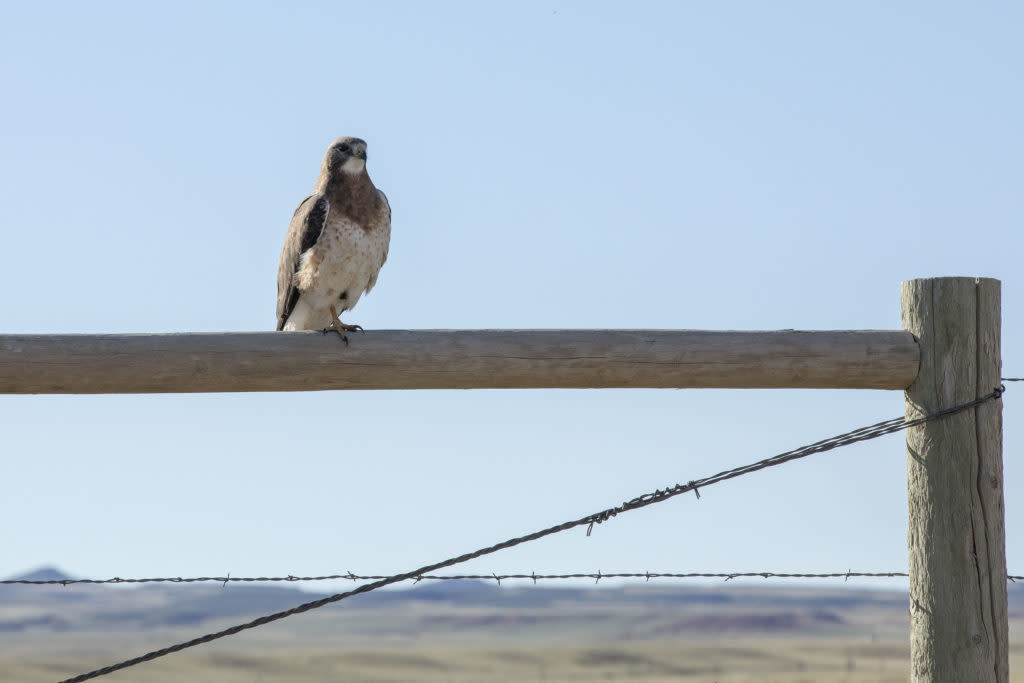 2. Fishing the Laramie Plains Lakes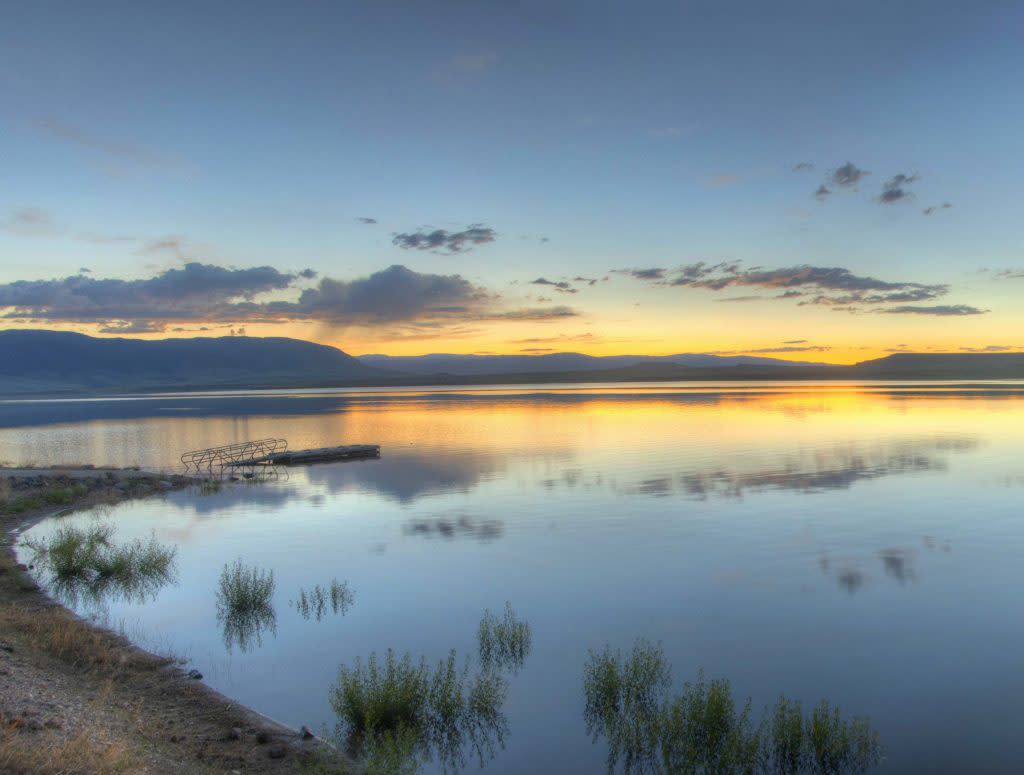 Just west of Laramie lies a complex of lakes collectively known as the Laramie Plains Lakes. These high-plains waters have a perfect combination of minerals to produce some of the largest fish you can find anywhere. The largest of the lake's fish even garnered the on-brand nickname "Hattie Fatties." These lakes fish well year-round, but they hit their absolute best in spring and early summer. I love to fish the lakes that are on the smaller end, perhaps because I typically fish rivers and streams, so these smaller lakes feel more familiar and manageable. Meebor Lake has quickly become a favorite destination. It provides anglers the opportunity to hook 12"-16" trout all day long. If you are looking for that trophy fish (why not?) you should definitely consider Lake Hattie. The largest of the plains lakes by far, Hattie's rich water chemistry and overwhelming insect life grows seriously monstrous fish. It is surprisingly common to hear of a 30"+ catch. You can find the Plains lake on Pahlow Lane off of Highway 230.
3. Mountain Biking at Happy Jack Recreation Area
East of Laramie, near the Summit Rest Area and just off of I-80, you'll find the Happy Jack Recreation Area and Tie-City Trailhead. Regarded as some of the best mountain biking around Laramie, you'll easily find space on the trails for yourself. The flowing, packed dirt trails contrast perfectly to the technical, loose gravel of the more famous mountain biking of Curt Gowdy State Park (another great option for an outdoor experience). If you have multiple days to spare, you won't regret giving both a try. Happy Jack and Tie-City both require daily user fees, so you'll need to bring cash along with you. You can learn more about this trail system here. 
4. Hiking in the Snowy Range
While we typically look higher in the Snowies for great hiking, there are plenty of trails further down the mountain where you will find yourself a little more open space. These hikes lower on the mountain offer fresh air and great views for those who venture out.
Just within the forest service boundary, the Corner Mountain Trailhead gives hikers the opportunity to get in some good exercise while immersing themselves in a beautiful pine forest. There are two main loops accessible from this trailhead: Corner Mountain Loop and the Camp Loop. Both hikes are moderately challenging. Rolling hills keep the 2.5 mile Corner Mountain Loop and the 1.5 mile Camp Loop engaging.
5. Stargazing

While we often talk about the beautiful landscapes that surround Laramie, the skyscapes deserve their own attention. One of the main joys of living away from the bright lights of a big city is the opportunity to actually see the stars, constellations, and galaxies above you.
While stargazing can certainly be a drive-out-and-back adventure, making it part of a camping trip is a great way to ensure that you give yourself all the time you need. Plus, what's more peaceful than falling asleep under the stars?
It is easy to find a place to pitch your tent near Laramie. While it is technically possible to camp just about anywhere on forest service and BLM land, we would suggest overnight camping at a developed campground whenever possible. There are several rules for dispersed camping on public lands, including restrictions on campfires (learn more here). Camping in developed campgrounds will still provide plenty of space between you and your nearest neighbor while decreasing the human impact on public lands. We suggest checking out either the Vedauwoo Campground or the Barber Lake Campground. Both provide incredible views all around, including views of the stars. 
If you aren't big on camping after your stargazing, the cabins and B&Bs in Centennial are a treat. Click here for a full list of lodging in the Laramie area.
You may also be interested in our other blogs: Locals Favorites - Best Places to Catch the Sunset, Social Distancing Road Trip Blog, and 6 Tips for a Successful Hiking and Backpacking Trip in Wyoming.
Note: Brian and Dani Harrington are independent writers contracted by Visit Laramie. Views and opinions expressed here are their own and do not reflect those of the Albany County Tourism Board.