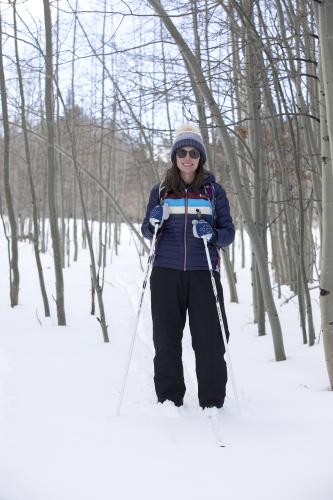 Cross-country skiing is a popular winter sport for good reason: it's fun while providing a good workout, it's relatively easy to learn, and it's a great way to get outside during the cold months to experience nature. Cross-country trails surround the town of Laramie, Wyoming on nearly all sides, awaiting skiers from the east, southwest, and west, making this small university city the perfect home to enjoy your next cross-country skiing adventure. This post offers a step-by-step guide to make sure you have an excellent time cross-country skiing around Laramie.
Step 1: Fuel Up
Depending on where you choose to ski, you can find yourself gliding along beautiful trails in as little as 15 minutes (and no more than an hour) after finishing a delicious meal in Laramie. We love to enjoy a hearty breakfast or lunch in town before hitting the trails. J's Prairie Rose Cafe has been in business for over a decade and serves classic breakfast dishes all day. Most locals rave about their breakfast burrito smothered in green chili. 
During the weekends, you can also catch a delicious brunch in the laid-back, cozy atmosphere of the Crowbar and Grille. If avocado toast and other "foodie" dishes are more your style, try brunch at the Alibi Woodfire Pizzaria and Bakery. On your way out of town, swing by Coal Creek Coffee or Night Heron to grab a coffee or a hot tea to go. 
Of course, you can also do this in the reverse, rewarding yourself with tasty food after you've had your cross-country ski adventure. Swap the coffee for a beer at one of Laramie's many craft breweries. 
Step 2: Get Outfitted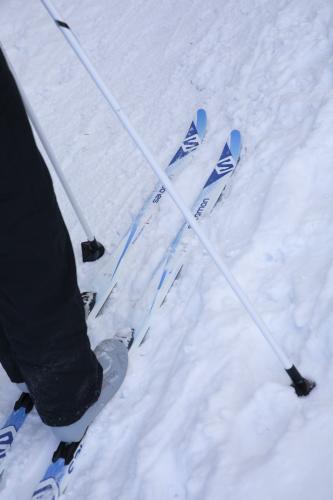 Having quality, correctly-sized cross-country gear makes all the difference. If you don't own your own set of skis, boots, and poles, stop in at Laramie's Basecamp or Westgate Sports to rent equipment with the help of a professional. 
Besides the ski gear itself, proper clothing is key to your safety and comfort, therefore ensuring an overall positive cross-country skiing experience. Pair a wind-resistant top layer with athletic clothing made of moisture-wicking fabrics. A hat, gloves, and thick wool socks go a long way in keeping you warm, too. And if conditions are extra cold, I love to use air-activated hand and toe warmers. Basecamp and Atmosphere Mountworks in Downtown Laramie have great winter sports clothing and gear should you find yourself in need. 
Overheating can be a problem, too, so bring a backpack on the trail to store any layers you might want to ditch along the way as you warm up from the workout. Maintaining a pleasant body temperature will ensure that you are focused on the beautiful scenery and the fun rather than your own discomfort. 
Step 3: Select Your Location
 
As mentioned earlier, Laramie's backyard contains a wide variety of cross-country ski trails. While we believe you'll have a good time no matter where you choose to go, you're sure to get the most out of your experience by informing yourself of the options and making a choice that best suits your experience level and desired difficulty. There are three main cross-country ski areas around Laramie: Tie City / Happy Jack (take exit 323 off I-80 for Highway 210 / Happy Jack Road), the Greenrock Trailhead of the Snowy Range Mountains (accessed off of Highway 130), and Chimney Park in the southern Snowy Range (accessed off of Highway 230). 
Tie City / Happy Jack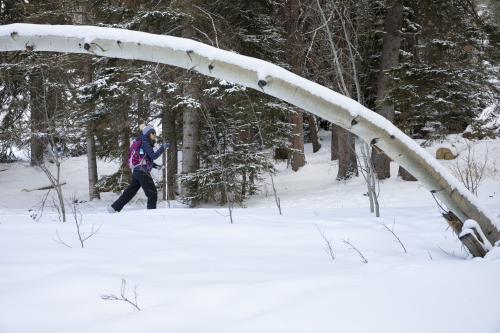 The Tie City Trailhead earns full bragging rights for proximity to Laramie (just 12 miles) and for having the most well- and regularly-groomed trails. If you're a skate-skier, Tie City is the place for you, as it is the only trail system in the area that grooms for skate skiing in addition to classic-style skiing. Tie City is also a great choice for those looking for a wide variety of trail types. There are smooth, relatively flat trails great for beginners and families as well as trails for those with more experience that feature both invigorating climbs and thrilling downhills. Come here for proximity to Laramie, the variety, and skate skiing. 
Green Rock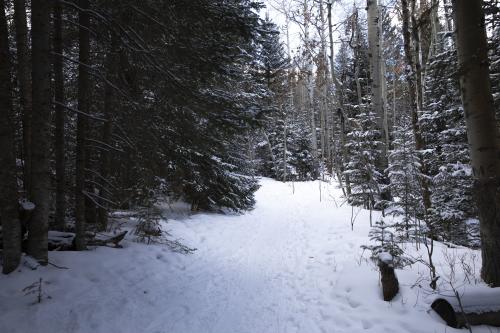 The Green Rock Trailhead in the Snowy Range Mountains west of Laramie is for those looking for a more secluded experience, with beautiful views of the high alpine scenery of the Medicine Bow-Routt National Forests. The Barber Lake Trail is a part of this system and features pleasantly long downhills that wind you through sections of forest, with a few flat and uphill sections as well. You may want to shuttle a vehicle to the bottom of the trail, parking at the Forest Service Welcome Center on Highway 130. You could also choose to take the Libby Creek Trail, which breaks off to the south and sets you along a trail that is recommended for more advanced skiers. Given the more challenging terrain, the Libby Creek Trail isn't as popular as the Barber Lake trail and is therefore groomed less often, so take this route if you love breaking trail! The views are amazing. 
Chimney Park
 
About 40 miles west of Laramie, the Chimney Park trail system is an array of groomed trails that wind through a dense, beautiful lodgepole forest. The trails are primarily flat, making them great for families and beginners or for anyone who is having a day where they feel more like peacefully meandering through a scenic forest than they do seeking greater challenges or thrills. 
Step 4: Set Your Frame of Mind
 
The best way to have a great time cross country skiing is simple: remember that it is supposed to be fun! If you keep this in mind, chances are, it will be. If you're new to the sport, accept that falls happen. If you're out of shape, remind yourself that you're already improving. If plans go awry, embrace the unexpected. Remember that anything that gets you moving outdoors during the winter is good for your mind and body. Happy skiing!