Unwind in a mountain town where prioritizing your well-being is easy!
1. Wellness
Keeping your exercise and wellness routine can be important to maintain a sense of normality, even when you are hundreds of miles away from home. Exercising boosts your energy levels, decreases stress, and improves brain function; these perks are especially beneficial at conferences. Give these businesses a call to get your workout or day pass scheduled. 
Yoga - With two great yoga studios in town, taking an hour out of your day for a class might make all the difference. Both studios welcome new students at any time, just sign up for the class that interests you and you are ready to go! Seek Yoga offers 2-3 classes a day at various times, even digital ones. Hot Power Yoga offers several wellness experiences, including massage and infrared therapy. Each studio offers individual class passes.
Self-Care - While Laramie is a small mountain town, there are still several quality spas and masseuses if you need to invest in some self-care. Just google spas in Laramie and find one of our many options that speak to you.
Fitness - The local recreation center offers day passes to their weights room with a selection of weights and machines and a sauna and steam room next to the pool. There are also many treadmills and a great indoor track upstairs for cardio. Other gyms offering visitor day passes include Altitude fitness, Laramie Fitness, Planet Fitness, and Leap Ninja Warrior Fitness.
2. Healthy Eating
Incorporating your healthy eating habits into your Laramie conference stay is easier to accomplish than you may think. With several grocery stores around town, getting to fresh produce, lean protein, and whole foods is relatively accessible depending on your mode of transportation. If you were still interested in trying the local cuisine, Laramie also has a surprising selection of restaurants with healthy options. Below are a few of the highlights.
Big Hollow Food Co-op: Big Hollow Food Co-op offers a selection of organic products, fresh produce, and tasty snacks/ingredients.
Farmer's Market: If you are lucky enough to be in town in July-September, the farmers market contains plenty of local veggies, Colorado peaches, and other products.
Restaurants: Sweet Melissa is the only vegetarian restaurant in the state and has been featured on Food Network's Diners, Drive-Ins, and Dives. 2nd Street Deli, Turtle Rock Coffee, and McAlister's Deli offer great salads and sandwiches. Laramie also has four different sushi restaurants including Mizu, Niko, and Bejo Dua Sushi.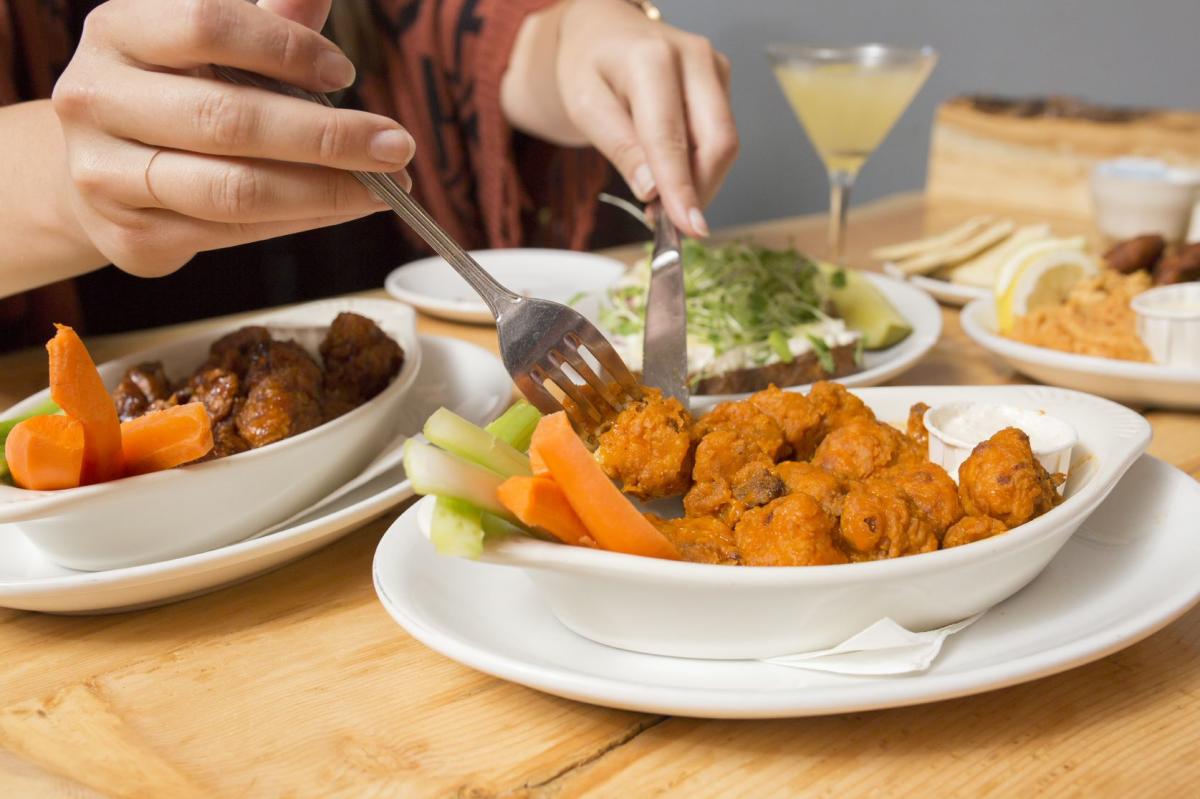 3. Quick Conference Break Activities
Refresh your mind before diving back into your conference with these short break options.
If your conference is located near Downtown...
Wyoming Women's History House: A unique museum in historic downtown that features historical items and history about 13 Wyoming women including Louisa Swain. Louisa Swain was the first woman to legally vote under Wyoming law in 1870. The 19th Amendment allowing women to legally vote across the US was not passed until 1920.
Take a quick brain break in Depot Park or Undine Park. They are both nice greenspaces with scattered trees. You can take a short walk around the periphery to help get some steps in and support your mental health.
If your conference is located near Campus...
UW William's Conservatory: Provides a lush tranquil space where you can sit at one of the many tables, surrounded by plants and taking in their beautiful blossoms. Wyoming is known for being dry and the carefully controlled humidity of the space can be a wonderful respite from the dry air.
UW Greenspaces: UWYO boasts many beautiful walking spaces and historical buildings built from local stone. With several benches scattered around, it is nice to find a tucked away corner amongst the beautiful landscaping and watch University life go by.
UW Museums: Stop in the UW Art Museum, UW American Heritage Center, Geological Museum, or UW Anthropology Museum. Make sure to stop in as you have the time as they are all free and open to the public.
4. Coffee
Whether on vacation or at a conference, a good cup of coffee can help make a great day. Maybe you want to wake up early and savor some coffee or espresso at a local coffee shop before heading back to your conference or perhaps after the conference, you need a little pick me up. Laramie has several coffee options ranging from small coffee shacks to calm and atmospheric coffee shops. Laramie's coffee shops focus on high-quality, great flavors and unique ideas. Make sure that you try a couple until you find your home away from home where comfort and relaxation abound. Whether you are catching up on work from a conference or your job, get out of your hotel and experience that pleasant unwinding coffee shop feeling.
Coffee shops: Turtle Rock, Night Heron, Coal Creek, Mountain View Historic Hotel and Cafe, Java Java Espresso, Boba Cafe, The Human Bean, Motive Coffee, The Lodge, Einstein Bros, Coffee Corral, Grounds Coffee Lounge, Sugar Mouse Coffee
5. Get Outside: World-class outdoor recreation
Known for an abundance of outdoor recreation, we believe in getting outside no matter what outdoor recreation interest you have. Because of this, it is important to help protect and preserve our beautiful wild places. Please follow the Cowboy Character code of ethics so that our wild and scenic places continue to be hospitable to all. For information, check out our outdoor activities.
Spring: wildlife watching, horseback riding 
Summer: Climbing, hiking, camping, mountain biking, water sports, wildlife watching, horseback riding, golf, atving
Fall: Climbing, wildlife watching, horseback riding, mountain biking, hunting
Winter: XC skiing, fat biking, skiing/snowboarding, snowshoeing, wildlife watching, golf simulator, snowmobiling