Wyoming Nature Activities for Families: There is so much beauty and nature for families to experience in the Laramie area. Of course, there is plenty of hiking and fishing to be had, but there are also bird watching and so many other fun and educational nature activities to enjoy. Laramie is the place to encounter nature and instill in your children a true appreciation and love for the outdoors.
---
Hiking Around Wyoming
---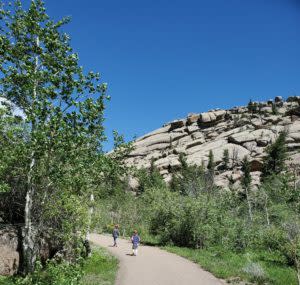 On the trail at Vedauwoo (photo credit Leah Veinbergs)
First of all, hiking is a wonderful way to get out and enjoy nature with kids of all ages. There are MANY great places to hike with kids in the Laramie area. Trails range from easy, paved "walks" to very challenging. Just choose the right level for you and your family and make sure you have the necessary gear. 
What to Bring
When hiking in Wyoming, there are a few important items you definitely want to have.  First, dress appropriately. Comfortable tennis shoes or hiking boots with good tread are very important. Wool socks are a good idea in case your feet get wet. Be sure to check the weather so you know how to dress. Make sure to wear layers to account for changes in temperature, and I would recommend long pants. 
Second, bring important necessities. A backpack filled with the essentials is perfect. Drinking water is an absolute must, and snacks or a picnic lunch are nice to have. Don't forget sunscreen, insect repellant, and a small first aid kit as well. Also, while trails are well-marked, it is not a bad idea to bring a trail map and/or GPS. Keep in mind that you may encounter potentially dangerous wildlife, including bears and mountain lions, you may want to bring bear spray for protection. You can find out more about safety in the U.S. Forest Service lands here.
Third, if you are hiking with small children, a carrier backpack can make the experience much more enjoyable. Laramie Basecamp in downtown Laramie sells and rents a variety of gear (they rent carrier backpacks) to outfit all your outdoor needs. They also offer guided excursions for a variety of experience levels.
Where to Go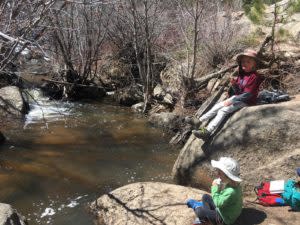 Picnic on Crow Creek Trail at Curt Gowdy State Park (photo credit Brittany Thompson)
As mentioned, there are literally thousands of hiking trails in the Laramie, Wyoming area. The following are three of my favorites. First, Vedauwoo Recreation Area is only about 18 miles east of Laramie. This area is known for its incredibly unique rock formations. In fact, it almost looks like an alien landscape. There are a variety of hiking trails with varying levels of difficulty. A great trail for beginners or those with younger children is the Turtle Rock Loop. This hike will give you a great view of the unique scenery. However, it is fairly level and is only 2.8 long. Vedauwoo also has some paved trails, and great camping and picnicking areas.
Second, Curt Gowdy State Park is just a few miles further east from Vedauwoo. Curt Gowdy has 35 miles of hiking trails, three reservoirs, and tons of great camping. The Crow Creek trail to Hidden Falls is a great family hike. There are some elevation changes and rocky terrain, but most kids shouldn't have any trouble. The trail ends at Hidden Falls, a beautiful waterfall tucked into the boulders. There is a nice sandy area that is a great place to cool your feet and splash around. The three reservoirs at Curt Gowdy provide great opportunities for boating, kayaking, paddle boarding, and fishing. So many ways to enjoy nature!
Third, Medicine Bow-Routt National Forest is arguably the best nature experience in the area. Located in the Snowy Range mountains this national forest offers breathtaking views, pristine lakes and streams, miles of hiking, great camping, and an abundance of wildlife. For an extremely easy "walk" in the mountains, try the paved Lake Marie Trail between Mirror Lake and West Lake Marie. Pole Mountain Trail loop is also a relatively easy hike. For a more challenging hike, you can hike to the top of Medicine Bow Peak. The views from the 12,013 altitude are absolutely stunning. Here you can find an interactive map of U.S. Forest Service land.
For more details on hiking in the area, see these other Visit Laramie blog posts: Top 5 Tips for Hiking with Kids in the Laramie Area, Local Favorites – Laramie Area Hiking Trails, and 6 Tips for a Successful Hiking and Backpacking Trip in Wyoming.
---
Wildlife Viewing and Plant Identification
---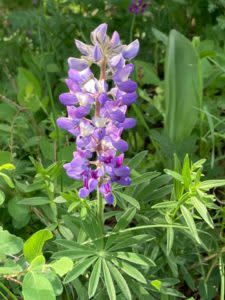 Mountain Lupine (photo credit Rhonda Johnson)
The Laramie area is home to a variety of animal species, such as black bears, mountain lions, pronghorn, elk, deer, moose, coyotes, and even bighorn sheep. Not to mention the numerous species of songbirds and birds of prey found in the prairie and mountain habitats. There are also great opportunities to identify and photograph native plants like wildflowers, berries, and trees.  Hiking is a great way to enjoy these wondrous creatures, but many can also be seen from your vehicle. 
What to Bring
First, if you are hiking into an area to see wildlife, make sure to bring the above-mentioned hiking gear. When entering a national forest or other public lands, it is always important to be prepared.
Next, I would highly recommend bringing binoculars. Many of the magnificent animals that inhabit the area are quite shy. Also, don't forget your camera or phone. If you do see a moose or elk, you will want to snap a picture. 
Another fun thing to bring is a guide to the local flora and fauna. Books can be found at the library or on Amazon. There are also many free resources available online. Visit U.S. Forest Service Kids or Wyoming Fish and Game Inspire a Kid. It is important to remember that it is fine to observe and photograph wildflowers, but please don't pick them! The U.S. Forest Service provides a guide to Wildflower and Native Plant Ethics.
Where to Go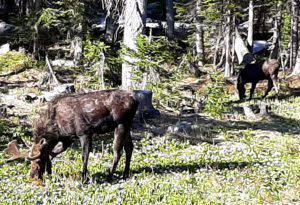 Moose near Little Brooklyn Lake (photo credit David Veinbergs)
Medicine Bow-Routt National Forest, mentioned above, is a wonderful place to look for wildlife. We have frequently seen moose near Little Brooklyn Lake Guard Station and Brooklyn Lake Campground. We have seen elk, deer, and small mammals throughout the area. Libby Flats Observation Area is known for its wildflowers and also has an observation platform and viewing glasses.
Hutton Lake National Wildlife Refuge is a fantastic place for birdwatching. Hutton Lake is a stopover on the Central flyway and a nesting ground for many species of birds. 146 species of birds have been sighted at Hutton Lake as well as numerous mammal species. This is also a great place to see pronghorn and prairie dogs. The 2.6-mile trail at Hutton Lake is an easy walk and a great way to introduce young children to birdwatching and the prairie habitat. Download the Hutton Lake Species Checklist here.
The Tom Thorne and Beth Williams Wildlife Research Center, located about 40 miles northeast of Laramie in Sybille Canyon is an interesting place to stop. The research center was created in 1952 to study and develop techniques for wildlife management. In particular, this facility has been involved in wildlife disease research and efforts to re-establish endangered black-footed ferret populations. While the research center is not open to visitors, the elk, deer, bison, and bighorn sheep enclosures can be viewed from Highway 34. There is also the nearby Tom Thorne and Beth Williams Habitat Management Area which is open for hiking, camping, and other outdoor activities.
For more details on wildlife viewing in the area, check out our Best Places to View Wildlife in the Laramie Area blog post.
---
Wyoming Fishing
---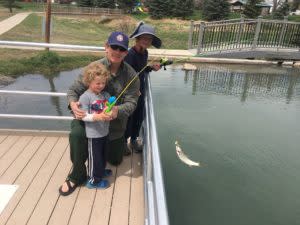 Huck Finn Fishing Pond (photo credit Brittany Thompson)
Finally, another great way to get up close and personal with nature is to go fishing. Whether you are a beginner or an experienced fisherman, you are sure to find many great places to fish in the Laramie area.
What to Bring
Again, whenever you are out and about in the wild, make sure to dress appropriately and bring appropriate supplies. See the hiking gear suggestions listed above for ideas on what to bring on a fishing excursion.
Additionally, it is pretty hard to go fishing without a fishing pole and gear. There are several places that are great for either fly or bobber fishing. For gear, bait, and tackle, consider the West Laramie Fly Store. A boat or canoe is nice to have, but certainly not necessary, as there are many great places to fish from shore. 
Of course, all adults (18 and older) must have a fishing license. Resident children 13 and under do not need a license, but non-resident children 13 and under must be accompanied by an adult with a fishing license. Children aged 14-17 can purchase a special youth license. For additional information on licensing, see the Wyoming Game and Fish webpage.
Where to Go
Twin Buttes Lake (photo credit Emily Cuin)
For a very simple, low-key fishing experience, try Huck Finn Fishing Pond at LaPrele Park. Located right in Laramie, children 13 and under can fish this small pond and keep up to 6 fish. 
The Big Laramie River is another favorite. There are several points to access this river, including the Greenbelt Access, located in town. The alkaline lakes west of Laramie, known as the Prairie Lakes, have abundant fish. There are also the reservoirs at Curt Gowdy State Park and dozens of alpine lakes in Medicine Bow-Routt National Forest. For more detailed information on these lakes and others, as well as fishing guides and other information, please see our  Gone Fishin' page and the Top 5 Lakes to Fish on the Laramie Plains post.
Last but not least, if your little anglers are looking for a challenge, the Wyoming Game and Fish Department offers a Youth Fish Challenge. Young fishermen and fisherwomen can complete a variety of challenges for a collectible certificate.
The Laramie area offers an abundance of nature activities for kids and families. With so many wonderful ways to introduce your children to the great outdoors and deepen their love of nature, what are you waiting for?
You may also like: Laramie Summer Family Itinerary, Summer Water Activities Itinerary for Families, and Summer in Laramie: Fun Activities for Kids and Families.
Note: Leah Veinbergs is an independent writer and the author of the blog Two Little Time. She is contracted by Visit Laramie. Views and opinions expressed here are her own and do not reflect those of the Albany County Tourism Board.