What says summer more than a family summer road trip? Looking for a simple, inexpensive summer road trip itinerary that has fun for the whole family? Look no further than Laramie, Wyoming. Laramie is packed full of great activities for the family. Most of the activities listed in this itinerary are free or have only a minimal cost—perfect for families looking for fun on a budget.
---
Recreation
---
First, let the kids stretch their legs and get the wiggles out. The Laramie area might be known for its natural beauty, fishing, and hiking, but the city of Laramie offers plenty of recreational opportunities as well. There are great indoor and outdoor activities to suit everyone.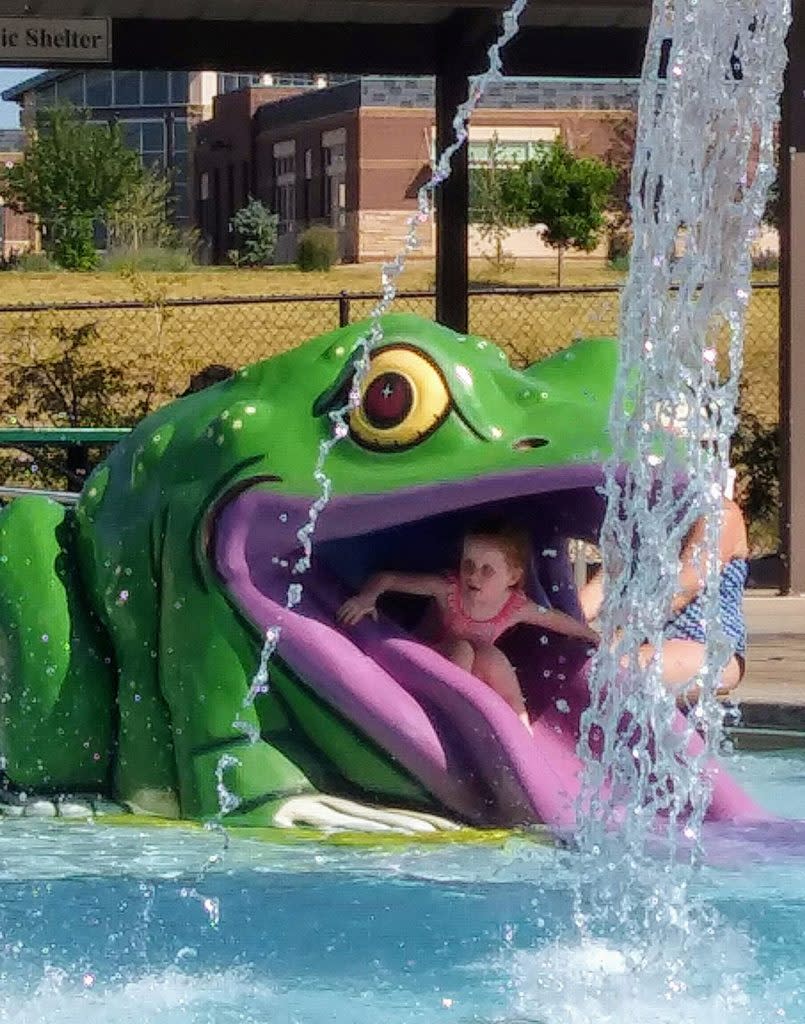 Fun in the sun at the Laramie Rec Center
Laramie Recreation Center
The purchase of a day pass allows your family to enjoy all that the Laramie Recreation Center has to offer. Kids will love the indoor and outdoor leisure pool complete with lazy river, waterslides, and other water features. There is also a variety of other equipment and workout facilities. Check out the Rec Center webpage for more information.
LEAP
For indoor recreation try out LEAP, Laramie's own Ninja Warrior course. The course is challenging for kids and adults and is a perfect way to burn off that extra energy. LEAP offers an "Open Gym" and also specific classes. For more information on costs and classes, see LEAP's website.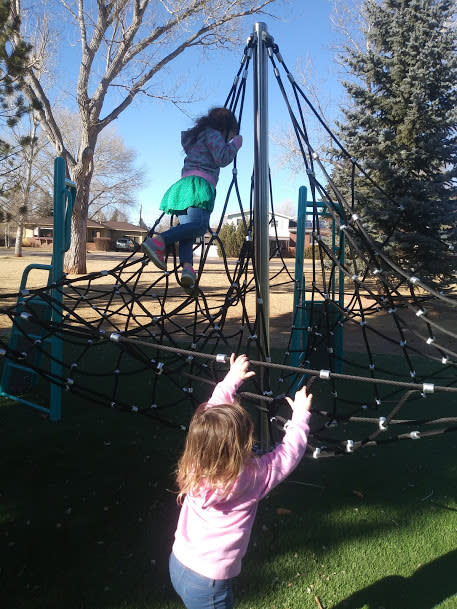 Exploring the new playground at La Prele Park
City of Laramie Parks
Another wonderful option for recreation is Laramie's many beautiful parks. These parks offer playgrounds and picnic areas, of course. However, there are also fishing ponds, wading pools, splash pads, basketball courts, walking paths, and so much more. For more details on the amazing amenities see the Parks and Recreation Page.
---
Museums and More
---
Next, if you're looking for summer road trip itinerary stops that are both fun and educational? Laramie is home to some amazing museums and historical sites.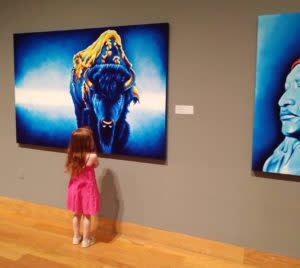 Captivated by artwork at the University of Wyoming Art Museum
University of Wyoming Art Museum
The University of Wyoming Art Museum is located in the unique and beautiful Centennial Complex. This wonderful museum is free to visit. Kids of all ages will enjoy the wonderful exhibits. The museum also frequently hosts family-friendly events and "Family Saturdays." The Art Museum webpage provides details about upcoming events.
Harry C. Vaughan Planetarium
The Harry C. Vaughan Planetarium is a fantastic experience for anyone with an interest in astronomy. The planetarium show schedule can be seen on their website. They have routine "Family Shows" throughout the summer. For a schedule of upcoming shows, and to buy tickets, visit the planetarium homepage.
University of Wyoming Geological Museum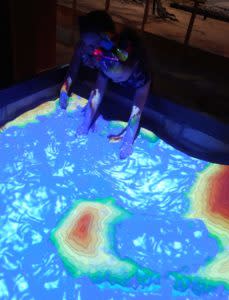 Playing in the UW Geological Museum's AR Sandbox
A true gem, the University of Wyoming Geological Museum is a captivating experience for families. Any kid who loves dinosaurs—and what kid doesn't—will appreciate the huge Apatosaurus skeleton, "Big Al" the allosaurus, as well as the myriad of fossils of all things prehistoric.  This wonderful museum is free of charge. For upcoming events and hours see their website.
Laramie Plains Museum
The outstanding Laramie Plains Museum is located in the beautiful, historic Ivinson Mansion. The mansion consists of three floors of meticulously restored rooms adorned with lovely period decor and furniture. The mansion houses an array of fascinating displays from turn-of-the-century Laramie and Wyoming.  For more information, be sure to visit the museum webpage.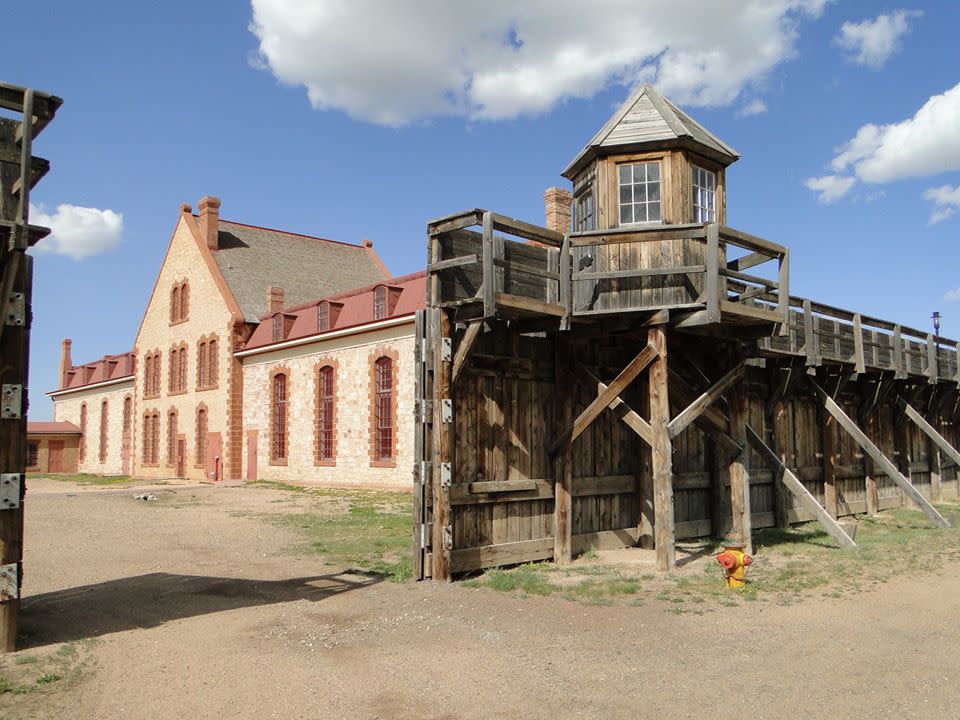 Prison Guard Tower (Photo courtesy of the Wyoming Territorial Prison)
Wyoming Territorial Prison State Historic Site
Yet another great site is the Wyoming Territorial Prison. The imposing stone building, surrounded by a wooden stockade, was home to some of the Wild West's notorious outlaws. For more information on special events, hours, and fees, visit the museum webpage.
---
Downtown
---
Then, check out downtown! Downtown Laramie is a great place to spend an afternoon. Whether creating art, enjoying the historic architecture, stopping by the Downtown Farmer's Market, or savoring a tasty meal, there is so much to do.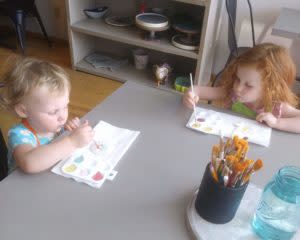 Pottery Painting at Art & Soul
Art & Soul Paint Your Own Pottery
At Art & Soul you and your kids can choose a piece of pottery (a wide variety of items and price points), pick some glaze colors, and create awesome artwork. Their friendly staff will make you feel right at home while you relax and enjoy some creativity.
Restaurants and Coffee Shops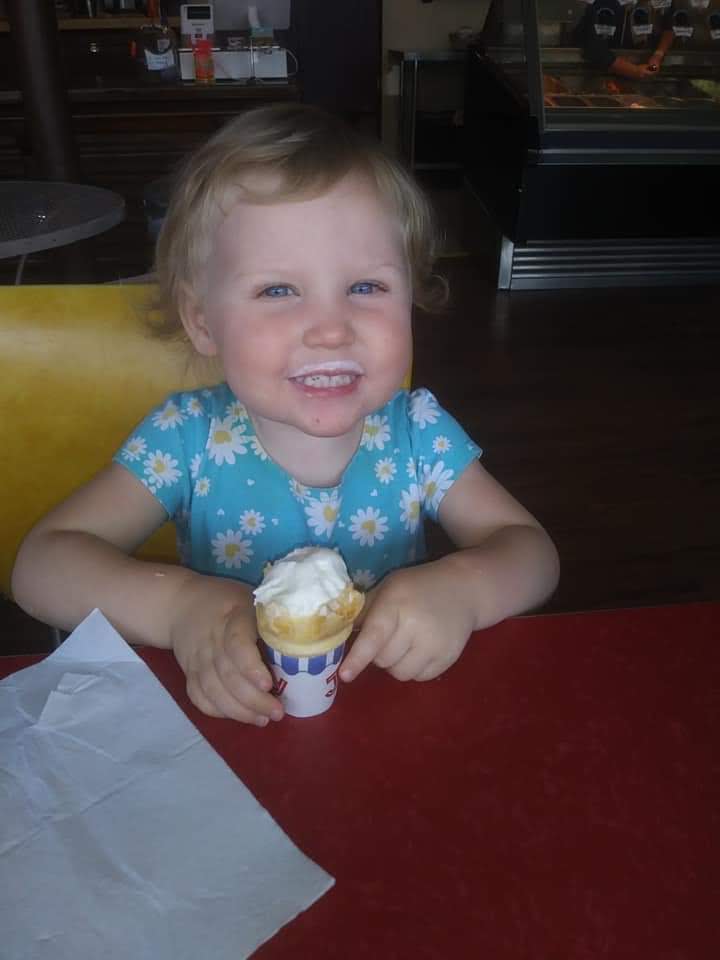 Ice Cream at Big Dipper
Downtown Laramie is the place to go for delicious food and a family-friendly atmosphere. Try some mind-blowing vegetarian fare at Sweet Melissa's or amazing Thai food at Anong's. Or, savor the unique artisan flavors at Alibi or Altitude. Then, satisfy your sweet tooth at The Sugar Mouse Cupcake House or Big Dipper Ice Cream Shop. See our Where to Dine page for more restaurants.
Downtown Laramie Farmer's Market
Friday afternoons and evenings, June through September, downtown Laramie buzzes with the activity of the Downtown Laramie Farmer's Market. Vendors from all over come to sell their produce, goodies, artwork, and more. Food trucks provide delicious options for snacks, treats, or dinner. There is almost always live music as well. Every market is a veritable party.
Just Outside of Town
Finally, a summer road trip itinerary would not be complete without the natural wonders of the Laramie area. Of course, there is a ton of hiking, fishing, and exploring to be done in the beautiful and unique landscape surrounding Laramie. For more information on the area visit Vedauwoo Recreation Area, Curt Gowdy State Park, and Medicine Bow-Routt National Forest's respective websites.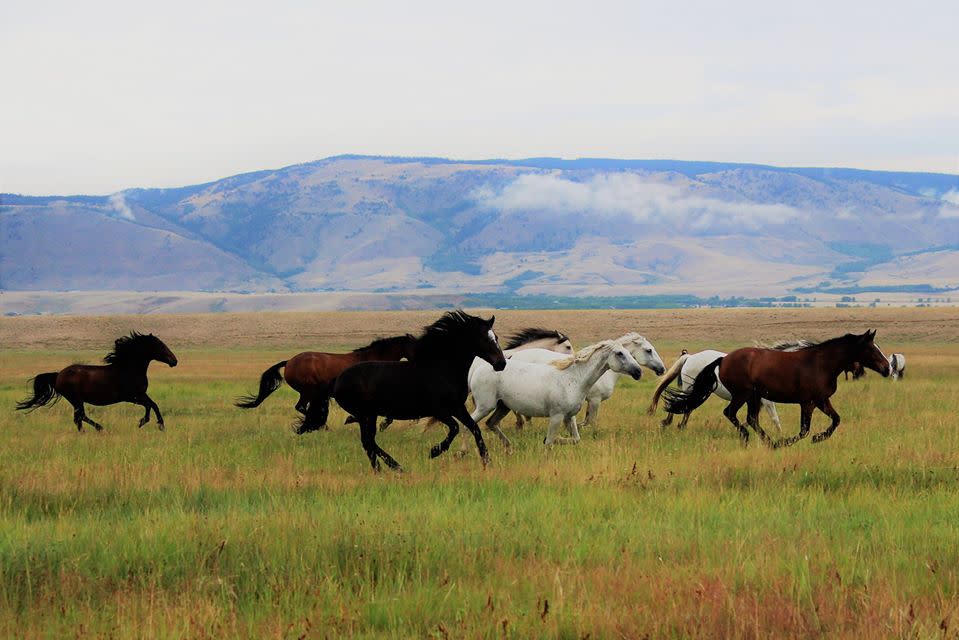 Mustangs galloping across the plains (photo courtesy of Deerwood Ranch Wild Horse Ecosanctuary)
Deerwood Ranch Wild Horse EcoSanctuary
In addition to the state and federal lands, the Deerwood Ranch Wild Horse Ecosanctuary deserves special mention. It is the first Bureau of Land Management (BLM) certified program of its kind. The BLM has begun partnering with private landowners to protect and preserve these magnificent animals. Deerwood offers ATV tours of the herds for small groups. Tours MUST be booked 48 hours in advance. 
Clearly, Laramie is an exceptional summer road trip destination for families. From museums to wild horses, and everything in between, Laramie in summer is the best that the West has to offer. Whether Laramie is just a stop on a more lengthy road trip or your final destination, don't miss all that Laramie has to offer. 
 You may also like: The Best Restaurants for Kids in Laramie, Top 5 Museums for Kids in Laramie, Top 5 Tips for Hiking with Kids in the Laramie Area, Spectacular Shopping in Laramie, and Summer in Laramie: Fun Activities for Kids and Families.
Note: Leah Veinbergs is an independent writer and the author of the blog Two Little Time. She is contracted by Visit Laramie. Views and opinions expressed here are her own and do not reflect those of the Albany County Tourism Board.