The artwork above, Daydreamers, was created by Tara Pappas (used with permission from Tara Pappas Art)
Laramie has an abundance of extremely talented local artists. Leather crafters, photographers, weavers, painters, ceramics artists, sculptors, and many more call Laramie home. There are so many wonderful local artists it can be hard to know where to start when looking to purchase artwork.  We asked Laramie locals who their favorite artists were and they did not hesitate to share.
What the Locals are Saying
Tara Pappas Art
Company of Friends by Tara Pappas (used with permission from Tara Pappas Art)
Tara Pappas is known for her whimsical, beautiful mixed-media artwork and illustrations. Her vivid pieces are perfect to adorn the walls of a child's bedroom or playroom. She has also illustrated children's books and created a coloring book. Read more about Tara and her work on her website Tara Pappas Art her work can also be purchased at Works of Wyoming (W.O.W).
"It is the playfulness in Tara's work. Her paintings bring joy to the viewer with simple stories and beautiful layers. She connects to our community through Wyoming creatures and adventures. Her art is for everyone, that is why I love it." – Jeff Deegan
Jennifer Power Art & Design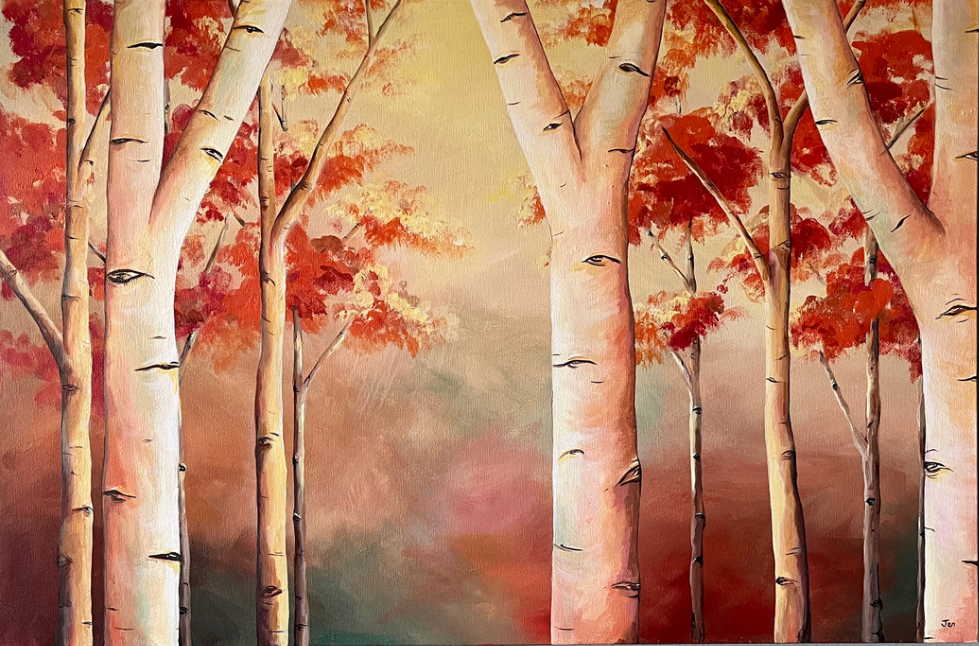 Trees Commission piece by Jennifer Power (used with permission from Jennifer Power Art & Design)
Jennifer Power creates beautiful fine art pieces as well as using her graphic design skills to create logos, websites, and more. Her mediums of choice for her fine art pieces are watercolor and ceramics. Many of her pieces depict flowers, trees, and other greenery. She is adept at capturing the delicate beauty and serenity of nature in her artwork. Jennifer also does custom work. Find out more about Jennifer Power and her work on her website Jennifer Power Art & Design.
"I really love how diverse her artwork is, ranging from graphic design to watercolor to ceramics. I really like her flower bowls and flower watercolors, she just adds a lot of character and beautiful colors to her works, and she is truly a wonderful person to know and support. She has also made a very special custom piece for my wedding that I adore."  – Erin Auerbach
Seneca Creek Studios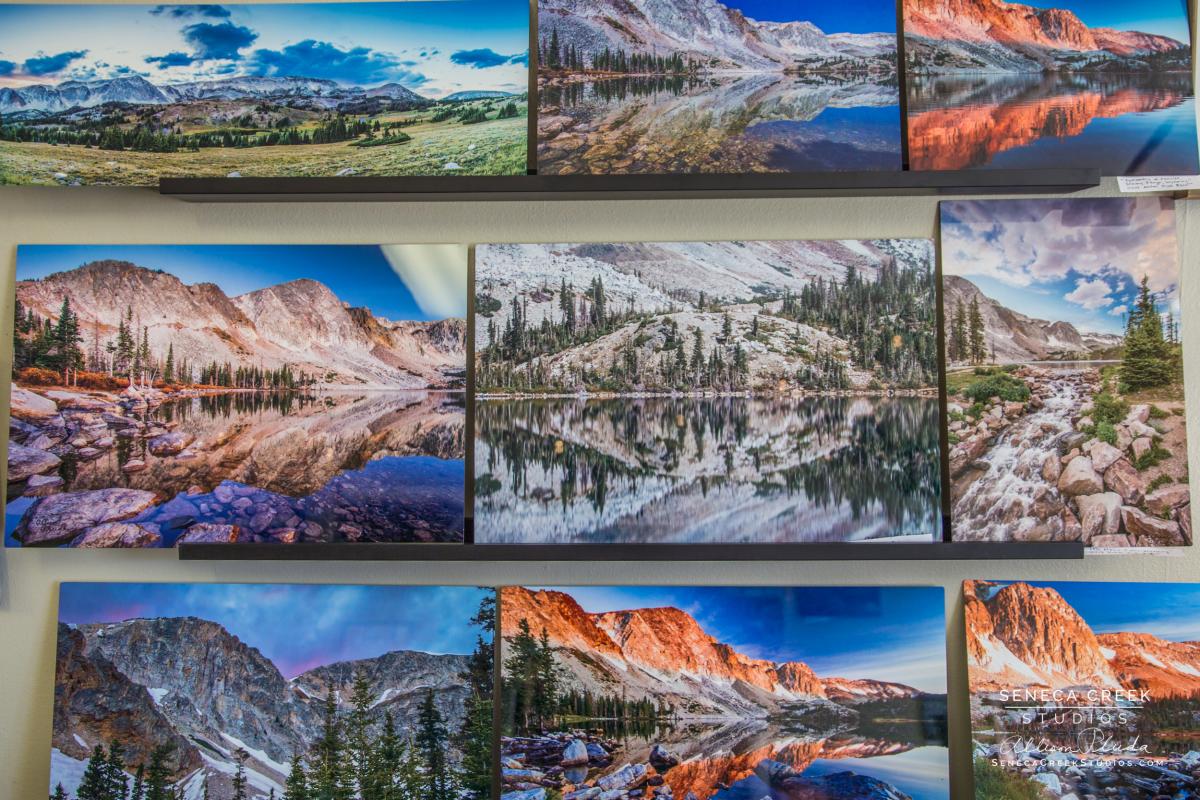 A variety of stunning mountain photographs by Alison Pluda (used with permission from Seneca Creek Studios)
Alison Pluda, the photographer and owner of Seneca Creek Studios creates stunning photographs of the Wyoming landscape and local flora and fauna. Her photographs can be purchased in a variety of forms from wall art to greeting cards to Christmas ornaments. Additionally, Seneca Creek Studios offers a variety of photography, video, and graphic design services. Visit Seneca Creek Studios to find out more and to purchase artwork, or visit Works of Wyoming (W.O.W).
"… [Allison Pluda] is a phenomenal photographer, catching the ordinary with her artistic eye, creating the extraordinary as can be seen in her portfolio. I've purchased many of her photos, given them as gifts. We've all seen a hummingbird, the Milky Way, Big Boy Train, Snowy Range, even the old 'cop car' in Centennial ... each of her photographs capture the scene and sense of awe totally." – Mary Fick Monteith
Robert Kirkwood Photography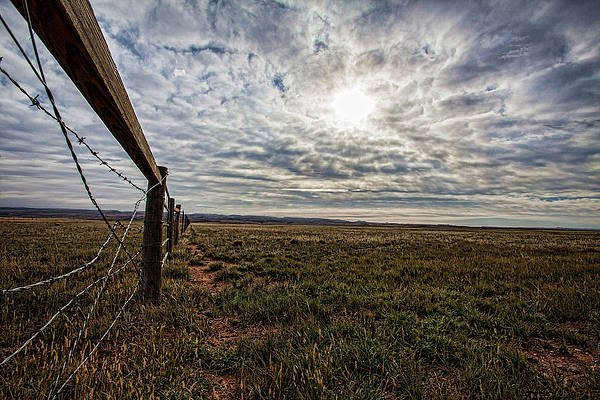 Fenceline by Robert Kirkwood (used with permission from Robert Kirkwood Photography)
Robert Kirkwood's photographs capture the rugged beauty of the Wyoming landscape. He also photographs other subject matter such as animals, sculptures, and people. Many are digitally enhanced, giving them a painterly quality and making the vivid colors even more rich. He prints and frames his own artwork as well. See Robert Kirkwood's photographs on his website Robert Kirkwood Photography and his Flickr. Some of his pieces can also be viewed locally at The Great Untamed and The Crowbar.
"Robert has a unique perspective and shoots many local areas. He is well versed in printing on multiple medias and his editing skills are amazing." – Jeff Allen
Joe Arnold Studios
Joe Arnold creates breathtaking mountain ranges and landscapes in oil and pastel. His artwork captures the epic views and rugged essence of the Tetons and Wind River Mountains. His artwork as well as his travels are documented on his website and blog at Joe Arnold Studios.
"He does beautiful Wind River Mountain paintings. They make you feel like you actually are in the mountains!" – Liz Watson
Svetlana Howe Fine Art
Svetlana captures the spontaneous, expressive effect of watercolors in her gorgeous paintings. They are fresh, ethereal, and moving. She often paints landscapes, animals, and flowers. For more information on Svetlana and her lovely watercolors visit her website, Svetlana Howe Fine Art. Her work is also available for purchase at Works of Wyoming (W.O.W).
"I really love the soft look of Svetlana Howe's art! It is relaxing and soothing to look at and brings a calming and inviting ambiance to any room where it is displayed!" -- Karmen Stevenson
Best Places to See Local Artists' Work
Works of Wyoming (W.O.W.)
Works of Wyoming (W.O.W) is one of the best places to discover local artists. Works of Wyoming is a non-profit organization affiliated with the Wyoming Women's Business Center. The gallery downtown features exclusively Wyoming artists and carries a wide variety of artwork, cards, books, apparel, jewelry, and other gifts. Their mission is to "provide our artists with a place to grow, develop and inspire, to build their business to the desired level."
 
Annual Pop-Up Art Walk
Laramie's annual Pop-Up Art Walk is open to "artists and performers of all mediums and levels." Artists are given space in downtown businesses to showcase and sell their artwork. This is a great opportunity to discover a new favorite artist or performer. The 2023 Pop-Up Art Walk will be on April 28th & 29th.
 
Laramie Artists Project
Another great way to find out about local artists is through the Laramie Artists Project. According to their website, "[t]he Laramie Artists Project is a consortium of Albany County artists working to provide a professional environment to view work in Laramie and Albany County; offer professional development for local artists; encourage public recognition of community artists and encourage collecting their work; and to promote Laramie as an arts center within the geographic region."
The Laramie Artists Project's biennial Touchstone exhibition transforms a floor of a local hotel into a series of "galleries" for artists to display and sell their work. The website includes more information about upcoming events and artists.
 
Local Businesses
A variety of local bars, restaurants, and other stores also offer display space to local artists. The best places to scope out artwork are The Great Untamed, The Crowbar & Grille, The Wild Rose Flower Shop, Coal Creek Coffee Downtown, Sweet Melissa, Boardwalk Mercado, and Miss Etta's Place.
The amazing artists mentioned above are only a small selection of Laramie's many talented local artists.  Whether you prefer watercolor landscapes, ceramics, vivid illustrations, or photography, there is surely something to capture your imagination and inspire your soul.