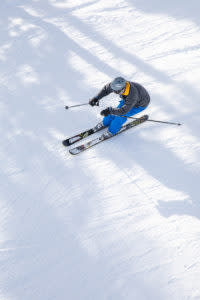 When you close your eyes and imagine the perfect vacation, you might be tempted toward sandy beaches and palm trees. While that's all good and fine, don't discount the invigoration and coziness of a winter getaway. Visiting Laramie, Wyoming during the winter months is actually a far better idea in winter than you might think.
Laramie is an ideally situated home base from which you can enjoy a wide variety of winter sports. The town is literally surrounded by winter recreation opportunities, with some locations as close as a 15-minute drive from town, and others not much further.
Indeed, variety, quality, and convenience is the name of the game for Laramie winter activities. In this post, you'll hear from Laramie locals about their favorite ways to enjoy the awesome outdoors during the winter months.

Author's Favorites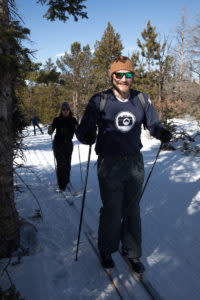 I'll start us off by sharing one of my favorite things to do in the winter: cross country skiing. In many ways, Laramie feels like the perfect town for someone like me who loves this sport. It's just so incredibly accessible, with trails awaiting you from the east, southwest, and west. It feels like you can blink your eyes from downtown Laramie and open them to find yourself somewhere on a cross country ski trail, breathing in the mountain air and enjoying the beautiful alpine scenery.
On a cold and clear day, I love getting up early, grabbing a cup of coffee from Coal Creek Coffee Company in downtown Laramie, and heading east on I-80 for the Happy Jack/Tie City Trailhead. This location earns full bragging rights for proximity to Laramie (just 13 miles away!) and for having the most well groomed trails, both for classic-style skiing and skate skiing. Speaking of trails, there are so many to choose from in this area, accommodating the full range of skill levels. I like starting with the mellow climb that is the Meadow Trail and continuing on to the loops of Phil's Pholly, the Tie City Turnpike, and the Moose Loop. This trajectory involves both invigorating climbs and thrilling downhills and increases in difficulty the further you go.
Now, let's hear from some other Wyoming locals (and insiders) about how they take advantage of Laramie's plentiful winter activities.

Local Favorite Winter Activities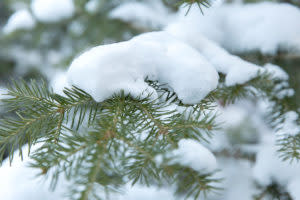 "I grew up alpine and cross country skiing. Since moving to Laramie I've taken up skate skiing. It is so much fun and so much work. It's one of my favorite winter activities and I bet you will find joy in it too... as long as you like type 2 fun as well!"
- Emily Parsons - Owner of Glow Workwear
"Hynds Lodge, which is part of Curt Gowdy State Park, is a nice hidden gem with some fun trails, climbing opportunities, and is much less crowded than the rest of the park."
- Rob Joyce - Laramie Local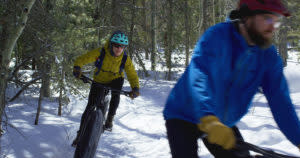 "I am so fortunate to live in Laramie! When summer ends I transition right into fat biking and cross country skiing at the School Yard and Happy Jack trails. I love the School Yard trails because they are right on the edge of town! When I am crunched for time  I can ride right from home.  Our family also has the luxury of snowboarding all season at the Snowy Range Ski Area which is only a 45 minute drive from Laramie! I love all the winter activities here."
- Tanna Nagy - Laramie Local
"I'd have to go with Fat Biking. The ability to get out and play in the forest when there is snow everywhere makes the whole area seem like a brand new playground every year."
- Dewey Gallegos - Owner of the Pedal House
"It is basic but also a classic. Breakfast burritos at either the Snowy Range Shell or Daylight Donuts then shreddin' some gnar up at Snowy Range and then green chili pizza and a Busch beer at Bear Bottom. Cutting your own (Christmas) tree up in the Snowies is just awesome. Pairing that with another green chili pizza from Bear Bottom is a perfect Saturday in December."
- Kyle Spradley - Laramie Local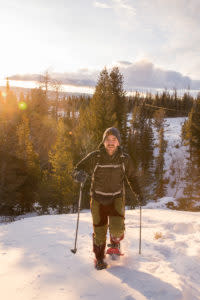 "My favorite winter activity is skiing or hiking by headlamp in Tie City; it turns into such a magical mystical place at night in the snow with the moonlight reflecting off the snowy trees and hills."
- Emily Siegel - Laramie Local
"Laramie is not just a summer destination. I love when the river thaws and I can find myself fly fishing, waist-deep in water, in the middle of February."
- Jordan Collingwood - Laramie Local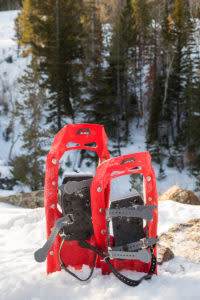 "With small children we're not back into high-octane winter sports quite yet, so most of our activities involve sleds or snowshoes. We throw the toddlers in their summer hiking carriers and they have a blast getting outside. Luckily the trails at Happy Jack Recreation Area are super close to Laramie."
- Sara Haugen, Visit Laramie Marketing Manager  
You may also enjoy some of our other blogs, "Socially Distant Winter Activities," "Top 4 Cross Country Ski Trails Near Laramie," "Local Favorites – Laramie Area Hiking Trails" and "Local Favorites - Laramie Area Hiking Trails."
Note: Brian and Dani Harrington are independent writers contracted by Visit Laramie. Views and opinions expressed here are their own and do not reflect those of the Albany County Tourism Board.