The surrounding areas of Laramie, Wyoming are well-known for exceptional rock climbing. The Snowy Range Mountains to the west of Laramie offer traditional alpine climbs amidst stunning scenery, and the Vedauwoo Recreation Area, a vast expanse of public land 15 miles east of Laramie, is revered by many climbers as a Mecca of sorts, particularly if you are into offwidth crack climbing. 
But rock climbing is a sport that can feel really intimidating and difficult to get into if you're a beginner. Anyone contemplating rock climbing for the first time will likely have a long list of questions, including concerns about what kind of gear you need, how to be safe, where to go, and the differences between climbing styles. All of this before you even face the literal question of how to scale the rock wall or boulder looming above you! 
If you're feeling overwhelmed, it helps to remember that every now-avid climber was once exactly where you're at now. So take a deep breath and read our seven helpful tips for beginner rock climbers:
1. Get Help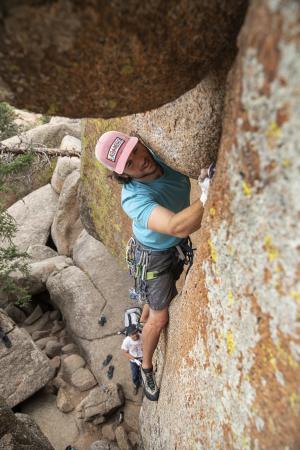 This piece of advice is first on the list for a reason. It's near impossible to get into rock climbing on your own, and in fact, rock climbing often requires a partner. A willing and patient friend with experience and knowledge of the area is so helpful to the beginning climber and makes the time spent learning all the more enjoyable. But of course, we don't all have climber friends. 
Fortunately, there are guiding services that specialize in safe and enjoyable climbing experiences. Wyoming Mountain Guides is a great option in this regard, and they even have special packages geared toward beginners. The company offers climbing trips on rock, ice, and alpine terrain throughout Wyoming—including the Laramie area—while emphasizing sustainability through education, stewardship, and community engagement. 
Working with a guiding service like this is especially valuable because it gives you a solid foundation of knowledge regarding safety systems, technique, and local routes. It's also a great place to meet other climbers. 
2. Don't Invest Right Away
We suggest holding off on purchasing your gear until you've gotten some experience. This gives you the opportunity to learn about equipment options through practice, and besides, you might not even know what kind of equipment you actually want to purchase until you've tried out a few different types of climbing.
Once you've gotten more experience and understand your equipment needs and options, purchasing your own rock climbing gear is the better long-term investment when compared to renting (or bumming off others). Look no further than Atmosphere Mountain Works, All-Terrain Sports, and Basecamp in Laramie when you're ready.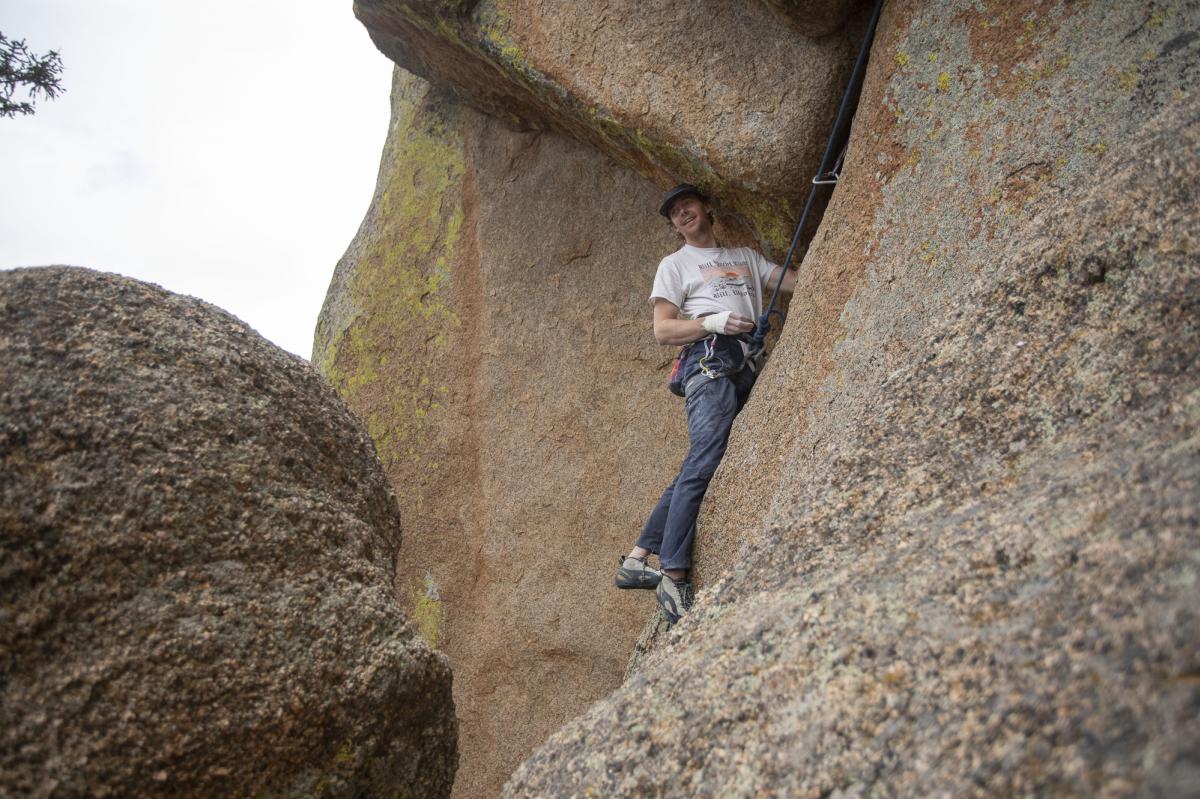 3. Join a Climbing Gym 
One of the best ways to learn and develop climbing techniques is by practicing your climbing skills in a gym. Many gyms even offer beginner courses. Regularly attending a climbing gym allows you to gain confidence in your climbing technique, build strength, meet other climbers, and make climbing part of your routine. Source Bouldering Gym is a great local option for a climbing gym in Laramie. 
4. Start by Bouldering
This is not a requirement, of course, but bouldering requires much less equipment than sport or trad climbing (no ropes or harnesses), making it less expensive and more accessible. Try everything, but start by bouldering. 
5. Research Your Routes
Before you head out to get your hands on some rock, take a few moments to research the area and look up potential routes. Mountain Project is a great online resource to learn about the different climbing areas in the vicinity as well as climbing grades for different routes. Climbing grades rates how easy, moderate, or difficult a particular route is overall. 
Guidebooks can also be a great resource, and if you're climbing in the Vedauwoo area, many locals recommend "The Voo; Climbing in Vedauwoo." And again, especially as a beginner, lean on the knowledge of an experienced friend or guide service to help you understand where and which routes to try out in a particular area.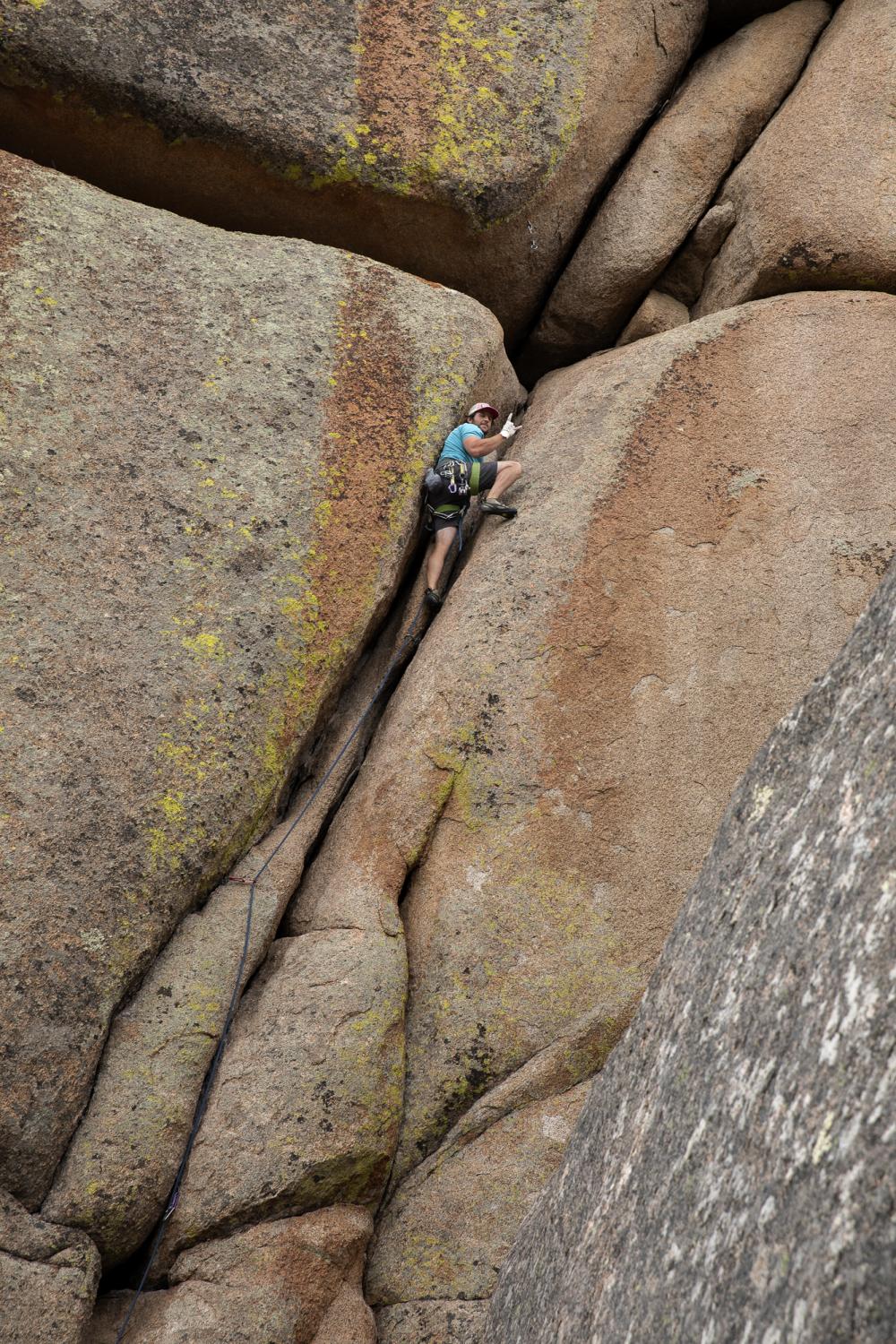 6. Embrace the Process
Rock climbing is not a race to the end, but a learning process that is best undertaken with patience and a one-step-at-a-time kind of attitude. Learning the sport can be challenging, even painful at times, so when you notice you're no longer enjoying yourself, take a breather. The rock climbing areas around Laramie are also excellent locations for hiking, so by all means, opt for a hike instead if you're having an off day. For many, climbing is as much about the climbing itself as it is about enjoying a relaxing day in the forest. 
7. Be Respectful
As a rule, Wyomingites are protective of their wild spaces and the relatively small crowds that frequent them. The majority of us are happy to see others enjoying their time outdoors, too, but to avoid making a bad first impression, be sure to recreate responsibly. While you may love listening to music while climbing in the gym, bringing your speaker with you to the woods isn't a great idea. It's also important that you don't leave trash (especially tape scraps) behind when you leave. A good general rule of thumb is to leave things better than you found them and to avoid disrupting others as much as you can.