Looking to experience Laramie without a lot of contact with others? Laramie has many great opportunities to experience history, art, food, and nature—often without even having to leave the comfort and solitude of your own car. These tips were originally intended for the Covid-19 Pandemic but still apply today to anyone looking to find some solitude and spend time without a lot of contact with others. We're all a little introverted sometimes!
---
Road Trip Stops Without Leaving Your Car
---
It is easy to develop a little "cabin fever" when you are feeling cooped up. However, that doesn't mean you can't have a little fun too. There are many things to see in Laramie and the surrounding area that don't even require you to step foot outside your car.
Downtown Mural Tour
The Laramie Mural Project is a city-wide art endeavor featuring dozens of talented local artists. Some of the murals were even contributed to by community members. To get the full experience of these magnificent art works, follow the tour laid out by the Laramie Mural Project. A brochure of the murals can be downloaded on our webpage.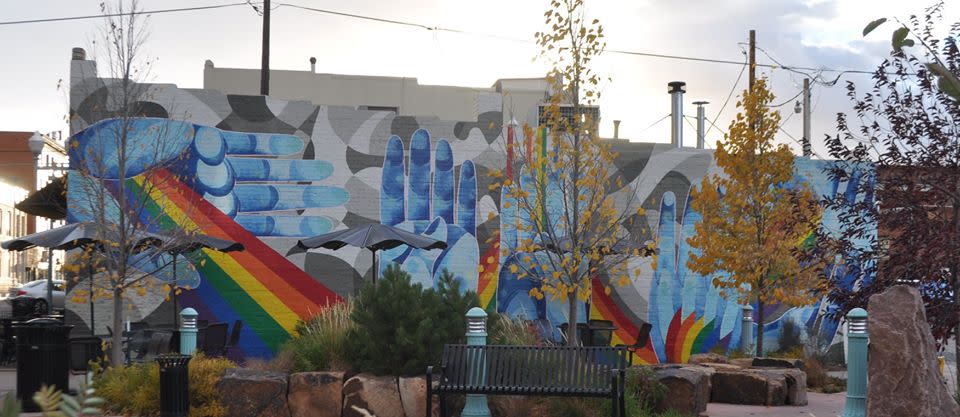 "Many Hands Make Work Play" community paint-by-number-mural by Meghan Meier (photo courtesy of The Laramie Mural Project)
Downtown Historic Tours
 Step back into the wild west of Laramie's past, see the buildings, and hear the stories that made Laramie what it is today. Many of downtown Laramie's historic buildings date back to the 1800s. From the beautiful turn-of-the-century architecture to the dramatic tales of days gone by, this is a fun tour for anyone who appreciates history. Learn more about the Historic Downtown Laramie Tour here. 
The Old Lincoln Highway Tour
Another great solo tour is the Old Lincoln Highway. The Lincoln Highway was established in 1913 as the first coast-to-coast highway. The original route traversed the country from Times Square, New York City to Lincoln Park, San Francisco. A portion of the highway went right through Laramie Basin. While the highway has changed significantly since days gone by, there is still so much history to appreciate. For more information on the Old Lincoln Highway and to download a tour brochure, please visit our website.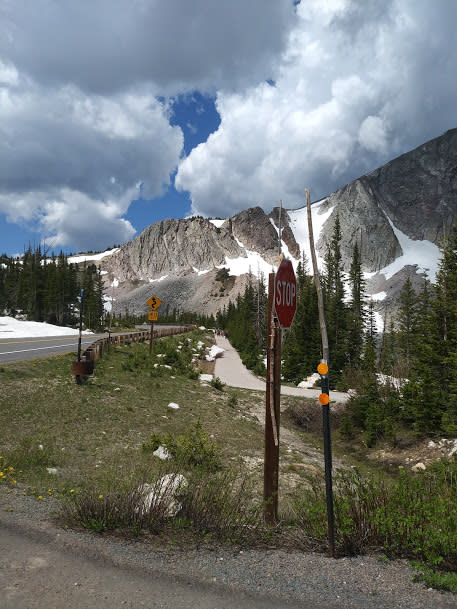 Along the Snowy Range Scenic Byway (photo by Leah Veinbergs)
Snowy Range Scenic Byway
The Snowy Range Scenic Byway, the second-highest pass in Wyoming, began as a humble wagon road in the 1870s. Today, drivers can cross the majestic Snowy Range mountains on the well-maintained, paved Wyoming Highway 130. The byway passes through about 29 miles of Medicine Bow-Routt National Forest and treats visitors to stunning vistas, rocky mountain peaks, and pristine lakes. Many scenic overlooks, hiking trails, and U.S. Forest Service roads can be accessed from the byway. Be sure to check that the byway is open (usually by Memorial Day) before planning a drive. Download a map and tour brochure here.
---
Road Trip Stops to Stretch Your Legs
---
What could be better for a solitary road trip than some true distances? After touring in your car for a while, you will probably need to stretch your legs. Luckily, the Laramie area's wide-open spaces make it easy to get out while still avoiding others.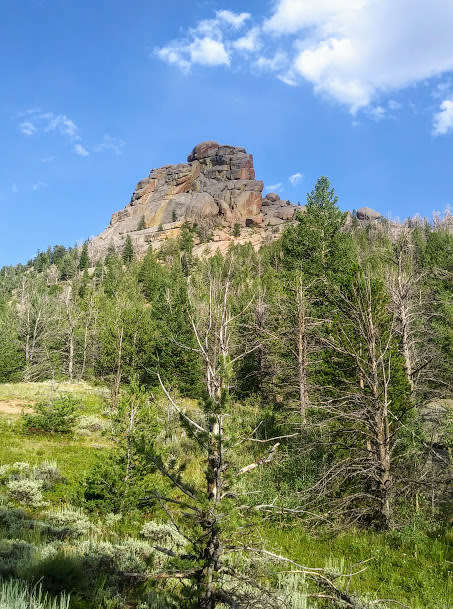 Vedauwoo Recreation Area (photo by Leah Veinbergs)
Vedauwoo Recreation Area
Despite being only 20 miles from Laramie, Vedauwoo Recreation Area has the appearance of another world. The incredible rock formations attract photographers, rock climbers, and hikers. A favorite hiking path is the Turtle Rock Loop. This hike offers a beautiful view of the singular "Turtle Rock" as well as many other aspects of the Vedauwoo area. Download a brochure on Vedauwoo and the surrounding area here.
Hutton Lake National Wildlife Refuge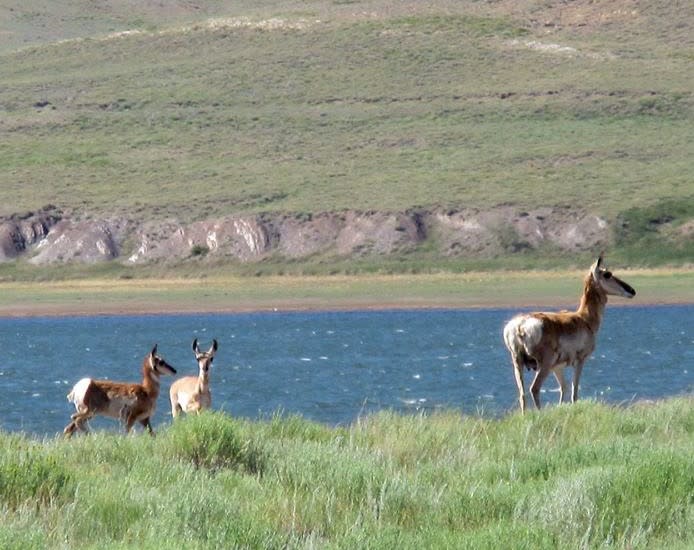 A pronghorn doe and twin fawns at Hutton Lake National Wildlife Refuge (photo courtesy of U.S. Fish and Wildlife Service)
First established in 1932 as a refuge for migratory birds, the Hutton Lake National Wildlife Refuge now encompasses 1,968 acres of protected habitat. The wildlife to be seen on the refuge include 146 species of birds and 29 species of mammals. This is a great place to spot pronghorn, golden eagles, white-faced ibis, prairie dogs, and a host of other animals. There is also a wide variety of plants, including wildflowers. The refuge can be best experienced on the 2.6-mile hiking trail. Download a Hutton Lake Species Checklist here.
Medicine Bow-Routt National Forest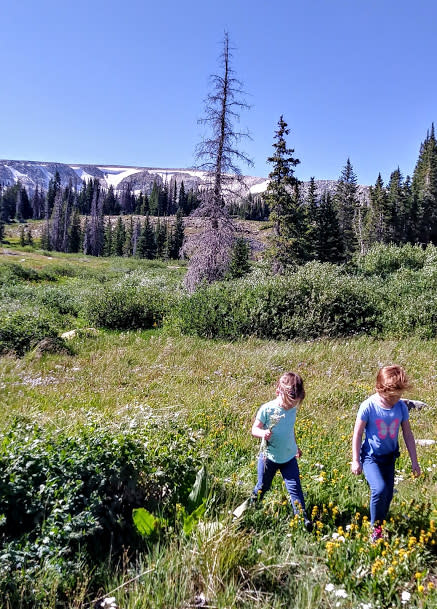 Snowy Range mountain meadow stroll (photo by Leah Veinbergs)
Medicine Bow-Routt National Forest in the Snowy Range mountains almost needs its own itinerary. It is the destination for unparalleled hiking, wildlife viewing, fishing, and a host of other outdoor activities. With scores of trails and ample parking, there is easy access to this breathtaking wilderness. Pristine mountain lakes, stunning views, and rugged landscapes await. For more information on how to best explore this area see the Medicine Bow-Routt National Forest webpage.
Without a doubt, Laramie and the surrounding area have plenty of great opportunities for day trips and exploring in open spaces
 You may also enjoy: Top 5 Tips for Hiking with Kids in the Laramie Area, Snowy Range Scenic Byway and The Saratoga Hot Springs, and Best Places for Viewing Wildlife in the Laramie Area.
Note: Leah Veinbergs is an independent writer and the author of the blog Two Little Time. She is contracted by Visit Laramie. Views and opinions expressed here are her own and do not reflect those of the Albany County Tourism Board.