Camping in Medicine Bow-Routt National Forest
Summer in Laramie brings an array of fun activities for kids and families. Arguably, summer is Laramie's best season. The weather is sunny and warm, the mountains are begging to be explored, and the community is full of fun things to do. Whether your family enjoys the outdoors, educational activities, music, or just plain old-fashioned fun, Laramie offers a myriad of activities for the whole family.
Outdoor Activities for Kids and Families
Situated in the heart of several natural recreation areas, Laramie provides unique hiking, camping and fishing opportunities for kids of all ages. Furthermore, Laramie's beautiful city parks, farmer's markets, and other outdoor attractions mean there are many ways for everyone to enjoy the weather and scenery.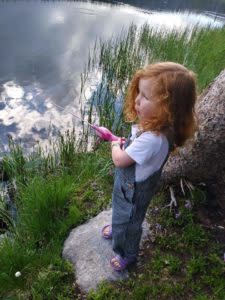 Fishing in the Snowy Range Mountains
Hiking, Camping & Fishing
The Medicine Bow-Routt National Forest in the Snowy Range mountains has tons of great trails in a variety of lengths and terrain types. Located about 40 miles west of the city of Laramie, the Snowies are highly accessible to families. For example, hiking options range from paved walking paths to backcountry hikes. However, if you prefer more of a guided experience, on July 20th there will be a Native Plant Walk in the Snowy Range. For more information on activities in the Snowy Range, view the U.S. Forest Service Snowy Range Area webpage.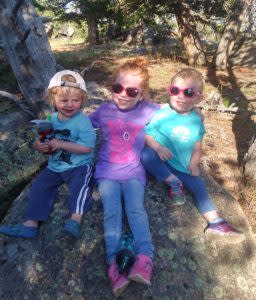 Hiking in Vedauwoo Recreation Area
Likewise, there are more great hiking and camping areas east of Laramie. Curt Gowdy State Park has many great trails and a beautiful reservoir for fishing, canoeing, and paddleboarding. Not to mention the Vedauwoo Recreation Area which showcases some incredible geological features and unique rock formations. Also, many of the trails at Vedauwoo are paved for additional ease of access⸺you can even take a stroller on some.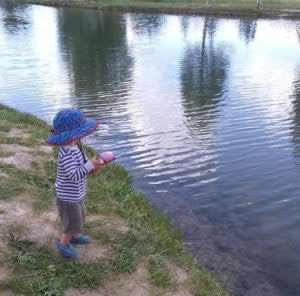 Fishing at Huck Finn Pond in LaPrele Park
City of Laramie Parks
In the same way, Laramie's city parks are outstanding. The parks feature beautiful trees and green spaces, picnic areas, restrooms, and playground equipment. Several parks boast additional amenities such as walking paths, water attractions, basketball courts, and more. For a more detailed description of what each park has to offer, visit the City of Laramie Parks webpage.
Moreover, throughout the summer the parks play host to various fun activities for kids. The Albany County Library holds Stories in the Park several days a week throughout the summer. The annual Rotary Club Duck Race will be held at Optimist Park on July 20th. Also on July 20th, the Huck Finn Fishing Pond at LaPrele Park will host the annual Huck Finn Fishing Derby.
Farmer's Markets
There are also not one, but two fantastic farmer's markets in Laramie. The Thursday Local Market is held at beautiful Undine Park each Thursday afternoon. This market features local vendors and artisans selling delicious food and beautiful wares. The Audobon society will also be sponsoring fun educational activities for kids at this farmer's market.
The Downtown Farmer's Market is the larger of the two and is held on Friday afternoons adjacent to downtown in the Depot Park parking lot. This farmer's market features local vendors as well as merchants and growers from all over. This is a wonderful place to sample some fudge or baked goods or purchase amazing produce.
Deerwood Ranch Wild Horse Ecosanctuary
A short distance to the west of Laramie is the Deerwood Ranch Wild Horse Ecosanctuary. The first privately owned BLM certified ecosanctuary in the country, this working ranch provides care and refuge to some of Wyoming's dwindling wild horse herds. For more information about tours or a stay at the ranch, click here.
Concerts and Festivals for Kids and Families
Although not explicitly geared towards children, concerts and music festivals in Laramie are entertaining for all ages. Parents, especially, will appreciate the more mature nature of these events.
Laramie Municipal Band Concerts and Summer Concert Series at UW
Laramie Municipal Band Concerts are held at the Washington Park Band Shell each Thursday evening in July (and July 4th). These concerts are free, relaxing events for the whole family. Another free concert series is the Summer Concert Series at Simpson Plaza. This concert series is held on the University of Wyoming campus at noon each Wednesday in July (except July 4th). Bring a picnic lunch or enjoy some BBQ. 
What Fest, Wind Fest, and Elevation Celebration
Likewise, just outside of Laramie on July 6th, two different music festivals are going on. Wind Fest will be held in the Vedawoo area. This event will feature great music, food, beverages, and Kite Flying. Elevation Celebration will be held in Centennial, WY in the gorgeous Snowy Range Mountains. Similarly, Elevation Celebration promises more terrific music, food, and art. What Fest, will kick off another round of fantastic music and food in downtown Laramie on July 26th. 
Educational Activities for Kids and Families
Perhaps it is because Laramie is home to the University of Wyoming, or maybe it is because we are located in the heart of the Wild West. Or, it could even be Laramie's proximity to geological and other natural wonders. Whatever the reason, Laramie offers many family-friendly and educational opportunities.
University of Wyoming Geological Museum
Throughout the summer the University of Wyoming Geological Museum offers "Fun Fridays." Fun Fridays offer a kid-centered craft, activity or demonstration. Plus, free admission every Friday throughout the summer between 11:00 a.m. and 2:00 p.m. This excellent museum is a must-see for aspiring paleontologists and geologists at any time.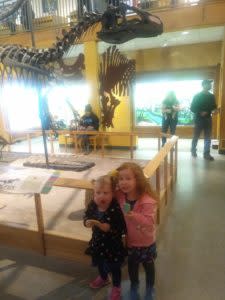 Fun at University of Wyoming Geological Museum
Harry C. Vaughn Planetarium
Another attraction provided by the university is the Harry C. Vaughn Planetarium. Take your young astronomers to one of the family-friendly Saturday Shows. These fantastic voyages into space are geared toward kids of all ages and are held on the 2nd and 4th Saturdays of the month throughout the summer. 
Laramie Airport Day
Have a future aviator in the family? Visit the Laramie Airport Day on July 13th. You can schedule a free airplane ride, see dozens of aircraft up close, and enjoy a free lunch. This annual event is always very popular with kids and adults.
Historical Attractions and Events
Laramie is rife with history. Visit the Laramie Plains Museum and Ivinson Mansion to see what life was like at the turn of the century. In addition, you can tour the Wyoming Territorial Prison State Historic Site. This wonderful historic site provides a glimpse of life for incarcerated wild west outlaws. Not to mention, on July 12th, the Territorial Prison will host Butch Cassidy Day. Of course, Butch Cassidy was the prison's most infamous inmate.
Other Fun Activities for Kids and Families in and around Laramie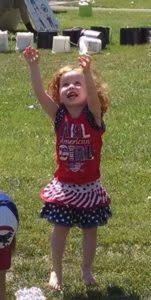 Freedom Has a Birthday
Freedom Has A Birthday
Certainly, the Freedom Has A Birthday celebration on July 4th is one of the biggest park events of the summer. This huge event takes over Washington Park with tons of events. Most of the events are free. The celebration features bouncy houses, inflatable slides, games, food, and so much more!
Laramie Jubilee Days
Of course, Laramie Jubilee Days will be held on July 6th through the 14th. This annual celebration of Wyoming statehood includes a rodeo, a carnival, and a parade. To say nothing of numerous other community events for the whole family. For more information about specific events visit the official Laramie Jubilee Days website.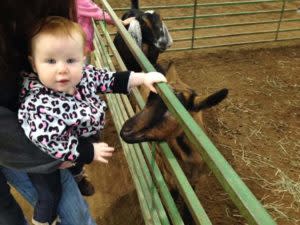 Petting the Calves at Albany County Fair
Albany County Fair
Also, Albany County Fair will be in full swing from July 23rd through August 4th. This event is a huge draw for families each year. Enjoy fair goodies, view exhibits, and see your favorite domestic animals and livestock up close.
Laramie Recreation Center
The Laramie Recreation Center is yet another great attraction. For a small fee, your family can purchase a day pass and enjoy all the amenities the Rec Center has to offer. The Rec Center has a playground, two gymnasiums, an indoor track, fitness classes and equipment, and--the best part--the aquatics center. 
The Aquatics Center features a hot tub, sauna, lap pool, and lazy river, as well as indoor and outdoor pools with water slides and attractions for kids of all ages. Throughout the summer, the Rec Center hosts fun events and activities for kids and families.
Additional Indoor Attractions
Moreover, if the weather isn't quite cooperating, Laramie has several indoor attractions to offer as well. All Points West Laser Tag and Family Fun Center has a laser tag course, an arcade,  and an escape room. House of Pounce provides bouncy house fun. And, coming in August, LEAP will bring an indoor obstacle course to Laramie.
Ultimately, whatever the ages of your kids, or their individual interests, Laramie provides more than enough fun and memory-making opportunities. Don't miss the fantastic family-friendly fun happening this summer in Laramie, Wyoming. For more information and additional events, please visit our events calendar, or to begin planning your trip today, click here.
Note: Leah Veinbergs is an independent writer and the author of the blog Two Little Time. She is contracted by Visit Laramie. Views and opinions expressed here are her own and do not reflect those of the Albany County Tourism Board.