Visitors and locals alike love Laramie for all the amazing outdoor recreation opportunities it has to offer. This rocky mountain town is surrounded by beautiful ecosystems, including the stunning glacial habitats of the Snowy Range Mountains, the alluring meadows and forests of the Happy Jack Recreation Area, the gravity-defying granite formations of Vedauwoo, and much more. 
Laramie's great outdoors is something we take collective pride in as a community. To preserve this legacy for future visitors and generations, we all have a responsibility to be good stewards of the lands and to minimize our environmental footprint as much as possible. 
So how can you make sure you're recreating sustainably when visiting the Laramie area? Thankfully, there are simple steps you can take to preserve the health and grandeur of the places we all love to explore:
Join Laramie's Sustainability Spirit
Before you even arrive at the trailhead, there are many actions you can take that help to protect our natural environments. The Laramie community has embraced efforts to improve sustainable living, with movements for change being led by grassroots organizing, businesses, non-profits, and political entities. In the spring of 2020, the Laramie City Council voted unanimously to accept recommendations to reduce emissions, with the ultimate goal of making Laramie carbon-neutral by 2050. The city is already taking concrete steps toward this goal, including the installation of solar panels on city facilities. 
Join us in this spirit of sustainability, knowing that personal choices matter. For starters, think about how you can minimize transportation impacts by carpooling to attractions, and biking or walking when you're in town. Laramie's Historic Downtown is incredibly pedestrian-friendly, with restaurants, bars, shops, and hotels all within walking distance of one another.
If you need groceries or outdoor gear before you head out to adventure, keep your money local and impactful. Many of Laramie's small businesses have a special focus on sustainability, so vote with your dollar! 
Atmosphere Mountainworks is an outdoors store that primarily sells locally-sewn products and makes use of leftover fabrics to produce as little waste as possible, achieving a much lower carbon footprint compared to mass manufacturing methods. 
The antithesis of environmentally-detrimental fast fashion, NU2U is a thrift store that operates on public consignment and donations, and NU2U Sports follows the same model, with a focus on outdoor recreation gear. 
If you need groceries, snacks, or even a grab-n'-go style meal, the Big Hollow Food Co-op is an excellent option. Big Hollow demonstrates its commitment to sustainability by offering organic produce, hosting more than fifty local vendors, buying in bulk, and composting any leftover produce for local farms. 
All three of these businesses are located in Historic Downtown Laramie, and they are by no means the only businesses engaged in sustainable practices. Don't forget to bring your reusable bags from home for any shopping needs!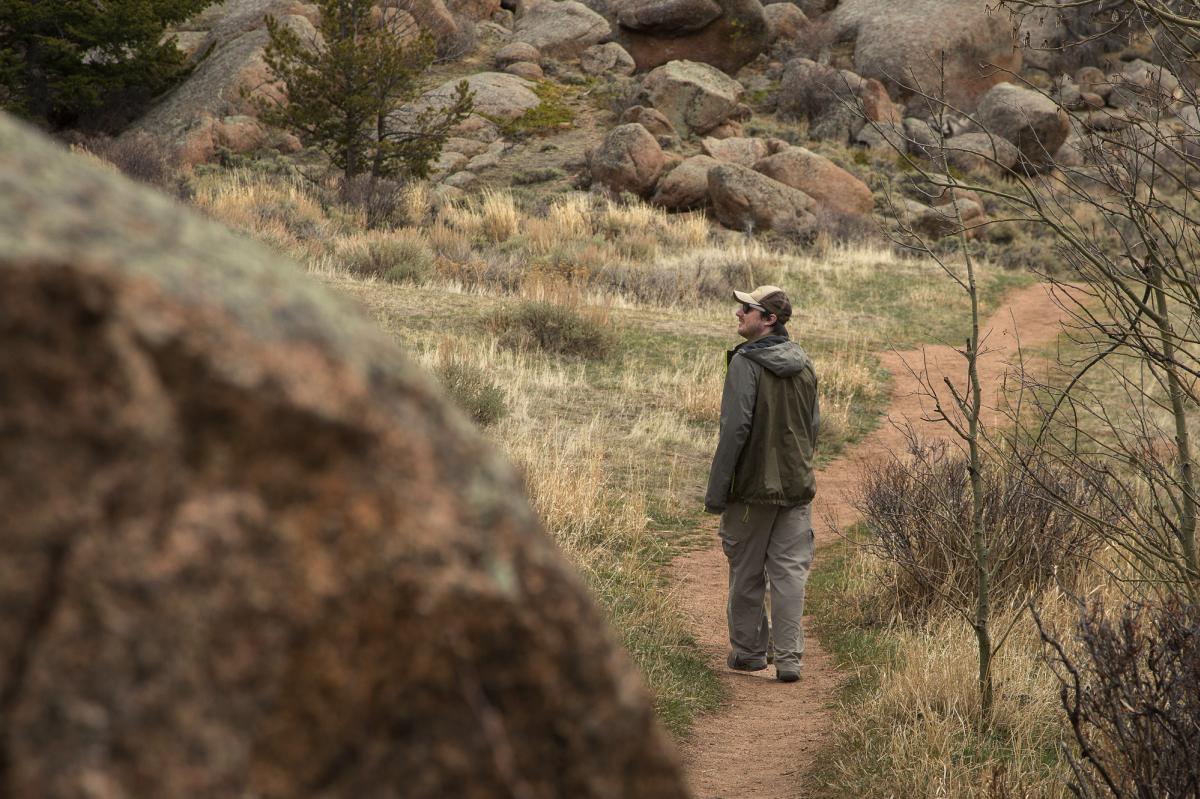 Prepare
Preparation is key for low-impact recreation. Do your homework about the area you're headed into by checking the weather, trail conditions, and avalanche conditions in winter, fire bans and wildfire conditions in the summer, and noting any other restrictions that may be in place. Unprepared recreators are more likely to damage resources as they look for options to improve their situation and to require search and rescue efforts.
Keep in mind that Laramigos are eager to help you navigate the area and can provide real-time, local tips to complement your internet research.
Leave No Trace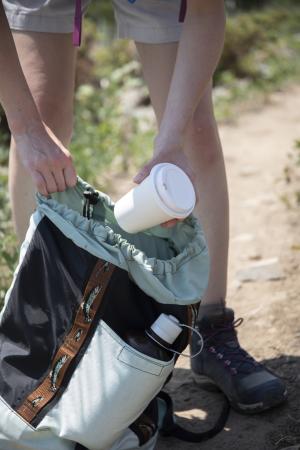 Your presence in the outdoors will have some impact no matter what, but the Leave No Trace principles developed by The U.S. Forest Service offer a framework for minimizing those impacts as much as possible. Put simply, Leave No Trace means disturbing the land as little as possible. Establish this mindset as soon as you arrive at your destination, and you will intuitively do right by the land and your fellow recreators.  
Some examples of Leave No Trace practices include properly disposing of human and pet waste, leaving rocks, plants, and any other objects of interest as they are, respecting wildlife, and being considerate of others.
Stick to Trails and Designated Areas
If Leave No Trace principles are your guide, you will automatically stick to trails and other designated areas. Still, this guideline is worthy of some extra attention as it's easy for many to think that cutting corners or going on a small detour is "no big deal." But consider that all of these misplaced footprints add up. Damage to the soil crust and plant life happens quickly, and it can take decades for the ecosystem to recover. The same also goes for using designated parking areas and established campsites and fire rings. With all this in mind, also remember to keep your furry friend on a leash. 
Go Above and Beyond
The only thing more satisfying than leaving things as you found them is leaving them better than you found them. Unfortunately, we have all come across beer cans, candy bar wrappers, and toilet paper while adventuring outside. But together we can counter this unsightly harm by making it our responsibility to undo it. I like to offer the tip of carrying hand sanitizer and a small bag in your pack so that you can safely pick up any trash you find along the way. 
All of the guidelines listed in this post are simple ways to ensure that all of Laramie's natural wonders remain special and accessible for years to come.
Note: Brian and Dani Harrington are independent writers contracted by Visit Laramie. Views and opinions expressed here are their own and do not reflect those of the Albany County Tourism Board.