Located just 35 miles west of Laramie in southeast Wyoming, the Snowy Range Mountains offer an impressive variety of alpine activities. Camping in this beautiful range is a great way to experience the breathtaking scenery and recreation that the area has to offer. Read on to learn more about camping in the "Snowies," including our top five favorite campgrounds. In addition, this resource from the U.S. Forest Service and the Wyoming Game and Fish is an excellent tool for helping you explore hiking, fishing, and camping in the Snowy Range.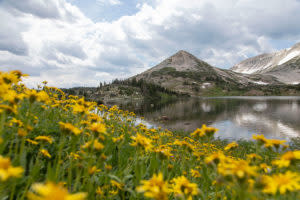 The highway that winds you up into the mountains and to all the campsites in this list is officially the Snowy Range Scenic Byway, so your journey to any campground in the area is sure to be filled with breathtaking scenery. The campgrounds we review below appear in order from closest to furthest away, from the perspective of a traveler coming from Laramie.
Here are the top 5 campgrounds that you can visit in the Snowy Range Mountain of Wyoming, just outside of Laramie.
---
1. The Libby Creek Campgrounds
---
The Libby Creek camping area is actually composed of four campgrounds: Aspen, Pine, Spruce, and Willow. These campgrounds lie lower in the range and run alongside Libby Creek. Their lower elevation relative to other campgrounds in the Snowies means warmer temperatures, especially at night and in the early morning.
You can access all four campgrounds from Barber Lake Road (Forest Road #351), which is a simple turn off the main highway about two miles northwest of Centennial. At the time of this writing, Willow Campground is the only one out of the four campgrounds that is open. Willow Campground hosts a total of sixteen campsites and can accommodate trailers up to 22 feet. Other amenities include picnic tables, toilets, drinking water and fire grates. However, it's important to note that the potable water may not always be available as availability depends on weather, maintenance, and water testing. Be sure to bring your own water in case the pump isn't running, or call the Laramie Ranger District (307-745-2300) ahead of your trip to check.
The Willow Campground is rated as a "heavy usage" campground with no reservations, so be sure to get there earlier in the day if you are set on this location. The fee per site is $10.00.
---
2. The North Fork Campground
---
The North Fork Campground is a large, well-developed, RV-friendly campground that boasts plenty of tent sites as well. Though not quite as low in elevation as the Libby Creek Campgrounds, the North Fork also lies lower in the range and therefore benefits from warmer nights. To get there, turn right off the Scenic Byway onto Sand Lake Road (Forest Route 101) and then travel about two miles until you reach the campground on your left.
With a heavy-use rating, the Northfork is a popular camping location and conveniently offers potable water and toilets, though again, it is always a good idea to bring your own water in case. Sites also run at $10.00 per night and are available on a first-come, first-serve basis (meaning no reservations). The North Fork of the Little Laramie River can be heard throughout the campground, with ten of the sixty sites located right along the banks of the river.
---
3. Brooklyn Lake Campground
---
Rated "light use," this campground is a bit further up in the range and generally doesn't open until mid-July due to snow. Each campsite offers a beautiful view of Brooklyn Lake, which is a popular destination for canoers and anglers fishing for brook trout, cutthroat, and splake. Fire rings, trash pick up, potable water, and toilets are all accounted for at this location, which is also $10.00 per night. In total there are nineteen campsites that are available on a first-come, first-serve basis. For those looking to hike and/or fish, access to Sheep Lake Trail and Glacier Lakes Trail is very convenient from this campground. To get there, turn off the main byway onto Brooklyn Lake Road / National Forest Service Road 315.
---
4. Sugarloaf Campground
---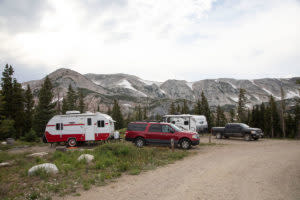 Similar to the Brooklyn Lake Campground, the Sugarloaf Campground typically doesn't open until mid-July (and sometimes later), depending on the snowmelt. The highest campground in the range, rising just above the banks of Lewis and Libby Lakes, this campground is extremely well-located. With several trailheads nearby, it provides convenient access to the best hiking in the Snowies, including the popular Medicine Bow Peak trail. The views of the peaks are also spectacular from the campground, as is access to lake fishing. Generally speaking, Sugarloaf is small (16 sites) and popular (rated "heavy use") and does not offer reservations, so get there early to secure your spot. To reach this campground, turn off the scenic byway into the Sugarloaf Recreation Area. The cost is $10.00 per site, and potable water and toilets are available.
---
5. Silver Lake Campground
---
Also a high-elevation campground at 10,500 feet, the Silver Lake Campground is yet another great choice for camping in the Snowy Range. It generally opens by mid-June or early July and is located just as the byway starts to descend down the other side of the mountain into the Brush Creek/Hayden Ranger District. The campground is rated "medium use" and contains seventeen campsites and three RV sites, picnic tables, toilets, water, trash receptacles, and fire grates. Nearby Silver Lake is great for brook trout fishing, and the campground offers convenient access to attractions such as Lake Marie Falls, Mirror Lake, French Creek Canyon Trail, and Miners Cabin Trail. As with all other campgrounds on this list, the site fee is $10.00 per night and is first-come, first-serve.
To learn more about camping, outdoor activities, and making the most of your camping trip to the Snowy Range and the Laramie area, visit our recreation page or the homepage of our blog for more information to start planning your trip today.