Snowshoeing is a great winter sport: it's fun, easy, relatively inexpensive, and offers a wonderful means for experiencing nature during the cold months. Look no further than Laramie, Wyoming, for a spectacular home base for snowshoeing, where opportunities to explore winter landscapes surround you. 
If you've never given the sport much more than a thought, here are five reasons you should make snowshoeing your next outdoor adventure:
Reason #1: Snowshoeing is Easy 
Especially when compared to other winter recreation activities, snowshoeing is easy, meaning that giving the sport a try is a no-brainer. Indeed, if you can walk, you can snowshoe. That said, snowshoeing is more special than walking because it allows you to traverse winter terrain that would be inaccessible if you were merely on foot. Also, snowshoeing does require a slightly longer, wider, and higher stride, meaning that you should be prepared to be a little sore the next day due to using muscles you haven't used as much before. 
Although snowshoeing is relatively easy, it's still a good idea to take some precautions. If it's your first time out, stick to terrain that is mostly flat, advancing to rolling hills once you hit your stride. It's also a good idea to stick to established trails with clear paths. Once you gain more experience, you may decide to venture off-trail a bit.
Reason #2: Snowshoeing is Inexpensive
Snowshoeing is one of the most affordable winter sports out there. Other than your typical outdoor winter clothing, the only gear you need is the snowshoes themselves (and maybe poles if you are extra concerned about balance or are venturing through more challenging terrain). Besides your snowshoes, the only other cost you may face is a small day-use fee, depending on where you decide to explore. Still, snowshoes are an investment, so if purchasing them is what's holding you back from trying this activity out, we recommend stopping by Laramie's Basecamp or Westgate Sports for excellent rental options. 
Reason #3: Snowshoeing is Great Exercise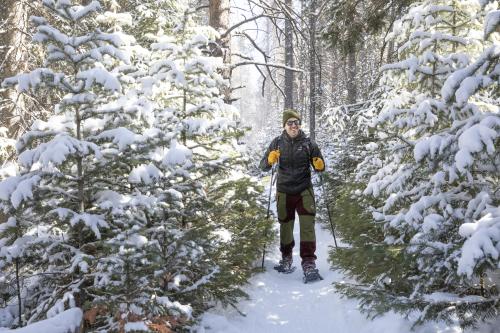 Just because snowshoeing is similar to walking does not mean you're missing out on a solid workout. First of all, walking is still good exercise. Second of all, snowshoeing requires additional effort when compared to walking and relies on slightly different muscles given the amplified stride. The snow also "gives" underneath as you walk, much like the feeling of walking on sand on the beach. If you want an extra challenge, breaking your own trail is a good way to achieve this as it necessitates an even greater increase in your stride. No matter how physically intensive the activity, anything that gets you moving outdoors during the winter is good for your health, physically and mentally. Because snowshoeing is an excellent low-impact workout, it does generate some heat, so bringing along a backpack will allow you to add and subtract layers in order to maintain a comfortable temperature. 
Reason #4: Snowshoeing is Convenient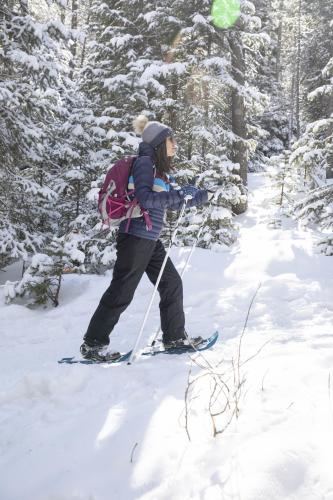 Snowshoeing opportunities around Laramie are plentiful and convenient. Most walking, hiking, and biking trails double as snowshoeing trails in the winter, and trail systems are close by and easily accessed, with some locations as close as a 15-minute drive from town and others not much further.
Just 12 miles east of town, the Tie City/Happy Jack Trailhead earns points for its proximity and for having the most well-marked and regularly packed trails. The trail system is expansive and varied, making it appropriate for both the beginner and the experienced. 
The Snowy Range Mountains 45 miles west of Laramie boast gorgeous high alpine terrain with excellent snowshoeing opportunities, the Green Rock Trail standing out among them. The Green Rock Trail is a six-mile loop that consists of more hilly terrain. The trail feels more remote and will give you a healthy feeling of solitude, not to mention beautiful views.
Located about 35 miles southwest of Laramie, Chimney Park is yet another great snowshoeing destination and features a dense and visually stunning lodgepole forest. The trails here are fairly flat, making this area great for beginners, families, and for anyone looking for a nice trek through a scenic forest.
Take care to inform yourself about the etiquette on any trails you visit. For example, avoid snowshoeing over groomed cross country ski trails and give skiers the right of way—it's much easier for a snowshoer to suddenly stop or get out of the way than it is for a skier.
Reason #5: Snowshoeing is Fun!
One of the best reasons to try snowshoeing is that it's simply a good time! Snowshoeing gets you moving outside and is a great way to get together with friends and family. As you trek through beautiful winter landscapes, you'll also enjoy that welcome sense of adventure and tranquility that can only be found in nature.