For many Wyomingites, Cowboy Football is the reason to visit Laramie. The Wyoming Cowboys attract thousands of fans to Laramie to cheer on the Pokes, to sing the "Beer Song," and to revisit memories of college days gone by.
Regardless of whether you're in the Cowboy Joe Fan Club or you can't explain what a first down is, this blog will help you discover what Laramie has to offer beyond football. Spoiler alert: it has a lot! Top things to do in Laramie, discover a complete list of some of the many ways in which you can enjoy your time in the Gem City.
---
Things to Do: Explore Downtown Laramie
---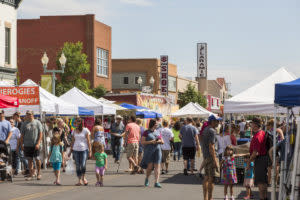 The Downtown Laramie Farmers Market is a top gathering place
Downtown Laramie is quickly becoming the cultural hub of Wyoming. Laramie's downtown is vibrant with history, art, award-winning restaurants, and boutique shops. It also plays host to a variety of events throughout the year. Here are a few ideas to get you going:
• Wander through the Laramie Farmers Market, which runs every Friday from 3 pm - 7 pm from the end of June through September. The market offers not only fresh produce but also live music, handmade goods, local art, seasonal cocktails and beer, and food vendors.
• Bust a move at the NU2U Street Dance and Costume Party, hosted by the beloved NU2U consignment shop. The event features live music, dancing, and a costume party / contest and is usually held in September following a Friday Farmers Market.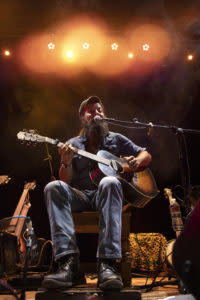 Jalan Crossland Live
• Stop in just about anywhere for some live music. Live music in Laramie is abundant to the point that you'd be hard-pressed to find a weekend without it! Coal Creek, The Buckhorn, The Alibi, The Cowboy, The Ruffed Up Duck, and The Great Untamed (to name a few) are common hosts to local and out-of-town acts.
• Attend the Pop Up Art Walk, which transforms downtown Laramie into a dynamic space filled with art, live theatre, music, and opportunities for the public to make art. It typically takes place during the first week of September.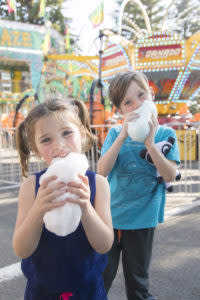 Laramie Jubilee Days Carnival
• Visit during July to catch Laramie Jubilee Days, the town's celebration of statehood. This multi-day event features rodeos, a carnival, street dances, a parade, and Laramie Brewfest. You can find more information about Jubilee Days here.
• Witness the magic of Laramie's murals born of an amazing team of local artists, administrators, volunteers, and property owners who launched the Laramie Mural Project in 2011. Now, eight years later, Laramie's downtown buildings and alleyways are teeming with color and activity. Laramie Main Street offers guided mural tours most Fridays during the summer. Conveniently, there is also a brochure and an audio guide where you get to hear from the mural artists themselves. Simply dial 307-200-0040# to access the audio.
A complete list of Downtown Laramie events can be found here.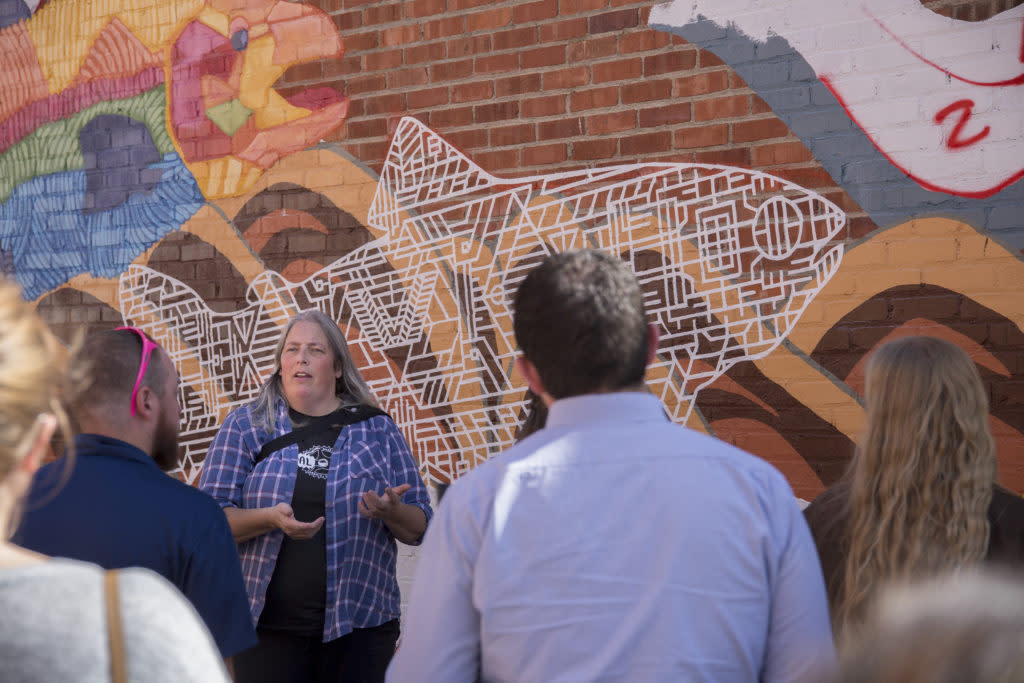 Downtown Mural Tour with Jessica Flock
---
Things to Do: Hone Your Cultural Side
---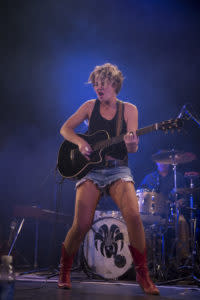 The Patti Fiasco Live
Check out the University of Wyoming events calendar to see what's happening on campus while you're in town. Without a doubt, the University is one of the greatest cultural assets to the Laramie community. You might choose to watch a play or dance performance at the theatre, attend a talk given by an acclaimed speaker, go to the symphony, or enjoy any number of other events. The University of Wyoming Geology Museum, home to the most complete Allosaurus skeleton ever found, and the University of Wyoming Art Museum are worthy of your attention as well. For more on our museums, click here.
You might also consider attending a theatrical production offered by Laramie's own Relative Theatrics. A Laramie native founded the company in 2013 and has been bringing "risky, relevant, real" live theatre to Southeast Wyoming ever since. Performances take place on the stage of the historic Gryphon theatre with seating limited to fifty for an intimate experience.
Also, keep an eye on the Gryphon Theatre and the 7220 Entertainment of the University of Wyoming. Both consistently bring well-known bands and other acts to the community.
---
Things to Do: Find Your Inner History Buff
---
Laramie is full of wild-west history that has landed its downtown on the national register of historic places. The downtown was home to some of the West's most well-known criminals and owes its existence to the Union Pacific Railroad. Train enthusiasts should stop by the Laramie Railroad Depot to learn more about this history. You can also take a stroll across the Union Pacific Pedestrian Footbridge. This relic of days gone by was built in 1930 to reduce the street level pedestrian traffic through the train yard. It is one of only two remaining footbridges of its kind in the United States.
Wyoming Territorial Prison State Historic Site
Built in 1872, the Wyoming Territorial Prison stands out as another notable piece of Laramie's history. The prison is open to the public Wednesdays through Saturdays from 10 am to 3 pm from October through April. While in operation, the Territorial Prison hosts a variety of tours and events. Access their events calendar here.
Most meaningfully, Laramie is home to Women's Suffrage. Right here in Laramie, in 1869, Louisa Swain became the first woman in the United States of America to vote in a general election. A statue of her stands in the plaza of the Wyoming Women's History House between Grand and Garfield on 2nd street to honor this historic moment. A year after Ms. Swain cast her vote, Laramie also became the home of the first woman to serve on a jury. This act is commemorated by a pedestal and plaque in the park near the footbridge.
For more on things to see and do while visiting Laramie, check out the activities page on our website things to do page updated on a regular basis.
Note: Brian and Dani Harrington are independent writers contracted by Visit Laramie. Views and opinions expressed here are their own and do not reflect those of the Albany County Tourism Board.