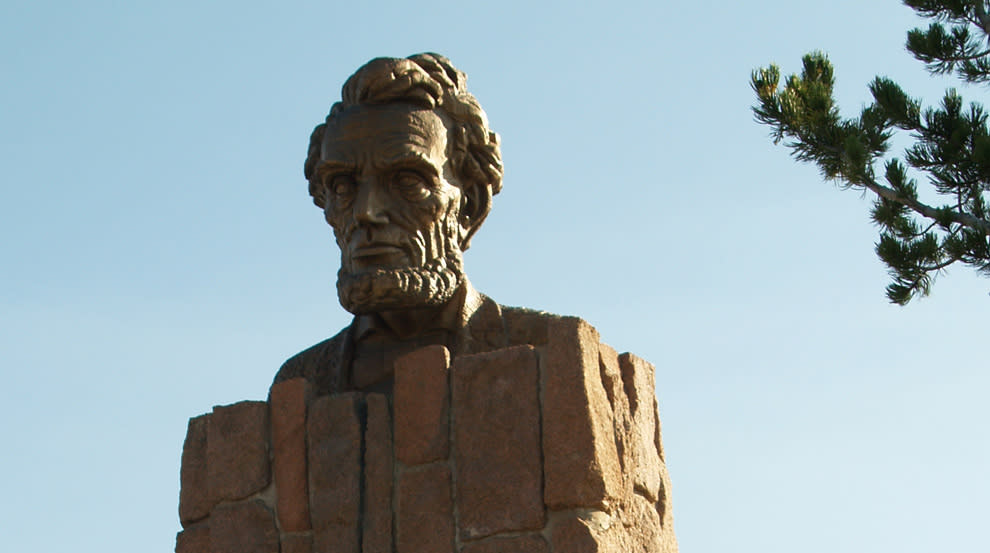 The Abraham Lincoln Memorial Monument was recently named Roadside America's "Sight of the Week" for the week of May 17-23, 2021.

The article details the history of the Lincoln Monument, how it came to be located where it is on the Interstate, and some of the other roadside curiosities on-site, like the Henry Joy monument. Read an excerpt below or click here to read the full article along with historic photos.
"No one driving on Interstate 80 between Cheyenne and Laramie, Wyoming, can possibly miss the colossal, craggy Abraham Lincoln head towering over traffic at exit 323.
But why Lincoln? Why here? Wyoming didn't even exist as a territory when Lincoln was around.
The big head began as a vague idea by the Wyoming Parks Commission, which wanted to celebrate Lincoln's 150th birthday in 1959. As a justification, it cited the Pacific Railway Act of 1862, which Lincoln signed into law, and which later ran the transcontinental railroad through what was later named Wyoming.
A rich Wyoming landowner, Charles Jeffrey, put up the money, and the Parks Commission hired Robert Russin, Wyoming's best-known sculptor and a big fan of Lincoln. Unlike the Commission, Russin knew exactly what he wanted: a giant Lincoln head at Sherman Summit east of Laramie, the highest point on the old coast-to-coast Lincoln Highway, 8,878 feet above sea level. He said he'd been dreaming about it since 1947.
Russin sculpted the head out of 70 tons of clay. He described it as "a brooding, contemplative Lincoln... his great heart sorrowing over the rent nation." The head was deliberately made rough and craggy, like its Wyoming surroundings, then cast in bronze in Mexico City. "The statue came up from Mexico with armed guards from the Mexican Army," said Joe Russin, Robert's son, in a 2008 interview for the Laramie Boomerang. "They were afraid that someone was going to steal it."
 
Perched atop a hollow 30-foot-high concrete pedestal faced with 120 tons of Wyoming granite, the Lincoln head was unveiled with much fanfare on October 18, 1959. Its serendipitous Lincoln Highway location, however, didn't last long. After less than ten years ..."
 
Click here to read the full article.