Why choose a cabin retreat for your next vacation? Trading in the grind of your daily routine for the peaceful, simple life of cabin living may just be exactly what the doctor ordered. While on-the-go, itinerary-packed vacations can be a lot of fun, they can also leave us feeling much less relaxed and refreshed than we'd hoped. 
A mountain cabin stay, on the other hand, forces us to slow down in the best of ways. While there are still plenty of opportunities for adventure and sightseeing, everything is within a very manageable distance (is the doorstep close enough?), and options are refreshingly pared down to prevent overwhelm. You can allow your impulses to guide you from moment to moment: Ski? Snowshoe? Cozy fire and a book? Snowmobiling? Drinks and cards? Follow your whims.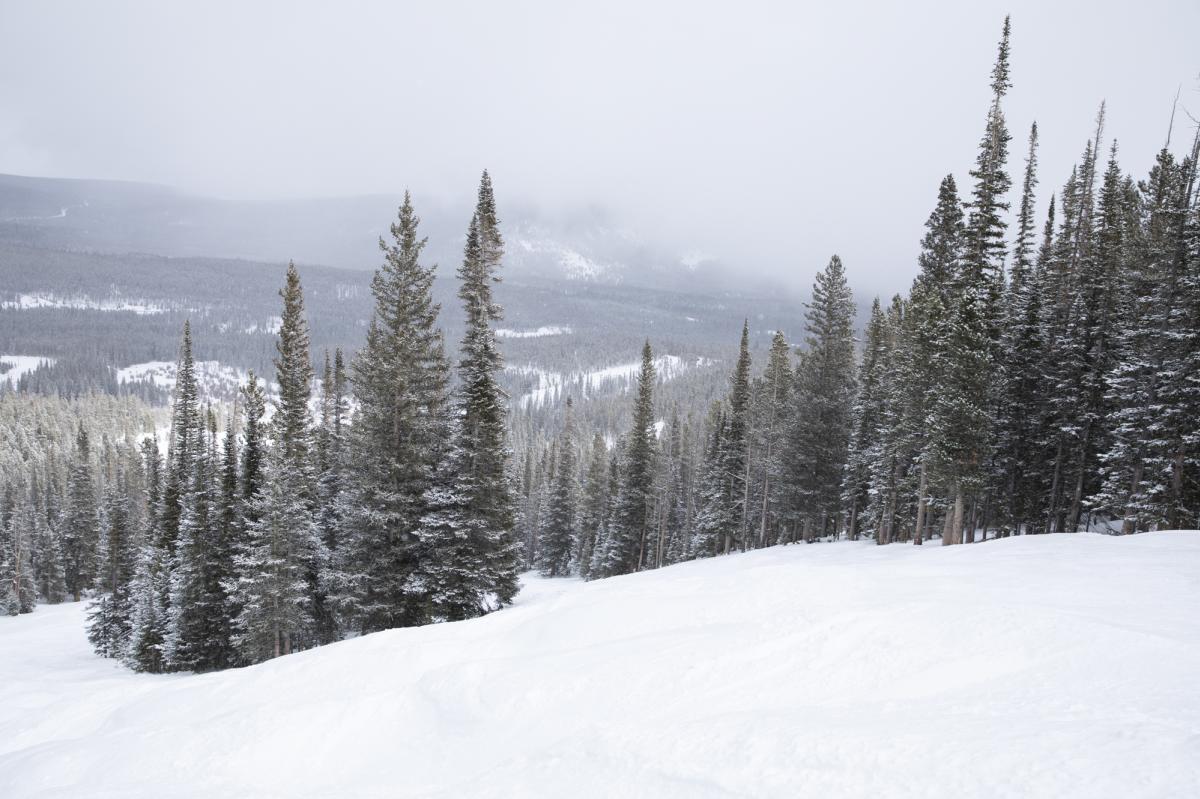 The surrounding areas of Laramie boast many options for cabin stays that range in size, amenities, remoteness, and available activities and experiences. To make the most of your winter cabin retreat, you'll want to do your research on the kinds of amenities available at your chosen home-away-from-home, and then be sure to plan accordingly. 
If you don't feel like packing much more than your personal items, then look no further than the Vee Bar Guest Ranch or Albany Lodge. Both the Vee Bar and Albany Lodge are located in the foothills of the Snowy Range Mountains and include lodging options that feature all the modern conveniences of a typical vacation stay.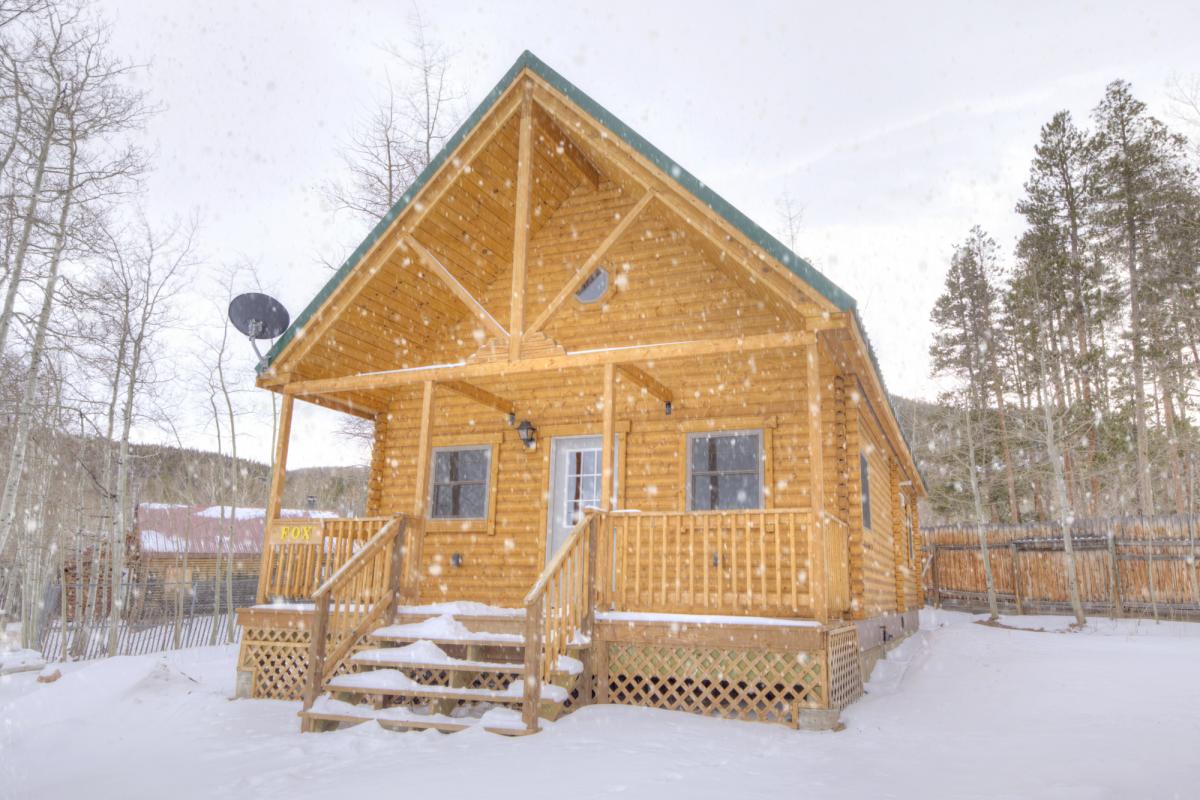 Albany Lodge's Fox Cabin in the Snow.
If you are aiming for a more secluded mountain experience, however, then this post is for you. 
Some of our favorite rustic cabins include the Little Brooklyn Guard Station and the Keystone Cabins, nestled deep within the beautiful Snowy Range. For more recommendations on where to stay, check out this list as well as our post on winter cabin retreats.
Regardless of where you go, don't forget to bring along these ten essential items to ensure a safe, fun, relaxing, and comfortable time.
Basic Personal Items
Of course you will need to bring along your basic personal items, such as clothing and toiletries, just as you would for any trip. But for a cabin stay, be sure to be extra thorough in your checklist of what you will need and how much, because if you forget your toothbrush or run out of contact solution, there won't be a drugstore just around the corner. Also make sure to pack extra warm, winter-weather clothing.   
A First Aid Kit
Given you'll be more secluded than usual, it's a good idea to bring a first aid kit, should the need arise. Be sure to include some essential medicines in your kit as well. 
Bedding

While some cabins offer all the bedding essentials, others don't, and even if yours does, we like to bring along our own pillows and linens when possible, as this usually makes for a much more comfortable stay. Extra blankets, for both your bed and lounging around, are also a great addition. 
Kitchen Supplies 
Conveniently, most cabins come equipped with basic cooking utensils, but if yours doesn't, you'll need to bring them with you. Make a meal plan according to what you are comfortable preparing with the equipment you have. If your cabin is only reachable by ski or snowshoe, simple and minimal is best. 
Food & Drink

Be sure to pack plenty of food, water, and snacks, along with your favorite drinks. Pack extra, but avoid going overboard as too much excess is both inconvenient and potentially wasteful. Don't forget the coffee, tea, and your choice of an adult beverage, either.
Outdoor Recreation Gear
Perhaps the best thing about a winter cabin vacation is the incredibly convenient access to outdoor recreation. Staying at a cabin in the Snowy Range Mountains means being able to ski, snowshoe, and / or snowmobile right from your front door. Some of the more remote cabins in the area can only be reached by ski, snowshoe, or snowmobile, in fact. So come equipped for your outdoor sport or sports of choice so that you can enjoy the scenic winter landscapes from both inside and outside your cabin.   
Matches and Firestarters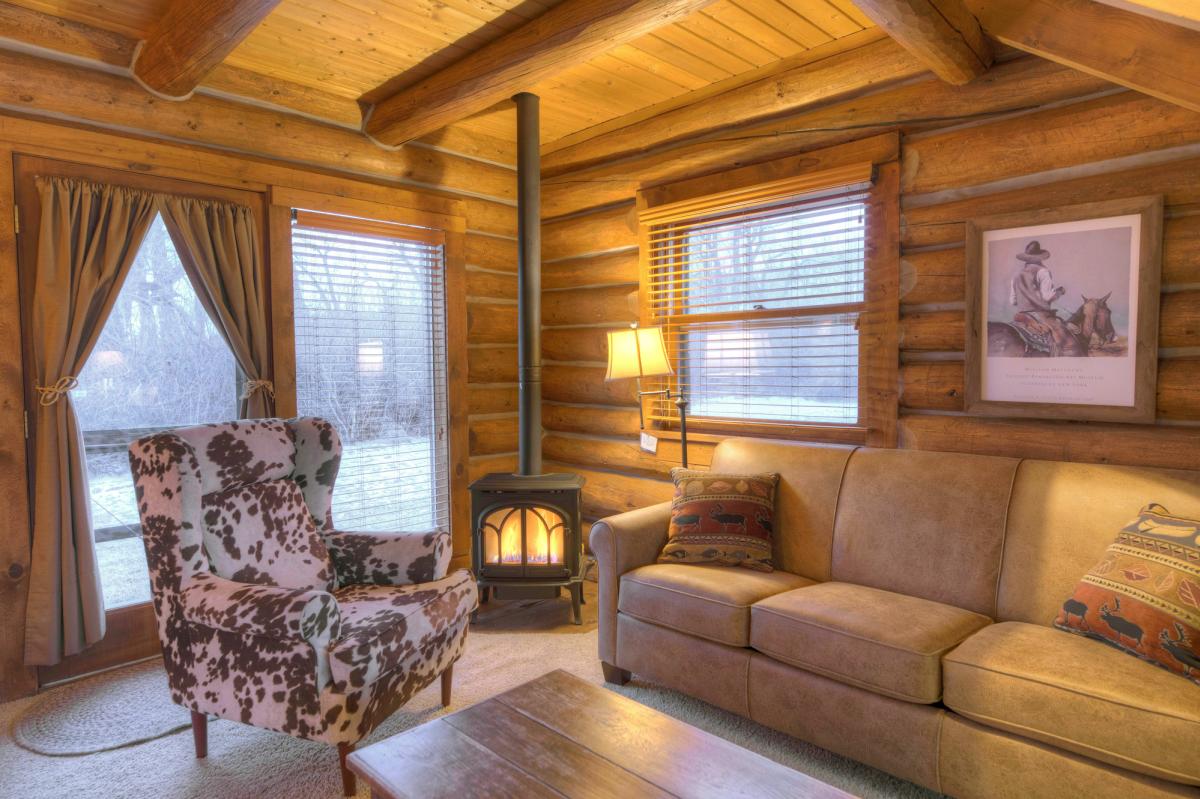 This Vee Bar Guest Ranch cabin provides all the cozy with the convenience of a gas fireplace.

Curling up next to a cozy fire is one of the best parts about a winter cabin getaway. Many of the cabins in the Snowy Range are equipped with wood stoves and firewood, but you'll need to bring matches and fire starters to get things going. 
Flashlight
While a fire may provide some light, you will definitely need a flashlight, especially if you are staying in a cabin without electricity or propane lights. A head lamp works particularly well as it allows you to go about your normal activities, hands free. 
Extra Entertainment
While the great outdoors is the best source of entertainment for a cabin stay, pack additional diversions, such as a good book, small board games, or cards. 
Charger and Batteries
While cabin stays are particularly suited for a digital detox, there could be a reason you want or need to keep your phone or another electronic device charged. A portable charger is a great solution here. If you have other electronics that require charging or batteries, make sure you bring enough juice to last you for the duration of your stay. 
Note: Brian and Dani Harrington are independent writers contracted by Visit Laramie. Views and opinions expressed here are their own and do not reflect those of the Albany County Tourism Board.