With the winter snows deep and the cold winds blowing, it is easy to suffer from a bit of "cabin fever." Families are more than eager to find a fun activity that gets them out of the house and into the great outdoors. Snowy Range Ski Area is a perfect place for family skiing and snowboarding!
Snowy Range Ski & Recreation Area, just west of Laramie, is an ideal place to introduce kids to skiing or snowboarding. It is also perfect for more experienced skiers and snowboarders who are eager to hit the slopes. With their convenient location, family-friendly pricing, wonderful amenities, and lessons for even the wobbliest little first-time skier, Snowy Range is an absolute must for family wintertime recreation.
---
What to Expect
---
Great Family Skiing and Snowboarding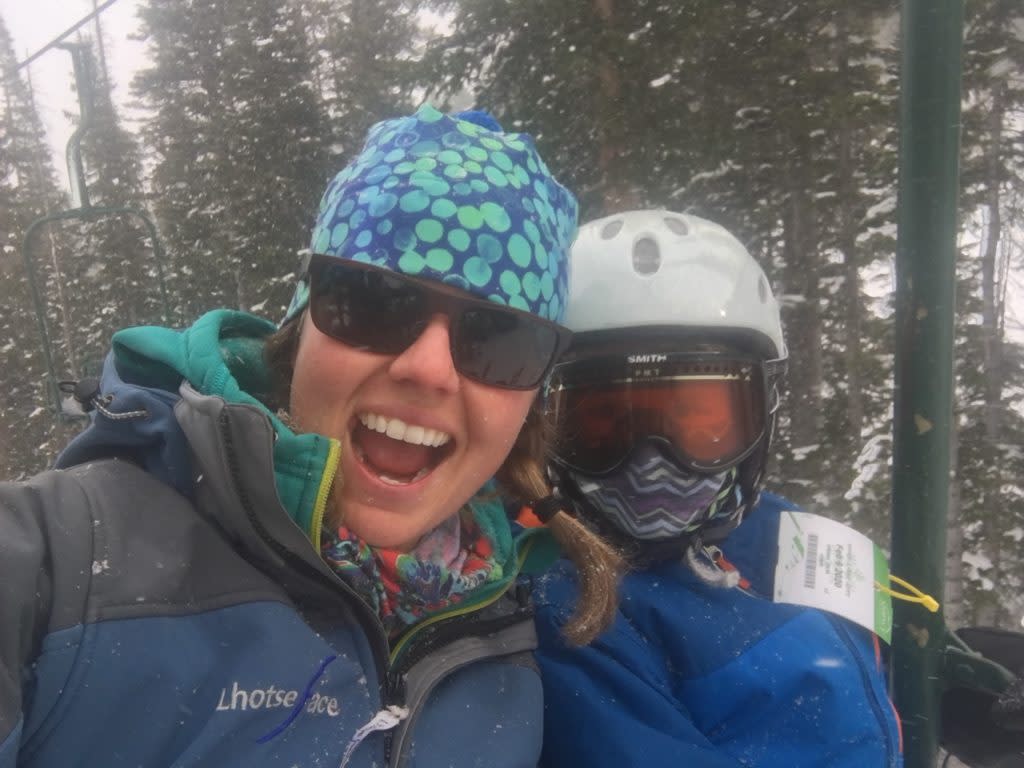 Great Family Fun at Snowy Range (photo courtesy of Brittany Thompson)
Snowy Range has four chair lifts and one surface lift "Magic Carpet Ride" to allow patrons to access their 250 acres of skiable area. The runs range in difficulty from "beginner" to "expert" in difficulty. The longest run is 1.8 miles long and there are even two terrain parks. They are open daily from 8:00 am to 4:30 pm (lifts operate on slightly shorter hours).
Family-Friendly Pricing
Lift tickets for kids and teens are very affordable. Teen lift tickets(13-17) are $42, youth lift tickets (5-12) are only $30, and kids 4 and under ski for free!
There are additional discounts available for multi-day passes and large groups. Be sure to visit Snowy Range Ski Area's webpage for more information and to book your tickets in advance.
Ski and Snowboard Lessons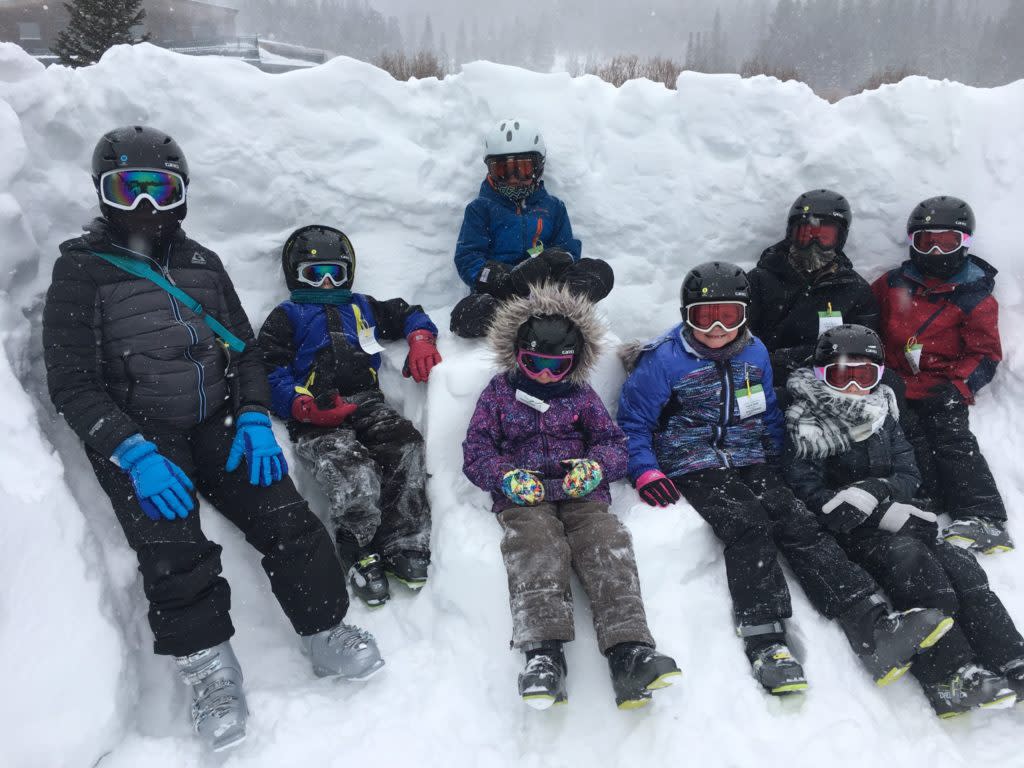 Taking a break from a group lesson (photo courtesy of Brittany Thompson)
Not quite experts at navigating the powdery slopes? Not a problem. Snowy Range offers lessons for kids as young as three years old. Actually, they offer ski and snowboard lessons for just about every age and ability level. Lessons start as low as $108 for a one-hour youth group lesson.
For detailed information about private and group lessons, ability levels, and pricing make sure to visit the Snowy Range Ski Area Mountain Sports School page. 
Great Food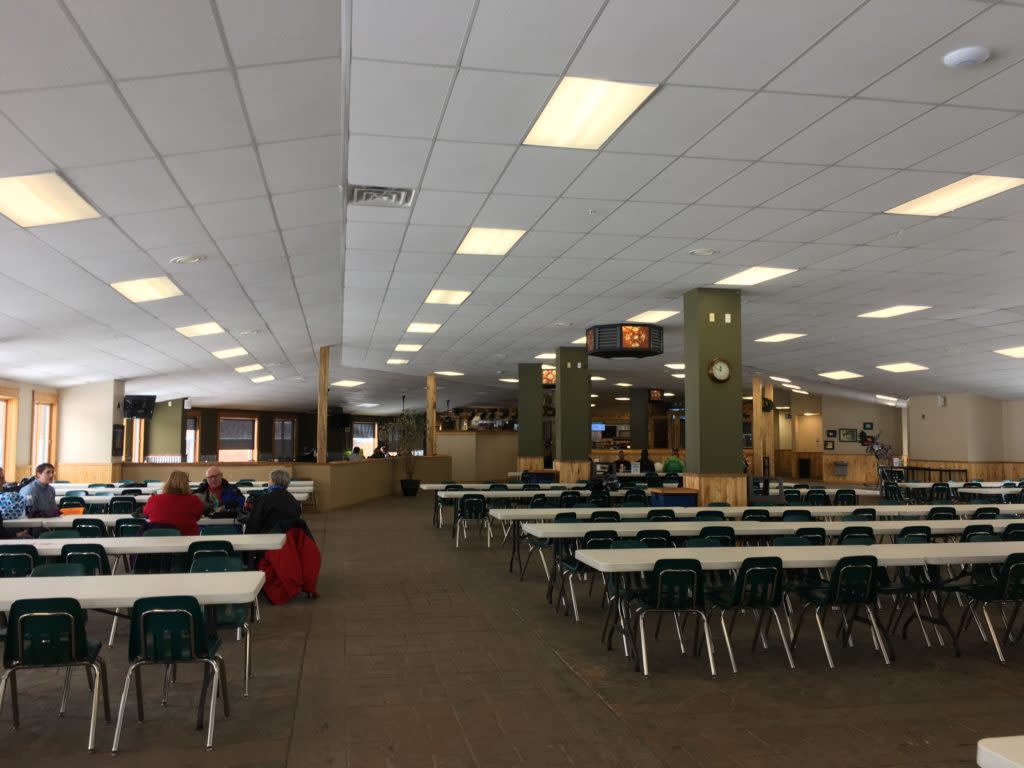 Plenty of space to spread out in the lodge at Snowy Range (photo courtesy of Brittany Thompson)
Snowy Range Ski Area has not one, not two, but three places to get food and refreshment. Snowy Joe is a great spot to enjoy a coffee, a hot chocolate or a quick snack. Happy Jack Cafe offers "grab n' go" dining with food such as burgers, fries, soups, and salads. For those who want a true sitdown meal experience, Libby Creek Bar & Grill has a delicious menu and craft beers (including Snowy Range's own microbrews!).
---
What To Bring
---
Ski or Snowboard Equipment
If you and your kiddos have your own ski or snowboard equipment, then you are ready for some fun family skiing. Snowy Range does provide repair, tuning, and wax services for an additional charge.
If you are not already outfitted with skis, boards and boots, no worries! Snowy Range has rental equipment to fit kids of all ages. Rentals start at $21 for kids under 12, $23 for teens and students, and $25 for adults. There are discounts for multi-day rentals. Rental packages include skis, boots, and poles or boots and a snowboard. You can rent helmets for an additional $8.
Ski Goggles or Sunglasses 
It is, of course, always a good idea to wear some sort of eye protection while skiing. However, with an elevation between 8,798 feet (base) and 9,663 feet (summit), it is extra important to have goggles or sunglasses with UV protection.
Sunscreen 
At high elevations, your eyes aren't the only thing you need to protect. You can get a sunburn even in the winter. Be sure to bring sunscreen of at least SPF 15 and apply (and reapply) to any exposed skin. I would also highly recommend a lip balm with SPF as well.
Water and Snacks
Another effect of high elevation (as well as physical exertion) is possible dehydration. Be sure to stay hydrated with plenty of water. Snowy Range does have several great options for refreshment. Still, it is a good idea to bring lots of healthy, high protein snacks to keep you fueled throughout the day. You are allowed to bring and store coolers in the Snowy Range lodge. 
Warm Clothing
For athletic activity in cold weather, it is always a good idea to dress in layers. Layers can help you adjust to changing temperatures and stay warm and dry. Usually, this involves a base layer, a middle layer, and an outer layer. A good base layer should be similar to long-underwear and made of wool or a moisture-wicking material. Your middle layer might be a sweater or similar clothing. The outer layer should be waterproof. Make sure to also bring warm wool socks, extra socks, gloves, hats, and face protection like a ski mask or balaclava. 
---
Where To Stay
---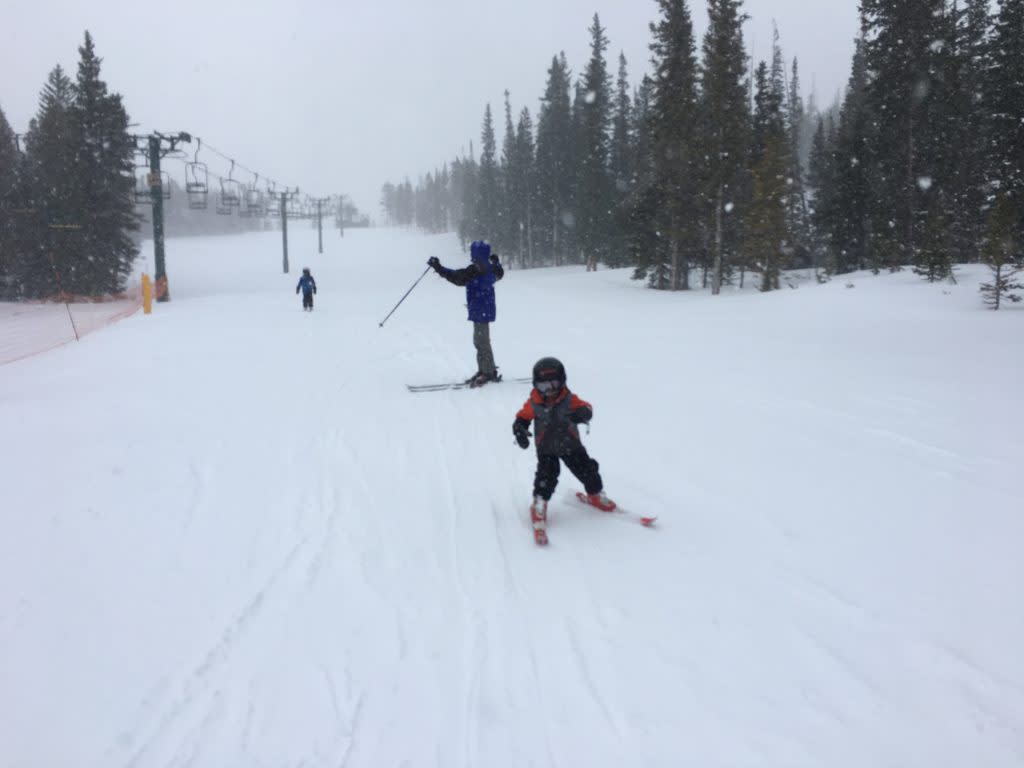 Mountain Fun (photo courtesy of Brittany Thompson)
While Snowy Range Ski Area does not have on-site lodging, it is only 5 miles from Centennial and 32 miles from Laramie. Both Centennial and Laramie have great places to stay. For a complete listing of area lodging, be sure to visit our Visit Laramie Lodging page.
Snowy Range also has an awesome discount package with several local hotels. Stay at the Vee Bar Guest Ranch, Fairfield Inn & Suites Marriott, Holiday Inn, The Mountainview Hotel, Hilton Garden Inn, or the Days Inn and receive 15% off lodging, lift ticket, and rentals!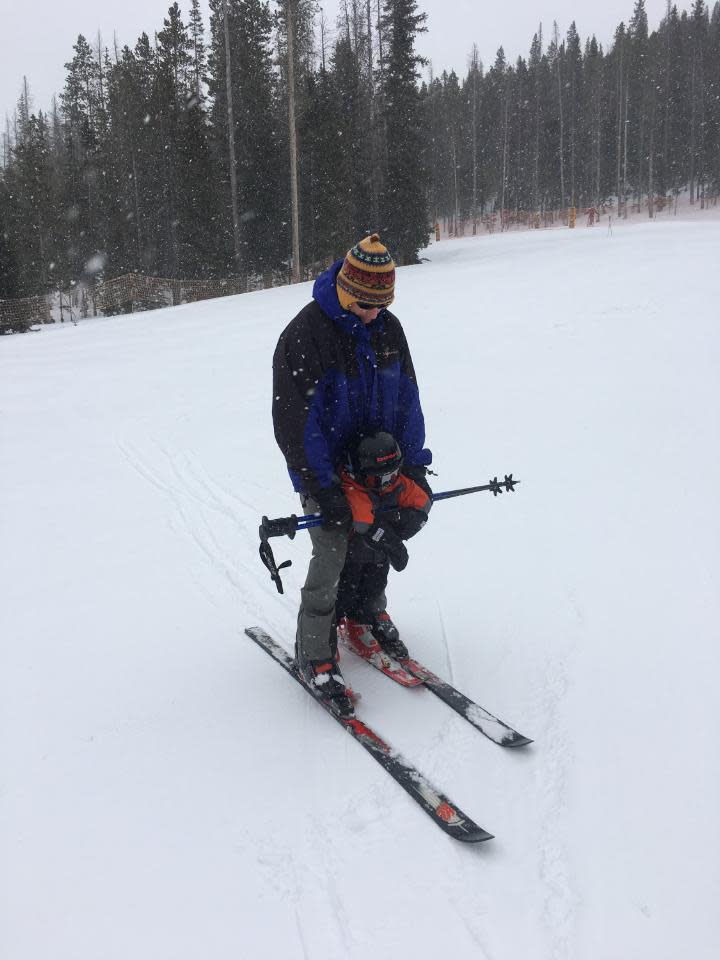 A little guy getting some one-on-one help (photo courtesy of Brittany Thompson)
---
Cross Country Skiing
---
Family skiing can include cross country skiing too. In addition to the wonderful alpine skiing and snowboarding that Snowy Range provides, they also have nordic (cross country) ski trails. There is no charge to ski on these beautiful mountain trails, but be sure you have your own equipment as Snowy Range does not rent nordic ski equipment.
Snowy Range Ski Area is without question a fantastic place for family skiing and snowboarding. Whether you are introducing brand-new beginners to the slopes or planning a trip for experienced skiers and boarders, Snowy Range is the place for outdoor family fun this winter.
You may also enjoy these posts: Planning Your Trip to the Snowy Range Ski Area, Best Laramie Hotels to Stay at When the Roads Close, The Best Fun Free Things to Do in Laramie, Wyoming, The Best Restaurants for Kids in Laramie.
Note: Leah Veinbergs is an independent writer and the author of the blog Two Little Time. She is contracted by Visit Laramie. Views and opinions expressed here are her own and do not reflect those of the Albany County Tourism Board.