To get a true sense of a place, one should know something about its history. Knowing the story of a building, a store, or a town imbues even the mundane with a sense of mystery and legend. 
Legends come alive in Laramie, Wyoming. Whether strolling past the historic storefronts and businesses downtown, perusing the exhibits at the Laramie Plains Museum, or enjoying a cold beer in a saloon once frequented by turn-of-the-century cowboys, learning the stories of the past enriches the experience. Want to know more about the history of Laramie? Enjoy this guide to historic businesses and places in the Laramie area.
The founding of Laramie City can be traced back to 1868. However, the earliest pioneers to venture onto the Laramie plains were fur traders, followed by cattlemen, settlers, rail workers, and miners. Each left some mark upon the land, although most of their names and stories have been long forgotten. It would be impossible to do justice to this diverse and expansive history here. Thus, the following highlighted stories and places are only fragments of the whole.
Historic Shops and Businesses
2nd Street & Grand Avenue in 1929 (photo credit Ludwig & Svenson Studio, photo courtesy of Anne Brande of Ludwig Photography)
After the Union Pacific Railroad came to Laramie in 1868, the town grew rapidly. Businesses sprang up right and left. Some of the oldest businesses in operation today are Corthell & King Law Office, established in 1887, and the Laramie Boomerang newspaper, founded in 1881. 
The downtown buildings themselves have a story to tell. The Laramie Downtown Historic District is situated between 1st Street and 6th Street, Ivinson Ave, and Sheridan Street. While many of the original buildings are gone–destroyed by fire or the simple ravages of time, many remain. For more information on the history of the beautiful downtown buildings and storefronts themselves, download this Downtown Laramie Walking Tour Brochure. The brochure will guide you on a brief tour of historic Laramie.
There are several stores in Laramie that have stood the test of time. These shops have undergone many changes over the years–different locations, different owners–but they carry the same principles that made them successful in the beginning.
The Curiosity Shoppe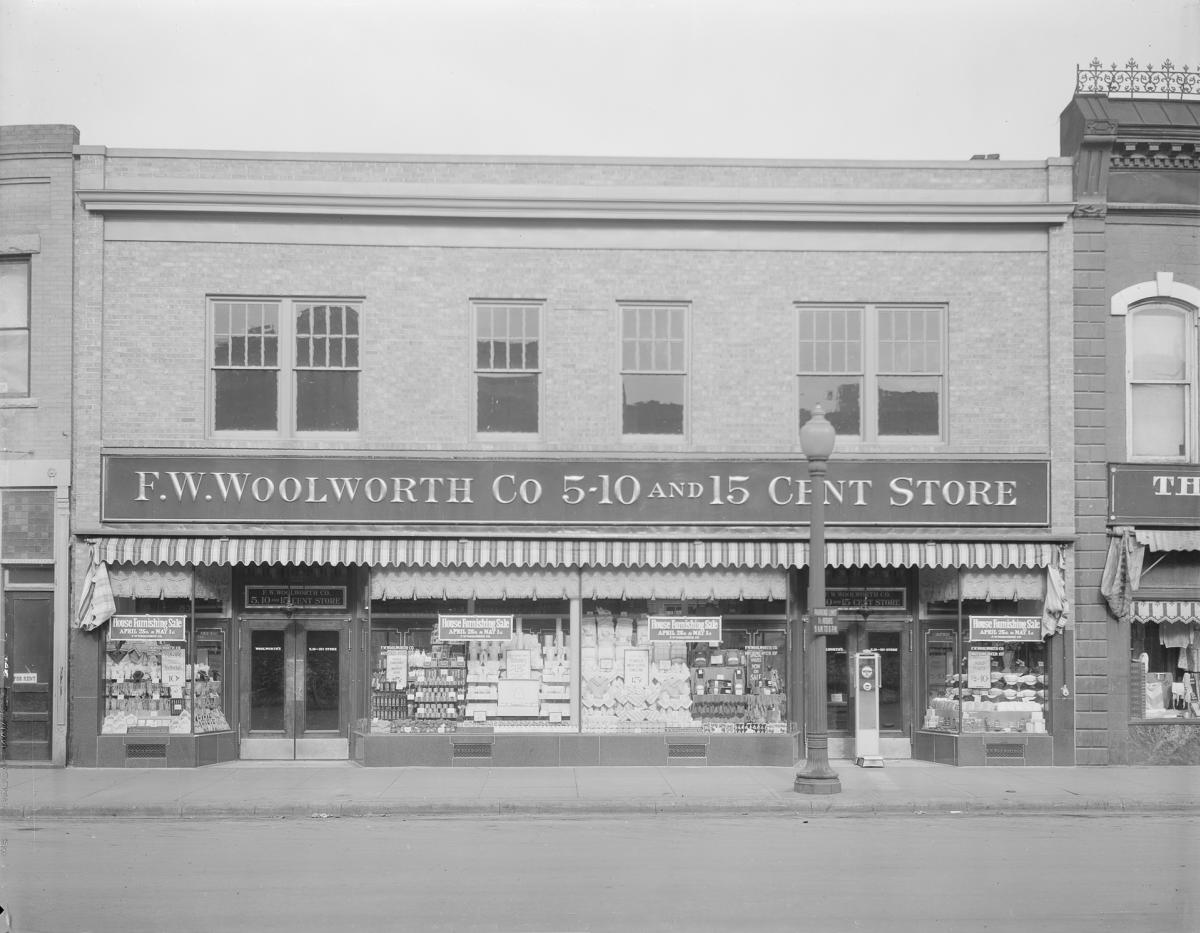 F.W. Woolworth Co. Store (now The Curiosity Shoppe) on South 2nd Street c.1928 (photo credit Ludwig & Svenson Studio, photo courtesy of Anne Brande of Ludwig Photography)
A Laramie staple for over 50 years, The Curiosity Shoppe storefront was once home to an F.W. Woolworth store. As far back as 1901, it was Paul Bath's Confectionery, Cigars, and Billiards.
The Curiosity Shoppe is now a delightful gift shop and Hallmark store. Shoppers can find everything from fine home goods, to greeting cards, collectibles, and jewelry. There is literally something for everyone. Also, the customer service can't be beaten.
Dodds Shoe Company
Since 1934, Dodds Shoe Company has been providing Laramie with high-quality footwear and exceptional customer service. The original proprietor, D.L. Dodds opened Dodds Dry goods and Ready to Wear with a vision. After four generations. Dodds is still family-owned and operated and is still striving to fulfill its legacy. 
Come into Dodds and see their incredible selection of shoes and accessories, all with a 30-day money-back guarantee.
Alexander's Fine Jewelry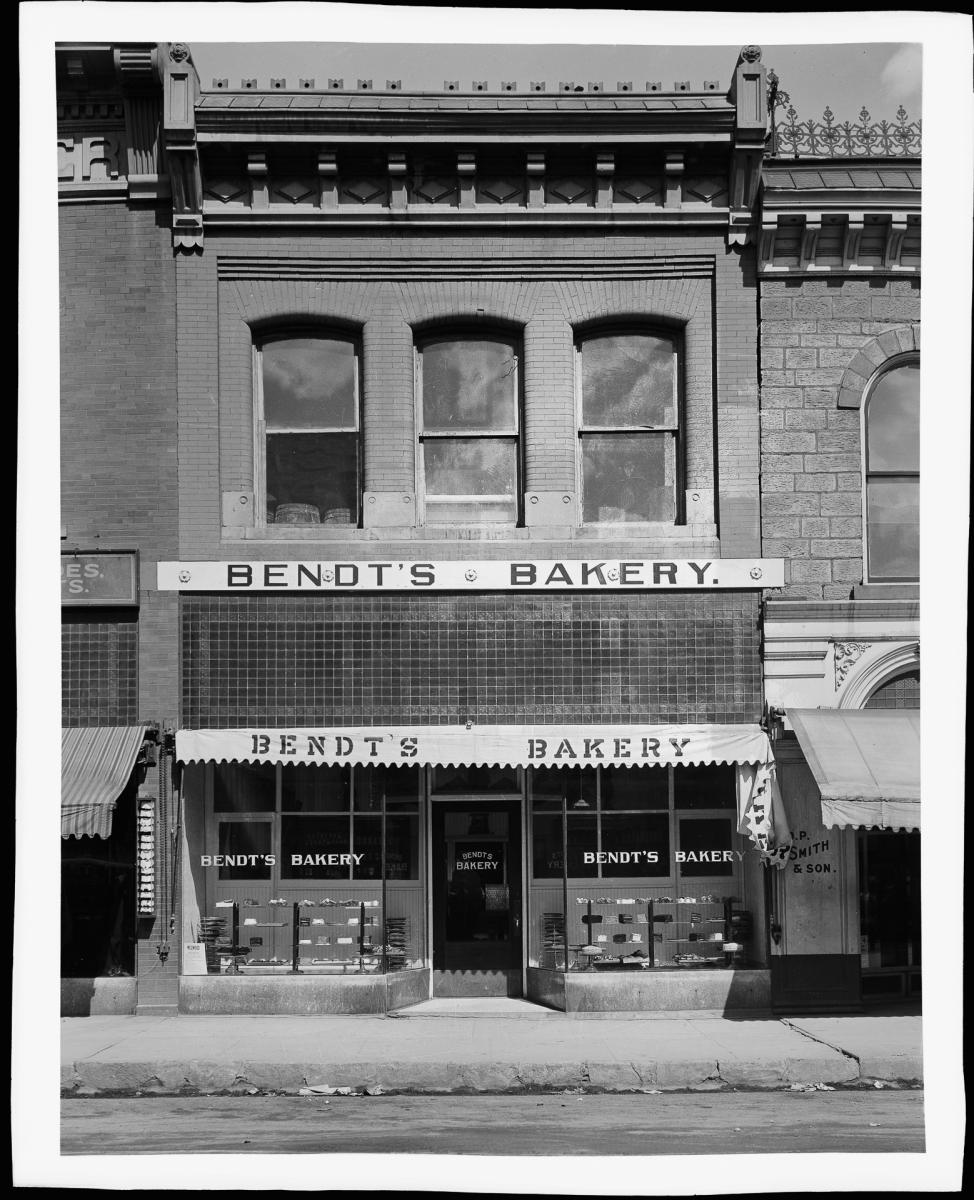 Bendt's Bakery in 1919 (now Alexander's Fine Jewelry) (photo credit Ludwig & Svenson Studio, photo courtesy of Anne Brande of Ludwig Photography)
The history of Alexander's Fine Jewelry weaves together the history of both Laramie and the Rasmussen family of Utah. Christopher Rasmussen immigrated to the United States from Denmark in the mid-1800s. He eventually settled in Salina, UT. He was a goldsmith and clockmaker and passed his craft on to his son, his grandson, and his great-grandsons.  James and Roger Rasmussen brought this skill to Laramie when they purchased Alexander's Fine Jewelry.
Alexander's Fine Jewelry was originally opened in 1963. Before it was a jewelry store, it was a Bendt's Bakery at least as far back as 1919. It has also been a clothing store and was Laramie Hardware Co. in 1901.
Alexander's is still owned by James Rasmussen today. It is part of a larger family business, Rasmussen Jewelers. Alexander's continues to bring quality craftsmanship, artistry, and customer service to Laramie.
Killian Florist
Killian Florist is the place to go for beautiful, fresh flowers in an artful arrangement. The store was established in 1947 by Jim and Evelyn Killian. The history of the building goes back even further to the turn of the century. While several businesses have been located here, Killian's has been the most enduring.
The current owner of Killian Florist, Janet Killian, is an award-winning florist who is certified by the American Institute of Floral Designers (AFID). According to Killian's website, she is the only AFID certified florist in southern Wyoming.
Ludwig Photography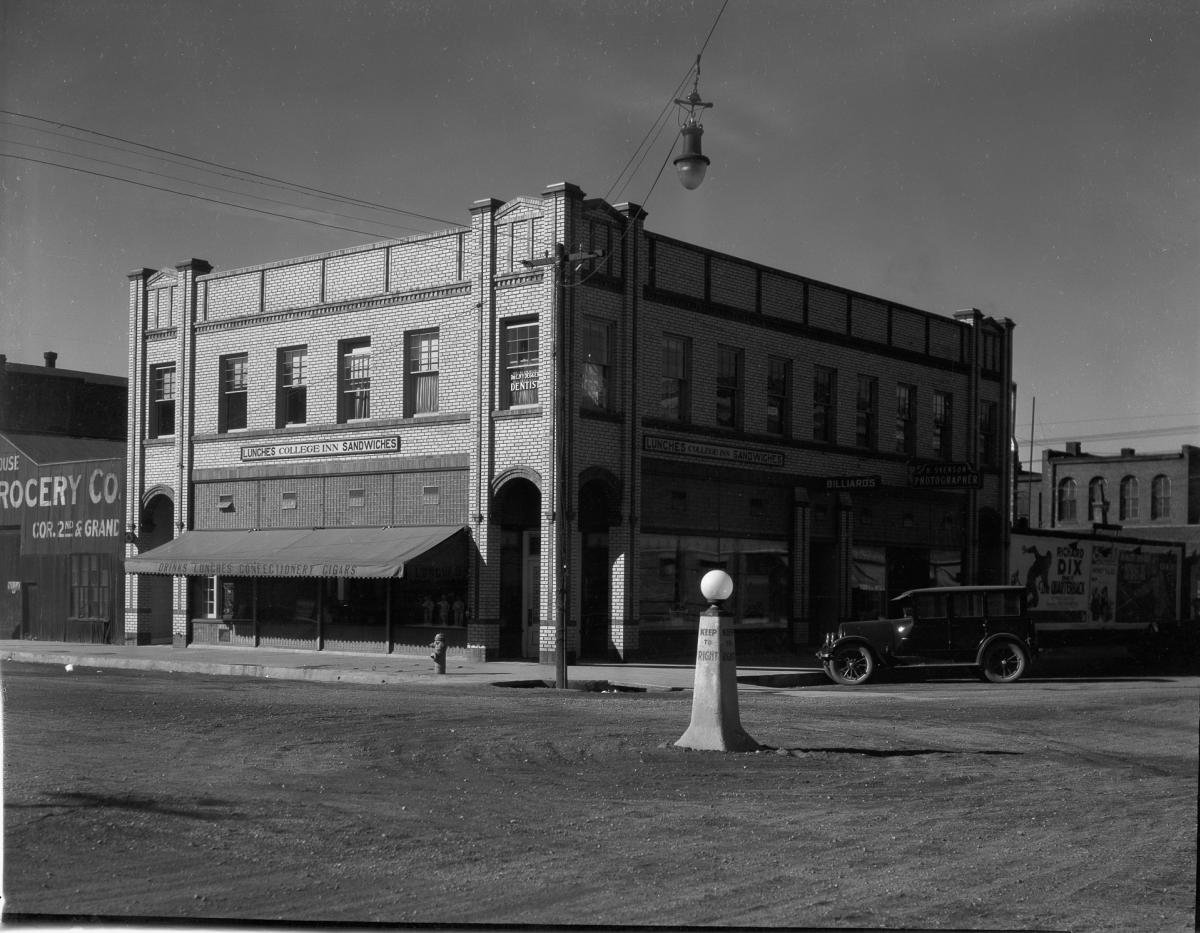 Ludwig Photography (then called H. Svenson Photographer) and the College Inn Restaurant (now Handel Information Technologies, Inc.) on the corner of 3rd Street and Ivinson (then called Thornburgh) in 1926 (photo credit Ludwig & Svenson Studio, photo courtesy of Anne Brande of Ludwig Photography)
Ludwig Photography has an extensive and inspiring history. Its original founder, Henning Svenson, was a German immigrant. When he arrived in Laramie by train in 1905, he had only 1$. With a 30$ loan and a credit account with Kodak in Denver, he built the photography business that is today Ludwig Photography. Originally located on 3rd Street, Ludwig Photography moved to its present location when Svenson built the building in 1925.
Today, Henning Svenson's legacy lives on through his great-granddaughter Anne Brande. Besides running Ludwig Photography, she oversees The Ludwig Collection of historic, high-resolution photographs and negatives. The collection is exceedingly rare in the world of history and photography. This invaluable glimpse into life in turn of the century Laramie is preserved by Laramie's unique climate and the dedication of the family.
Ludwig Photography offers a range of services, including professional portraits, family portraits, senior portraits, and wedding photography. True to their heritage, they also do photographic restorations.
West Laramie Fly Store
While its location is a few miles from historic downtown, the West Laramie Fly Store is, without a doubt, a Laramie institution. The "Fly Store," owned by Brandon Specht, is the local spot for fishing gear, hunting and fishing licenses, bait, and more.
The earliest official record of the Fly Store is in the 1951 Laramie City Directory. The proprietors are listed as Claude E. Brown Jr. and Diane Brown. However, the Fly Store may have begun years earlier with hand-tied flies made by Claude E. Brown Sr.
The original store was a small log cabin. The present-day store is at the same location, and a portion of the original cabin is still contained within the store. The West Laramie Fly Store has undergone numerous owners over the last 70 years, but it remains a local icon among anglers to this day.
Historic Restaurants and Saloons
One of the prevalent images of the west involves cowboys letting loose at the local saloon. Laramie has several wonderful saloons and restaurants to choose from. Many are located in historic buildings and each has a story to tell. However, a few stand out for their longevity and historic charm.
Buckhorn Bar & Parlor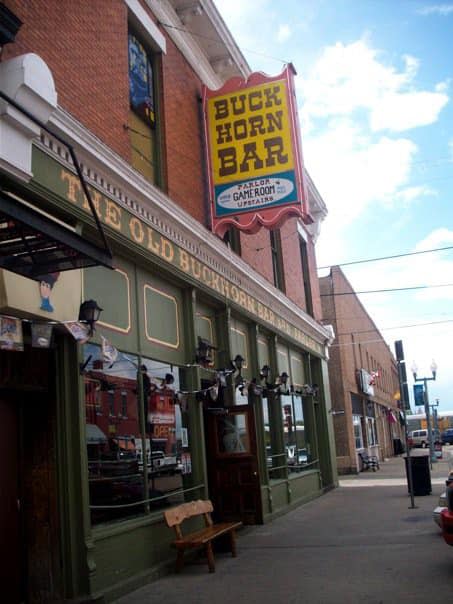 Street view of the iconic Buckhorn (photo courtesy of the Buckhorn Bar & Parlor)
For a true piece of Laramie history, stop by the Buckhorn Bar & Parlor. For over 100 years the building has been home to some of Laramie'smost frequent establishments. In 1901, the building housed the Simpson & Campbell Restaurant. In 1913, it was home to the Blair & McCune Saloon. Of course, in 1920, Prohibition put an end to any legal drinking establishments. After Prohibition ended in the 1930s, the Buckhorn moved in and remains as Laramie's oldest saloon.
In its current incarnation, the Buckhorn still channels the rustic charm of the west. From the ornate wooden bar to the bullet hole still visible in the barroom mirror (fired by a spurned lover), the Buckhorn is about as authentic as it gets. Today, patrons can enjoy a full bar, a game of pool, live music, and a true Laramie experience.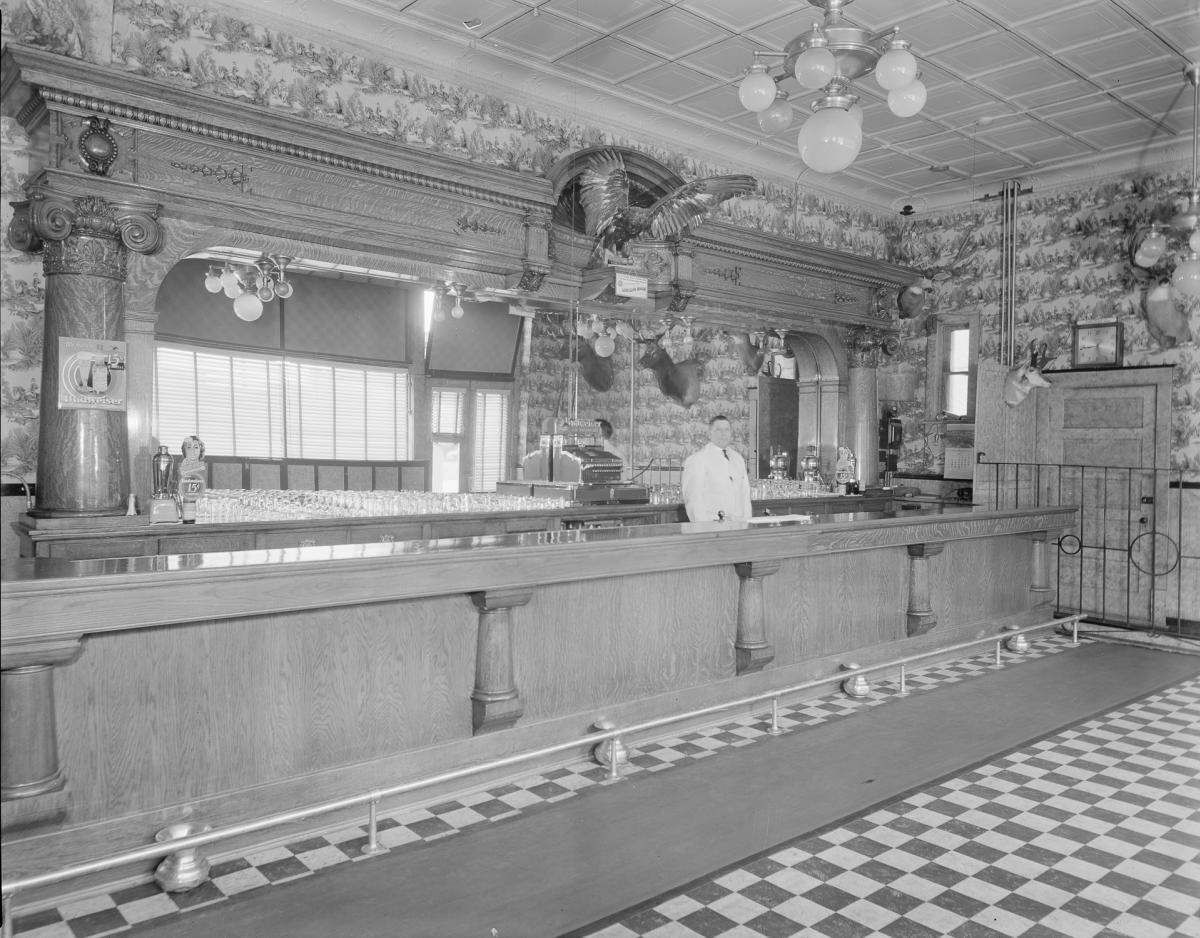 Interior of the Buckhorn Bar & Parlor in 1940 (photo credit Ludwig & Svenson Studio, photo courtesy of Anne Brande of Ludwig Photography)
Cavalryman Steakhouse
The Cavalryman Steakhouse is located on the old parade grounds of Fort Sanders. Fort Sanders (originally Fort Buford) was established in 1866 to protect settlers and travelers on the Overland Trail and Stage from Native American attacks. The soldiers at Fort Sanders also protected Union Pacific Rail workers, and the location served as the county seat for Laramie County for a short time.
In 1925, the current restaurant building was built to serve as a clubhouse for the local country club. Later, in 1970, it was turned into the Cavalryman Supper Club before becoming the Cavalryman Steakhouse.
The Cavalryman serves mouth-watering steaks, a variety of delicious entrees, and a repertoire of cocktails in a unique western atmosphere permeated with history.
Historic Hotels and Lodges

An undated photograph of the Centennial Valley (photo credit Ludwig & Svenson Studio, photo courtesy of Anne Brande of Ludwig Photography)
To truly experience the history and spirit of Laramie, there is nothing quite like staying in one of the historic hotels and lodges the area has to offer. Most of the original downtown hotels like The Connor and Johnson's Hotel have been re-purposed into storefronts and restaurants. However, about 20 miles west of Laramie, near Centennial, there are several hotels and lodges that offer the original character of the old west.
Vee Bar Guest Ranch 
In 1995, the Vee Bar Guest Ranch was purchased by Lefty and Carla Cole. Since then, their children, grandchildren, and great-grandchildren have run the day-to-day operations of the ranch. 
The land that the Vee Bar is situated on has been a ranch since the 1880s. Englishman Lionel Sartoris built the main lodge, which is still used today, in 1891. In fact, many of the original 100-year-old buildings are still used today. The ranch had undergone many changes in ownership and name over the years. The ranch also served as a stagecoach stop, and freight line before becoming a guest ranch in 1908. The Vee Bar brand was used on cattle at the ranch in 1910, but the ranch did not take on the name until 1957. 
Now owned by Brent and Kari Kilmer (granddaughter of Lefty and Carla Cole), the Vee Bar Guest Ranch continues the western tradition. Guests can stay in comfortable accommodations while enjoying horseback riding, cattle work, fishing, tubing, trap shooting, and many more activities.
Mountain View Hotel
In 1907, the Mountain View Hotel opened just in time for the 4th of July celebration in Centennial, Wyoming. The occasion was also marked by the arrival of the first train in Centennial. The original hotel had 20 guest rooms, a dining room, and very modern plumbing for that time period.
The Mountain View Hotel still operates today with modernized guest rooms and suites and a cafe and coffee bar. The hotel still has many of its original elements and the historic and modern blend seamlessly.
Of course, the Laramie area is brimming with historic buildings, museums, homes, and more. The Historic Laramie Railroad Depot (rebuilt in 1924), Laramie Plains Museum at the Ivinson Mansion (built in 1892), University of Wyoming Campus (established in 1886), The Wyoming Territorial Prison (built in 1872), and St. Matthew's Episcopal Cathedral (established in 1868 and built in 1896) are only a few of the historic treasures in Laramie.
Special acknowledgment and gratitude are due to Anne Brande of Ludwig Photography and the Albany County Historical Society for your expertise and information.
To read more about these and other notable locations see our posts: Laramie History Itinerary for Kids and Families, The Best Laramie History Museums and Sites, and Fascinating Laramie Walking Tours.