With college football season in full swing, and basketball season gearing up, now is the perfect time to plan a visit to the University of Wyoming campus. It is easy to spend a day or even several days enjoying the campus. With performing arts, sporting events, museums, and more, you won't have to wonder how to spend a day on the UW campus. 
TIP: Use this helpful interactive campus map to navigate around campus.
Sporting Events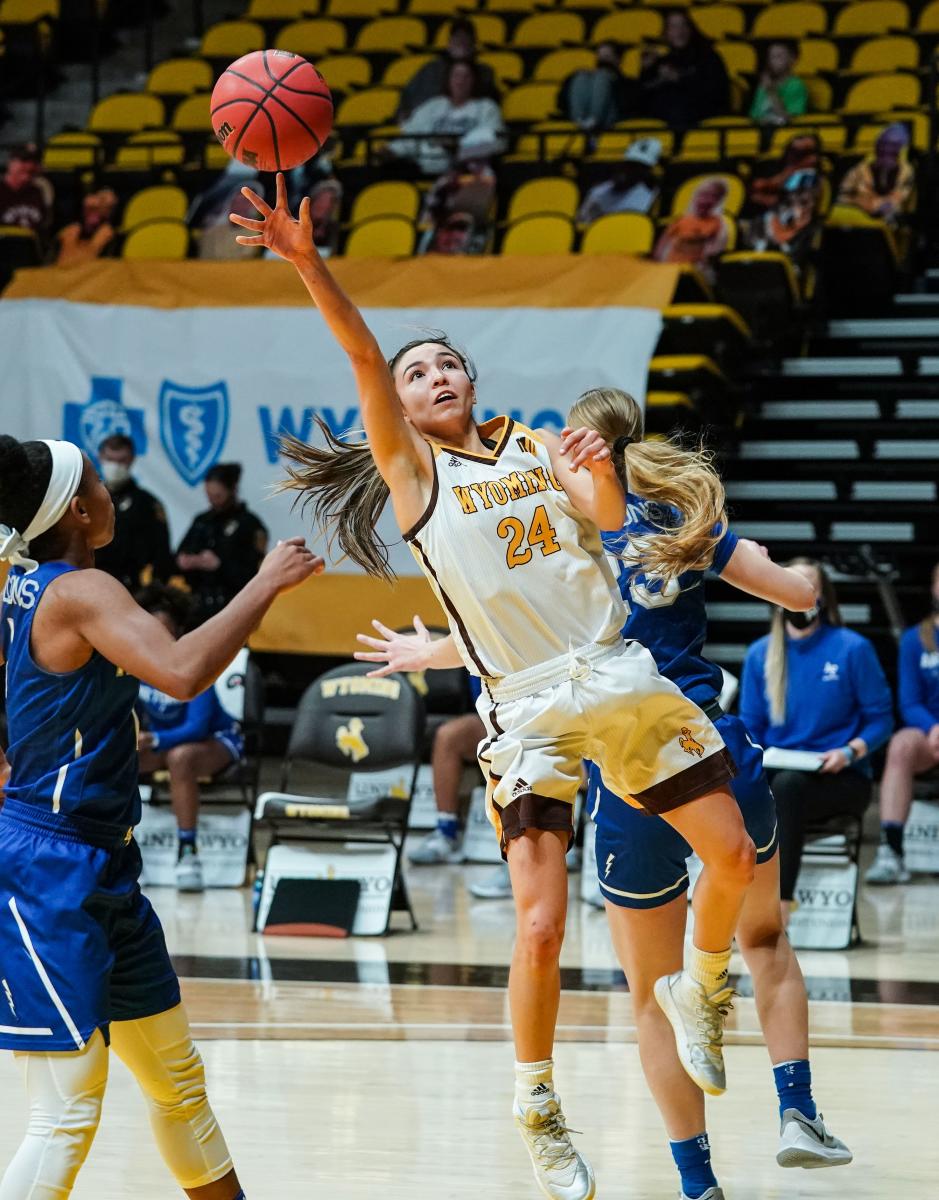 UW's Tommi Olson taking a shot (photo credit University of Wyoming Athletic Department)
One of the best ways to spend the day on campus is by attending a sporting event. The University of Wyoming has numerous sports that are great for spectators, soccer, wrestling, swimming, and volleyball, to name a few. Football and basketball, in particular, are popular among UW fans. War Memorial Stadium and Arena Auditorium are terrific venues with food, fun, and fans that bleed brown and gold.
For more information on University of Wyoming sports and to buy tickets, visit the UW Athletics homepage. Also, see our post Visiting Laramie on a University of Wyoming Football Game Day.
Performing Arts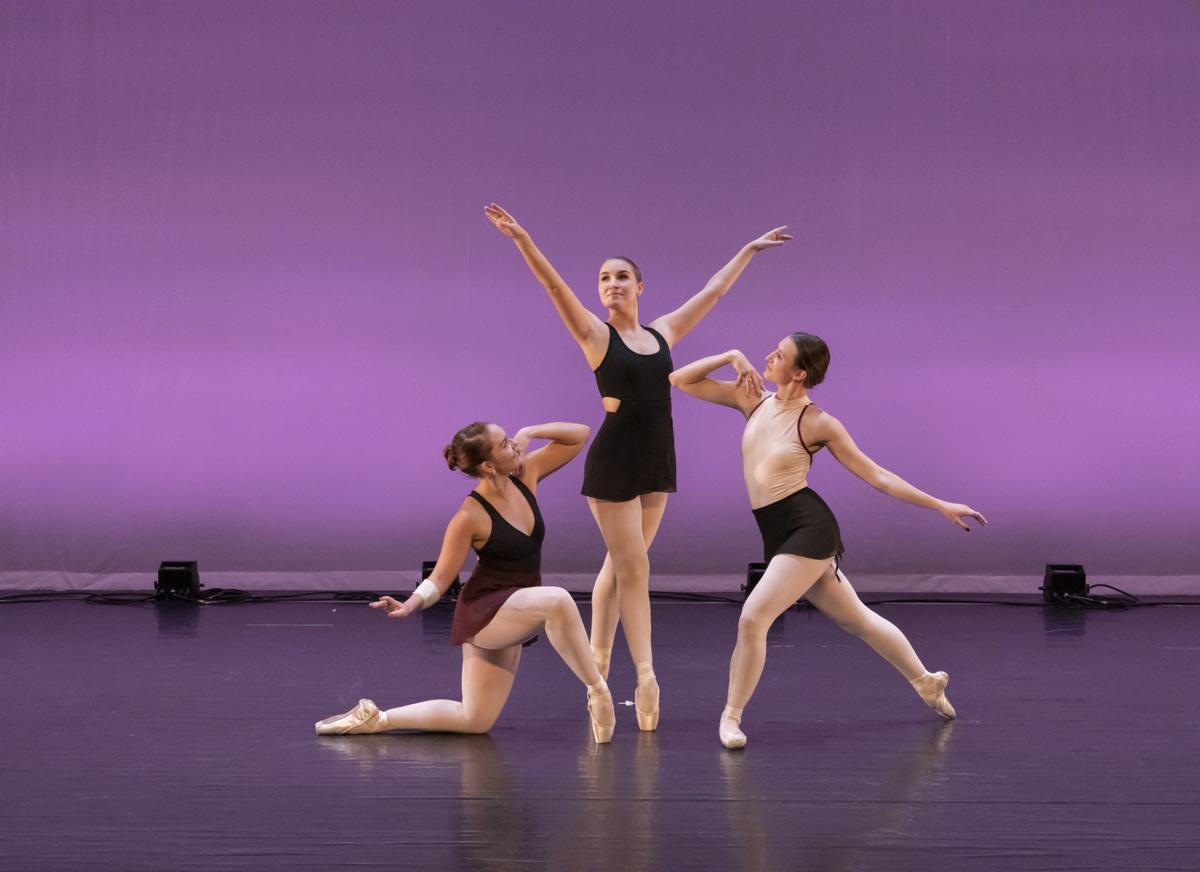 Erin White (L), Rachel Golledge (C),  Madison Drab (R) perform a Midsummer Night Dream (photo credit Donald P. Turner)
Another great way to spend the day on campus is by taking in one of the many stellar performances put on by the UW Music and Theater and Dance Departments. 
The Theater and Dance Department has several productions planned for the 2021-2022 theater season. Two upcoming productions that are sure to entertain are a dance interpretation of Shakespeare's A Midsummer's Night Dream, and These Shining Lives (a historical drama) by Melanie Marnich. Productions feature both student and guest performers.
The Music Department features student, faculty, and guest performer concerts. Music styles include vocal, string, percussion, jazz, symphony, and more. The Gala Holiday Concert is not to be missed!
Museums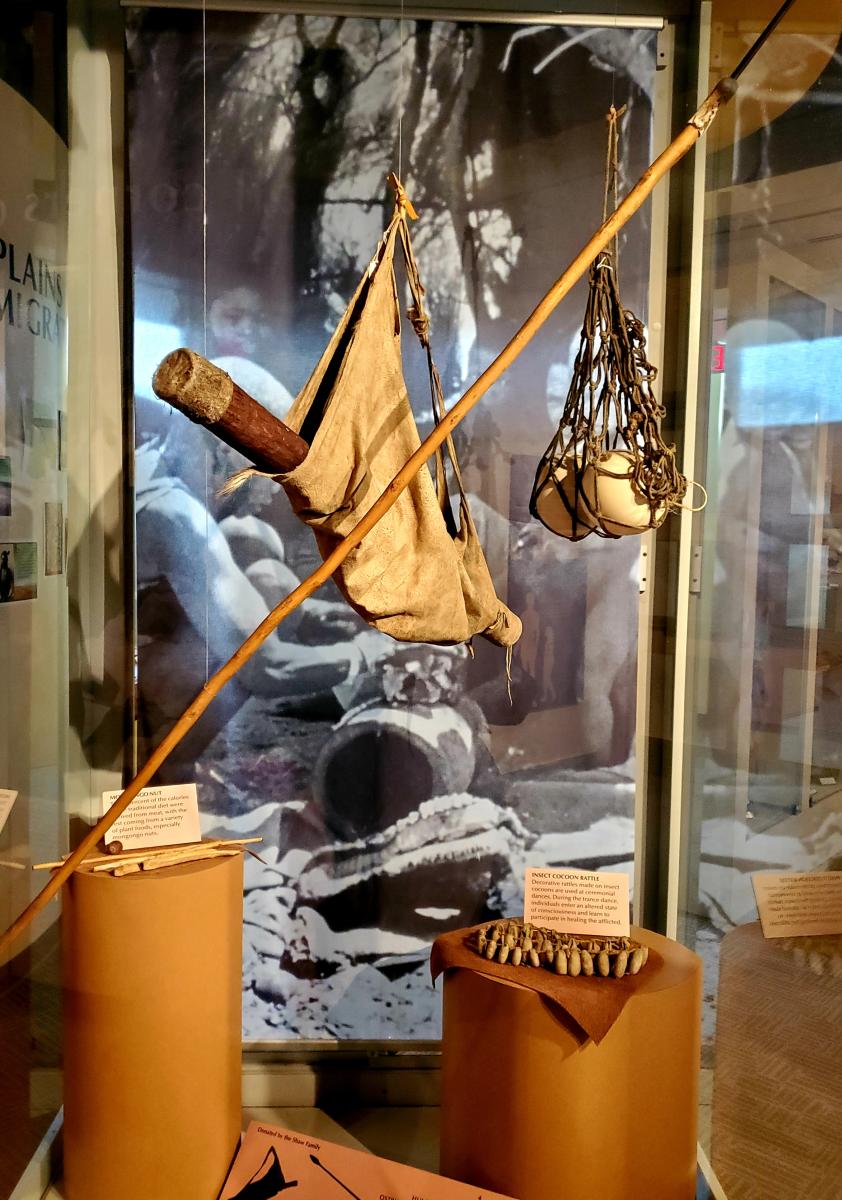 Display of early hunter-gatherer artifacts at the UW Anthropological Museum (photo credit Leah Veinbergs)
The University of Wyoming is home to several wonderful museums and interesting exhibits. The museums are very family-friendly and appeal to kids as well as adults.
Art Museum
Even the building the University of Wyoming Art Museum is housed in is a work of art. This amazing museum features rotating visual art exhibits. The art museum also frequently hosts "family Saturdays," holiday celebrations, and other special events. More information can be found on the museum webpage. This is a free museum.
Geological Museum
A favorite among kids and adults alike, the University of Wyoming Geological Museum is a fantastic experience for the whole family. See fossil remains of apatosaurus, allosaurus, triceratops, stegosaurus, megalodon, and more. There is a cool exhibit of gemstones and minerals, and an amazing interactive view of planet earth. You can even take a peek into a real fossil prep lab. This is also a free museum. Be sure to check out their webpage for special events and activities.
Anthropological Museum
The University of Wyoming Anthropological Museum provides a unique look into the evolutionary past of modern man. Exhibits spotlight early human migrations, the Colby Mammoth Site, early hunter-gatherer groups, and Wyoming history. This museum is also free.
Planetarium
There is a fee for shows at the Harry C. Vaughan Planetarium, however, it is well worth the cost. The planetarium provides a variety of shows on fascinating topics, including shows geared specifically toward kids and families. Additionally, the building is home to the S.T.A.R. Rooftop Observatory. Visit the planetarium webpage for details about shows.
Other Museums and Educational Displays
In addition to these amazing museums the Berry Biodiversity Institute (don't miss the Kids Corner if you have littles), the University of Wyoming Insect Gallery, and the University of Wyoming Museum of Vertebrates are also worth a visit.
For more details on these and other local museums see our posts The Best Laramie Museums and Sites and Top 5 Museums for Kids in Laramie.
Campus Tour
View of the Agriculture Building across Prexy's Pasture (photo credit Leah Veinbergs)
No day spent on campus would be complete without a campus tour. The University of Wyoming was established in 1886. It is Wyoming's first (and only) university. While the campus has changed and expanded significantly since then, it retains its historic charm and gorgeous architecture.
See the University of Wyoming Walking Tour Guide for fascinating historical details and descriptions of many of the buildings on campus. The tour begins in Prexy's Pasture and ends at the Wyoming Student Union.
Wyoming Union
Speaking of the Wyoming Union, this 82-year-old building is the hub of campus. The Union is home to Pete's Game Room, the Copy & Print Center, the University Store, and several dining options. The Union is a great place to grab lunch or dinner, as there are several delicious restaurants to choose from. 
In addition to the dining options located in the union, several other cafes and grab-and-go style eateries can be found around campus. See the Campus Dining page for complete details.
Special Events
Throughout the year, the University hosts a variety of seasonal and special events. These events may include homecoming festivities, summer outdoor concerts, cultural celebrations, guest lecturers, and much more. Check out the University Events Calendar to see everything that is happening.
Clearly, there is more than one way to spend a day on the UW campus. From sports to museums, and music to theater, there is plenty to do and see. Plan your visit to the University of Wyoming Campus today!