Summer is in full swing, and it is the perfect time to enjoy one of Laramie's amazing restaurants with outdoor seating areas. There are so many reasons to take advantage of outdoor seating: the weather is beautiful, the views are great, and the fresh, open air is so much healthier! There are many more great eateries and pubs with outdoor seating, but these top 7 restaurants are local favorites.
7. The Library Sports Grille & Brewery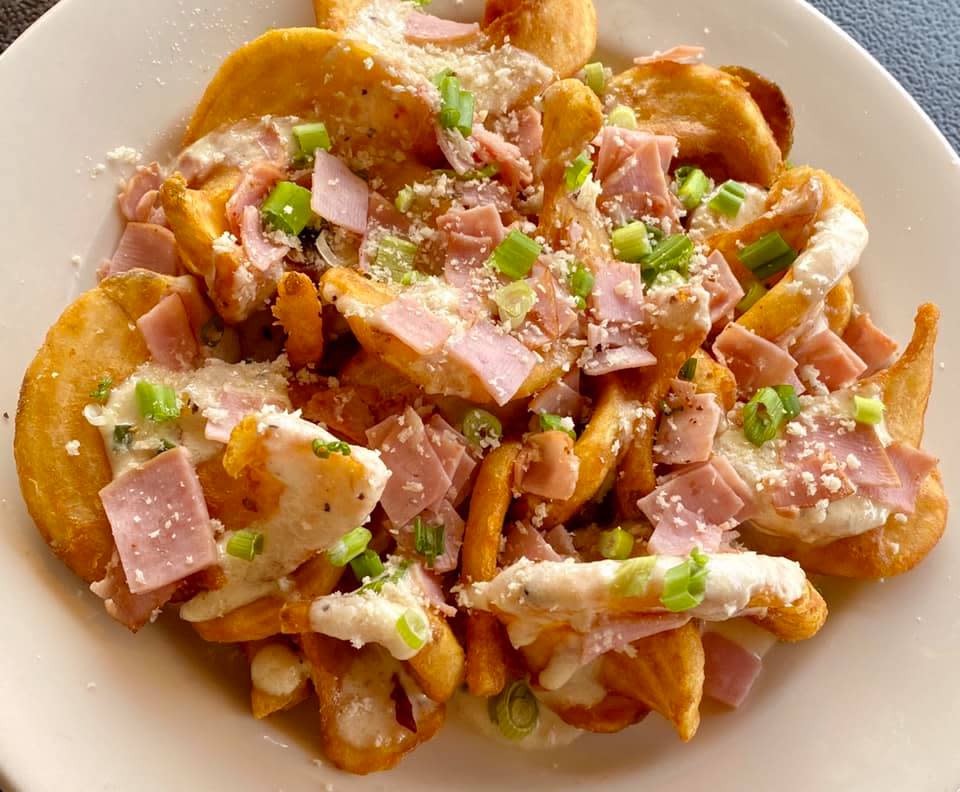 Cordon Bleu fries? Yum! (photo credit The Library Sports Grille & Brewery)
Location: Downtown on the corner of 2nd Street and Custer.
Must Try Menu Items: Sweet Potato Fries, Frickles, Mac N' Cheese Bites, and Catcher In The Rye Sandwich.
Why It's Great: To call The Library Sports Grille & Brewery a Laramie institution is an understatement. This fun sports bar is known for its craft brews, tasty cocktails, and mouth-watering food. The menu is a mix of traditional pub food like pizza, sandwiches, and burgers, but with a unique twist. They also have healthy but delicious salads, sandwiches, and fun weekly specials. 
The bar area opens onto a shaded outdoor patio with a view of the downtown area. Don't miss experiencing this local flavor spot.
6. Coal Creek Coffee Uptown or Downtown and Coal Creek TAP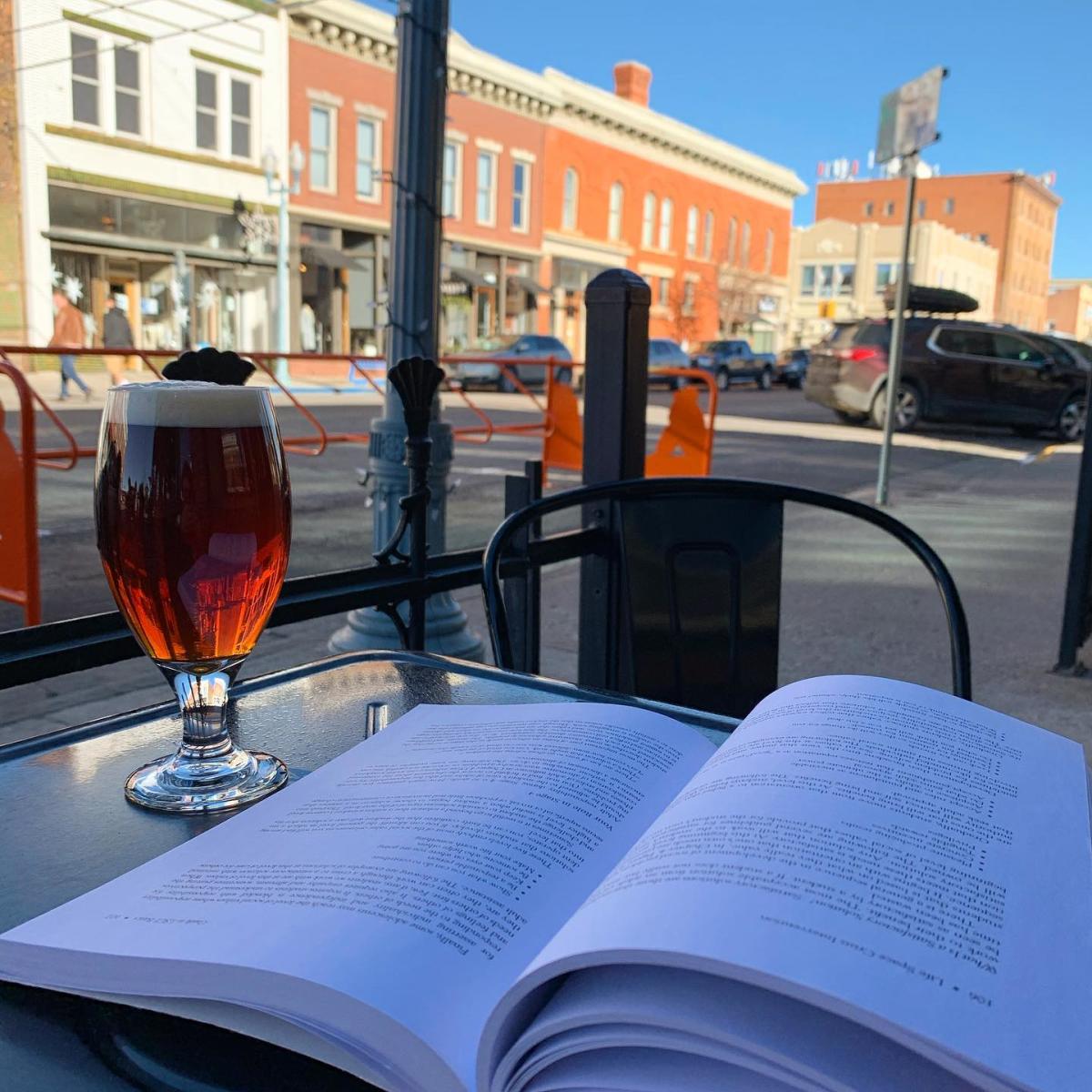 A perfect evening for a brew and a book. (photo credit Coal Creek TAP)
Location: In the UW Plaza on Grand Avenue, and Downtown on the corner of First Street and Grand Avenue.
Must Try Menu Items: Any coffee drink, French Toast, Roast Bison Panini, and Wyoming Pizza.
Why It's Great: Coal Creek Coffee has two great locations with outdoor seating. Coal Creek Uptown is within easy walking distance from the movie theater and the University of Wyoming football stadium. Coal Creek Downtown is connected to Coal Creek TAP. While primarily a coffee shop that serves delicious locally roasted coffee, the shops also feature baked goods, breakfast items, salads, soups, sandwiches, appetizers, and pizza. Coal Creek TAP also serves local craft beer, wine, and cocktails.
The outdoor seating areas are lovely whether uptown or downtown and make for a perfect place to hang out and read a book or gather with friends.
5. Wyoming's Rib & Chop House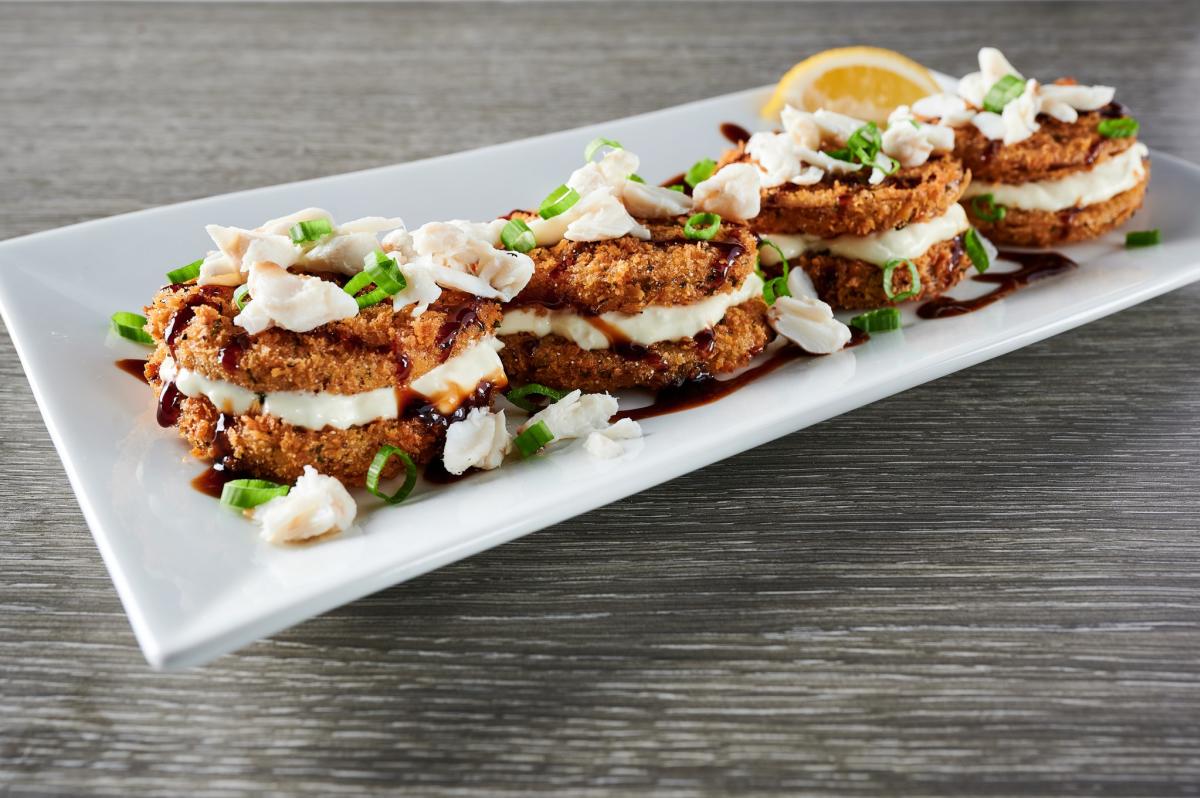 Don't miss these fried green tomatoes! (photo credit Wyoming's Rib & Chophouse)
Location: UW Plaza on Grand Avenue.
Must Try Menu Items: Fried Green Tomatoes, Baseball Cut Top Sirloin, Famous Filet, Crab Crusted Chicken, and Fried Shrimp Poboy.
Why It's Great: Looking for a steak dinner with all the trimmings? Look no further than Wyoming's Rib and Chop House. This restaurant is also conveniently located next to the Studio City Movie Theater and within easy walking distance of the football stadium.
Rib and Chop features a variety of steaks, ribs, chicken, seafood, pasta, sandwiches, and salads. The menu is always fresh and delicious and the restaurant has a full bar as well.
The covered patio is spacious and comfortable and is a great place to enjoy a meal before heading to a movie or a football game.
4. Born in a Barn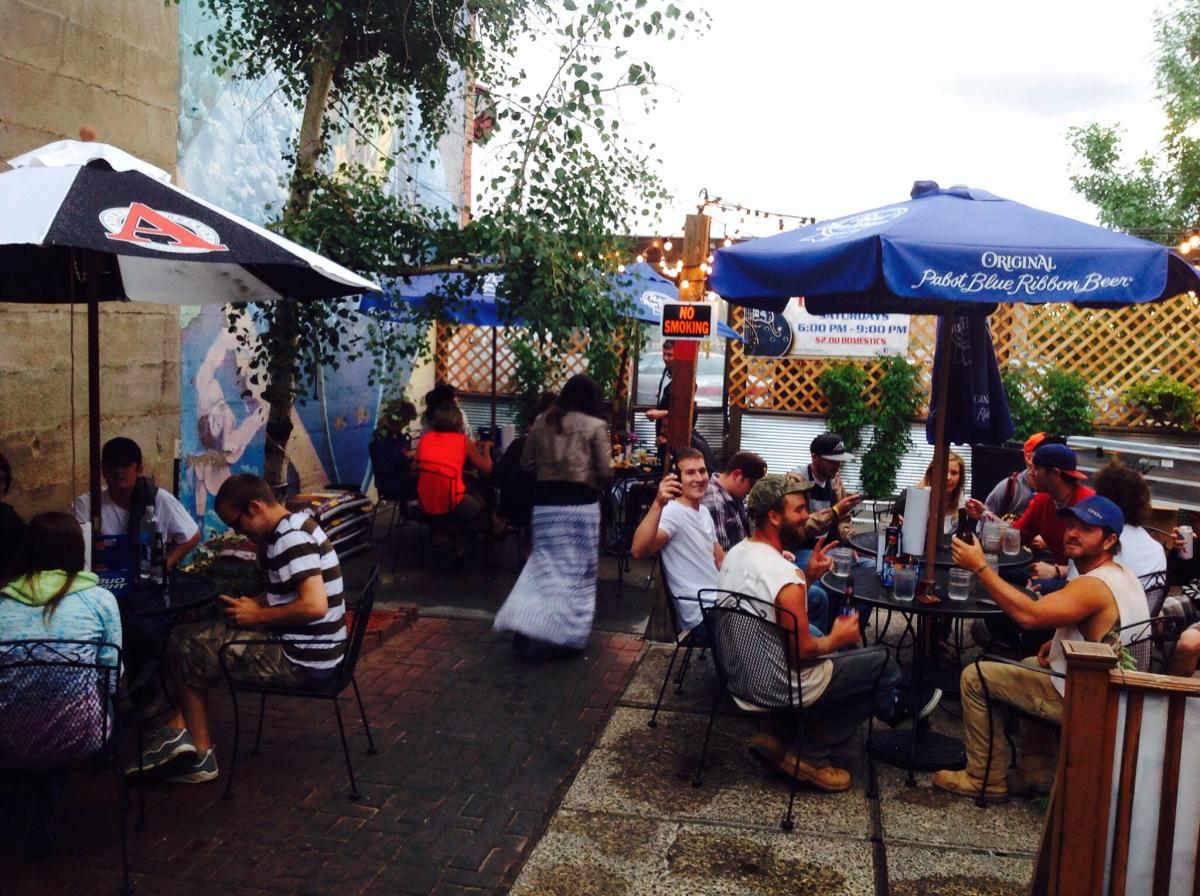 Patios are made for summer and wings (photo credit Born in a Barn)
Location: Downtown on the corner of 1st Street and Ivinson Avenue
Must Try Menu Items: Barnchos, wings, Juicy Lucy Burger, Pastrami Burger, and The Macdown Burger.
Why It's Great: Born in a Barn is THE place for wings, burgers, and other culinary concoctions that will blow your mind. Born in a Barn was recently featured on Diner's, Drive-Ins, and Dives where they showcased their unique approach to traditional bar food.
In addition to great food and a full bar, they also have a lovely outdoor seating area with shade and greenery.
3. Sugar Mouse Cupcake House and Tea Shoppe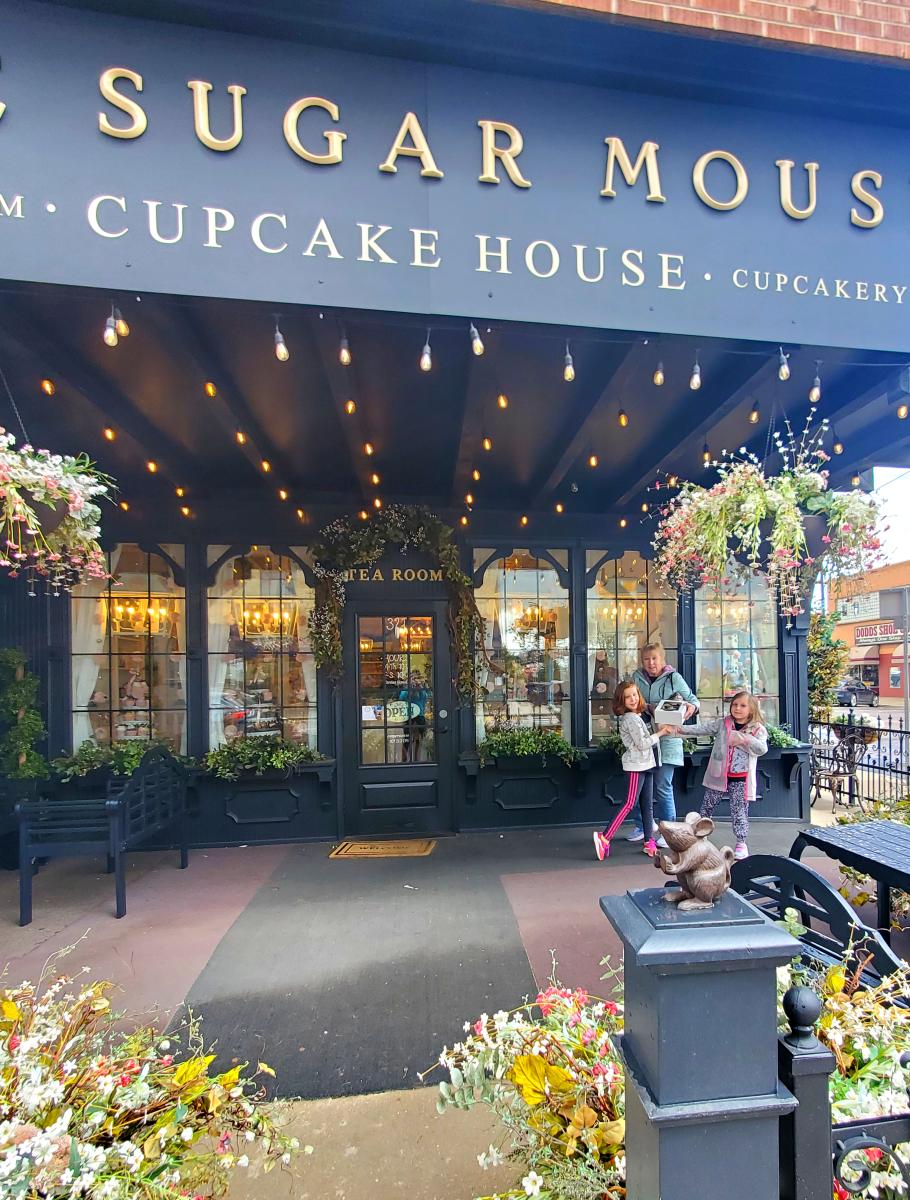 The lush patio of Sugar Mouse Cupcake House (photo credit Leah Veinbergs)
Location: Downtown on the corner of 2nd Street and Garfield Street
Must Try Menu Items: Literally ANY cupcake, soft serve ice cream, Sausage Roll, English Stew
Why It's Great: Owner Ruth Williams brings her native England to Wyoming with a healthy dose of magic and whimsy. The shop is primarily known for its abundance of scrumptious cupcakes, but they also have other traditional English lunch foods, desserts, espresso, tea, smoothies, and more. The inside of the Sugar Mouse Cupcake House is a delectable confection of pink and white, flowers, and tiny stuffed mice peeking out of special places around the store. This is the perfect place to take kids who each receive a special "sugar mouse" candy and often other treats as well. You can even enjoy high tea complete with tea served traditionally and a tower of treats.
The outdoor seating area is just as charming as the interior. Decorated with wrought iron tables and chairs and an abundance of flowers, its reminiscent of an English garden.
2. Turtle Rock Coffee & Cafe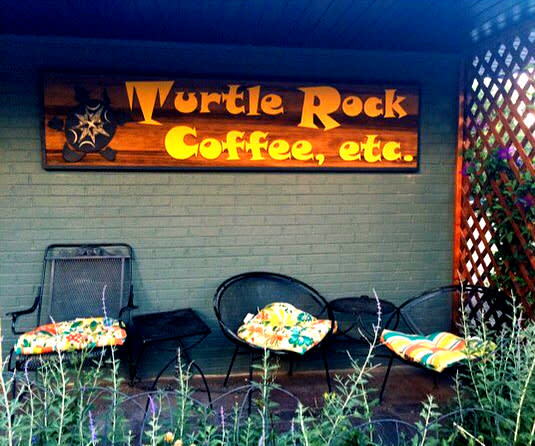 Patio at Turtle Rock (photo credit Turtle Rock Coffee and Cafe)
Location: Near the University of Wyoming on the corner of 9th Street and Clark Street
Must Try Menu Items: Any coffee drink, Breakfast Burrito, Breakfast Scrambler, Wobblegong Sammie, Red Pepper Gouda Soup, and Mad Mac.
Why It's Great: Turtle Rock Coffee and Cafe is the definition of quirky and cozy. Charmingly decorated inside and out, Turtle Rock has so many great little nooks to enjoy great coffee, delicious food, and good conversation. Turtle Rock's menu offers a wide variety of breakfast and lunch options ranging from healthy to decadent.
Turtle Rock's patio is shady and beautifully landscaped. There are many comfortable seating areas, chairs, and tables.
1. Alibi Woodfire Pizzaria & Bakery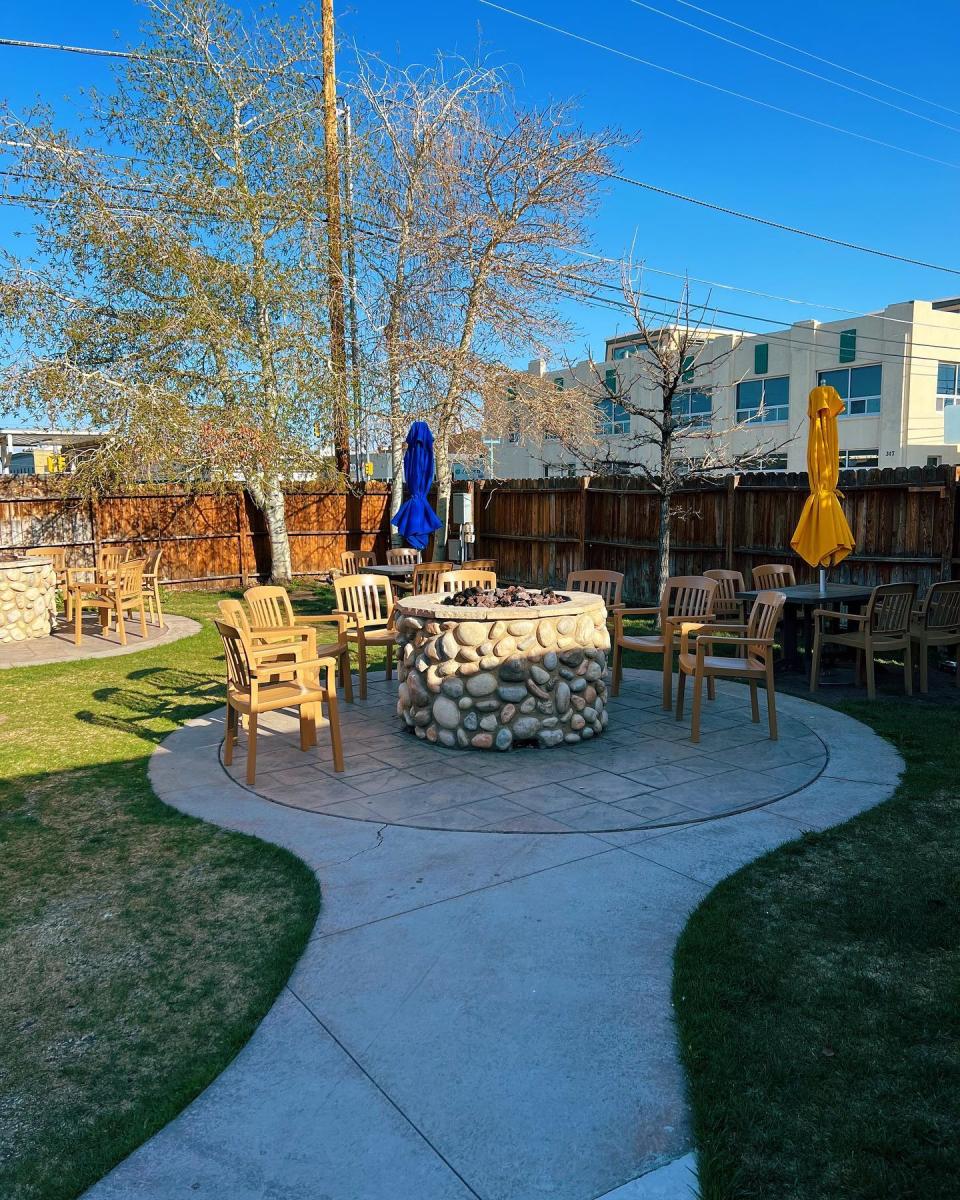 The gorgeous back patio at Alibi (photo credit Alibi Woodfire Pizzaria & Bakery
Location: Near downtown, on the corner of 4th Street and Garfield Street.
Must Try Menu Items: Margherita Pizza, The Fun Guy Pizza, Pulled Pork Pizza, The Vaquero Beef Brisket Pizza, Burrata, Tuscan Sandwich, Turkey Apple Sandwich, Backyard Mule Cocktail, any pastry.
Why It's Great: Alibi Woodfire Pizzaria & Bakery was also recently featured on Diner's, Drive-Ins, and Dives! With their amazing and creative menu, it is no wonder. Alibi's food is always fresh: whether it is hand-crafted cocktails made with house-infused liquors, sandwiches made with freshly baked bread, or pastries made in-house daily. The ingredients are locally sourced whenever possible, and the unique flavor combinations are truly one of a kind.
Alibi was recently remodeled and now features a spacious interior and not one, but two lovely outdoor patios. Alibi's backyard patio is arguably the most beautiful in Laramie. It is full of green grass, shaded tables, and even gas fire pits.
Bonus Outdoor Seating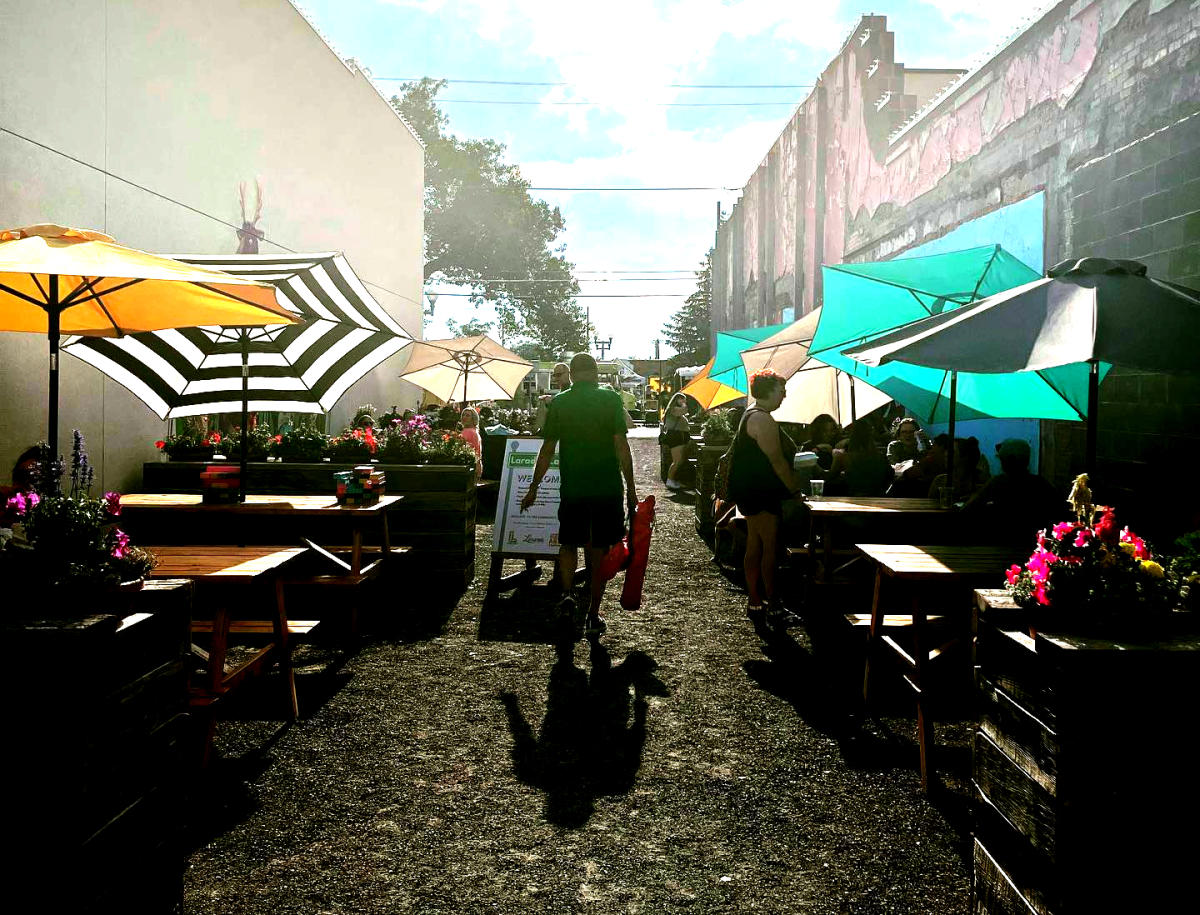 Perfect sunny evening at Laradise Lane (photo credit Downtown Laramie)
While not restaurants in their own right, Downtown Laramie provides several seating areas within the summer Open Container District to enjoy to-go food and beverages, food truck cuisine, and Farmers Market goodies. First Street Plaza, Laradise Lane, and the Laramie "Parklet" provide unique areas to enjoy all that the downtown area has to offer.
Don't waste another minute of the glorious summer (and early fall) weather! Get out and enjoy one of these fantastic restaurants today.
You may also enjoy: Guy Fieri's DDD Favorites in Laramie, 1-Day Shopping and Dining Itinerary, and Local Favorites: Kid's Top Places to Visit in Laramie.