Laramie has many great activities to keep families and kids of all ages busy and having fun. Whether you are looking for something active, artistic, or educational, there is something for everyone. Here are local kids' favorite things to do in the Laramie area.
 
Outdoor Fun
When the weather is nice, it is so important to get kids outside. Let them run and jump, breathe fresh air, and get dirty. Laramie has wonderful access to the outdoors, both in town and also in the surrounding area.
Hiking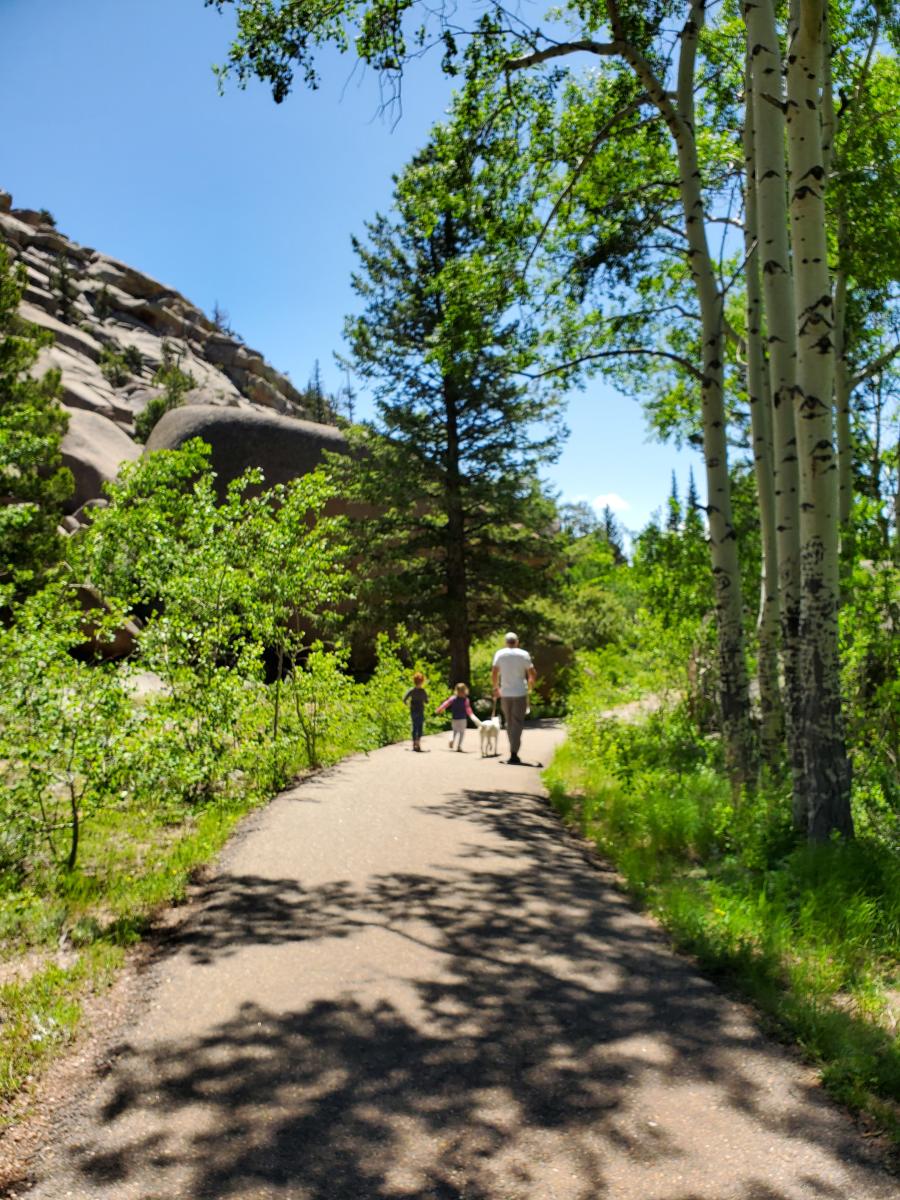 Family Hike at Vedauwoo (photo credit Leah Veinbergs)
It's no secret that the Laramie area is home to some incredible hiking. Many trails provide easy access for young kids and families. Our post Top 5 Tips for Hiking With Kids in the Laramie Area has great information.
The Vedauwoo Recreation Area is located less than 20 miles east of Laramie. This area is a particular favorite because the unique rock formations are fun for kids of all ages to scramble up. There are miles of trails, and portions of some trails are even paved. Turtle Rock Loop is a great hike to do with kids. It is fairly level, only 2.8 miles long, and still provides unique terrain and views.
Another popular area is the Medicine Bow-Routt National Forest in the Snowy Range Mountains about 30 miles west of Laramie. This area has hiking trails that cover a variety of terrain from forested to rocky. An easy and short hike can be found on the Lake Marie Trail. Lake Marie Trail is an easy, paved .6-mile trail to the Lake Marie Falls. It is easily accessed from the Snowy Range Scenic Byway.
Laramie City Parks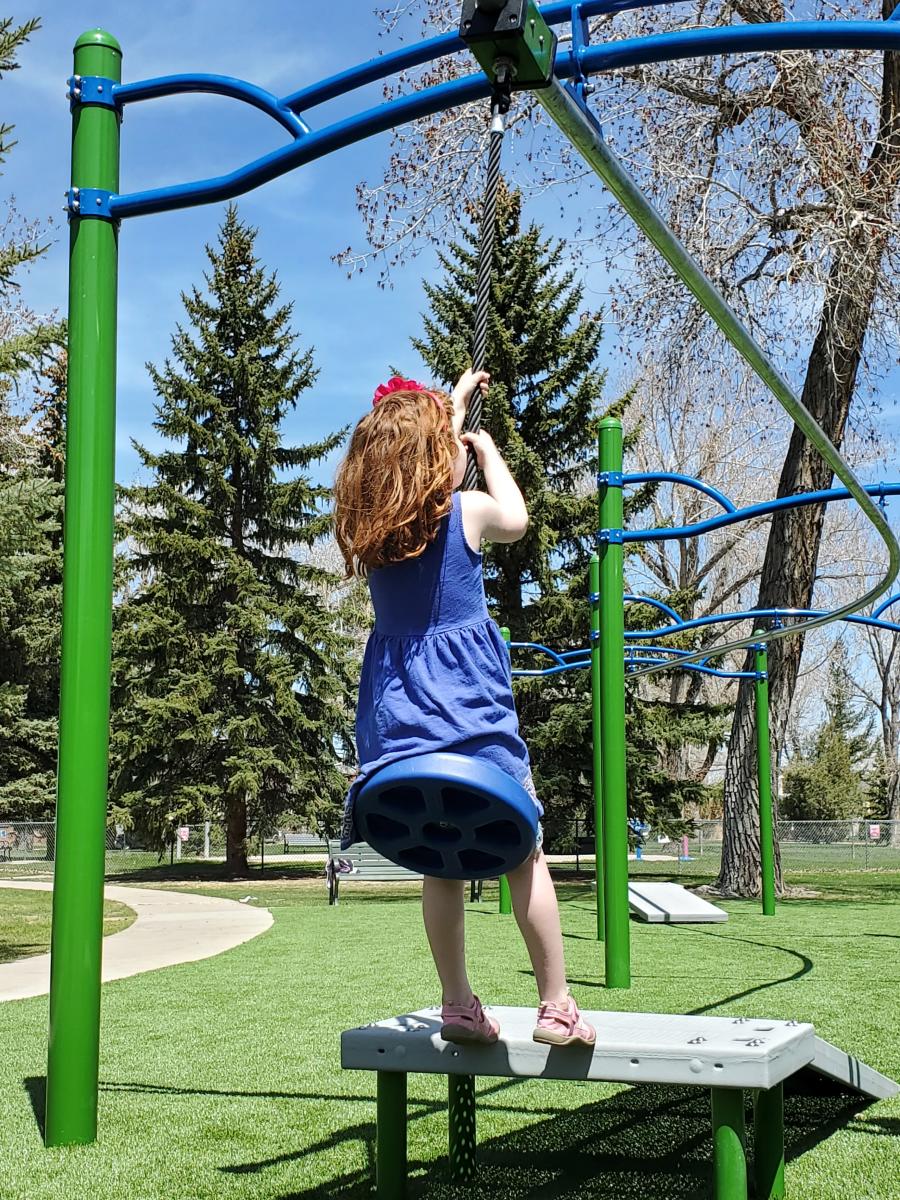 Riding the zipline at Undine Park (photo credit Leah Veinbergs)
Not quite up for a hike? Laramie is also fortunate to have a variety of city parks spread across town. There are lots of great parks in Laramie. Most have great playground equipment kids love and picnic areas. Many have restrooms, shelters, and other wonderful amenities. 
Washington Park is a favorite for its three shady playgrounds that cater to little kids as well as big kids, its paved walking path, and its wading pool. It also has picnic shelters, restrooms, BBQ grills, a basketball court, a volleyball court, a soccer field, and more.
Another wonderful option is Undine Park because of its brand new playground (with zipline) and splash pad. Undine also features basketball and pickleball courts, a picnic shelter, BBQ grills, restrooms, and more.
LaBonte Park has two wonderful playgrounds, a pond, and a skate park. It also has a walking/ jogging path, picnic shelter, BBQ grills, restrooms, and a basketball court.
Not to be forgotten, LaPrele Park has a new playground the kids are enjoying, Frisbee Golf course, picnic shelter, restrooms, and the Huck Finn Fishing Pond.
Optimist Park is also deserving of mention for its proximity to the Laramie River and its access to the Laramie Greenbelt. The Laramie Greenbelt is 5.75 miles of paved trails for biking and walking. The Greenbelt follows the Laramie River for part of its length and is a great spot for fishing or birdwatching.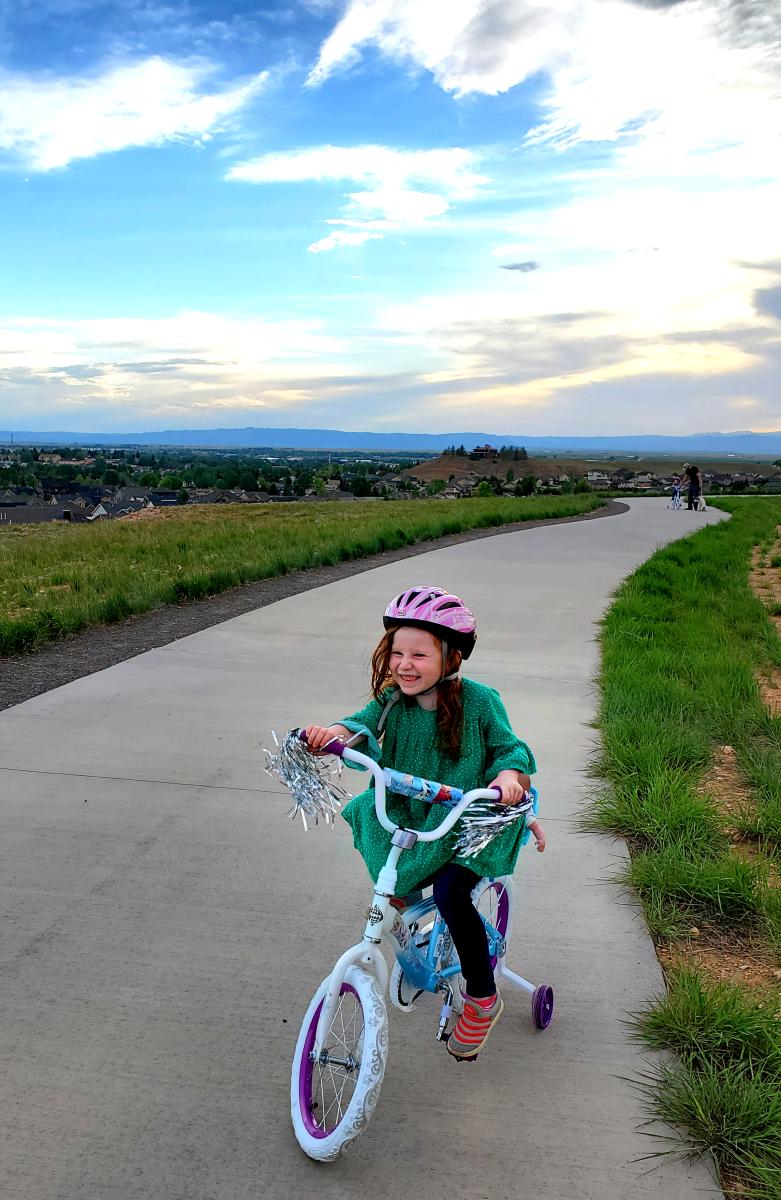 Biking on Cirrus Sky Trail (photo credit Leah Veinbergs)
While not a park, the Cirrus Sky Trail is a paved walking/ jogging/ biking path that is great for kids–especially while learning to ride. The 2.87-mile trail can be accessed at the northern end of 30th street or 15th street. This trail provides stunning views of the city and the Snowy Range Mountains.
For more ideas on fun nature-related activities for kids see our post Nature Activities for Families.
Indoor Activities
Sometimes the weather just doesn't cooperate. It's too cold, too hot, too rainy, or too windy! Don't worry, there is still plenty to keep kids active and occupied when the weather is less than ideal.
Laramie Recreation Center
The Laramie Recreation Center is a great place to spend a day as a family. They have a playground for kids, pools, a walking/ running track, a gymnasium, and more. 
The three swimming pools are always favorites for kids. The outdoor leisure pool (for when the weather is nice) has a gradual entry, splash features, and a waterslide. The indoor leisure pool also features a waterslide, splash features, and a lazy river. There is also a lap pool and hot tub for teens and adults. Locker rooms (including a family locker room) are available. Individuals and families can purchase access passes. Be sure to check the Rec Center webpage for updated hours and schedules. 
LEAP Ninja Warrior Fitness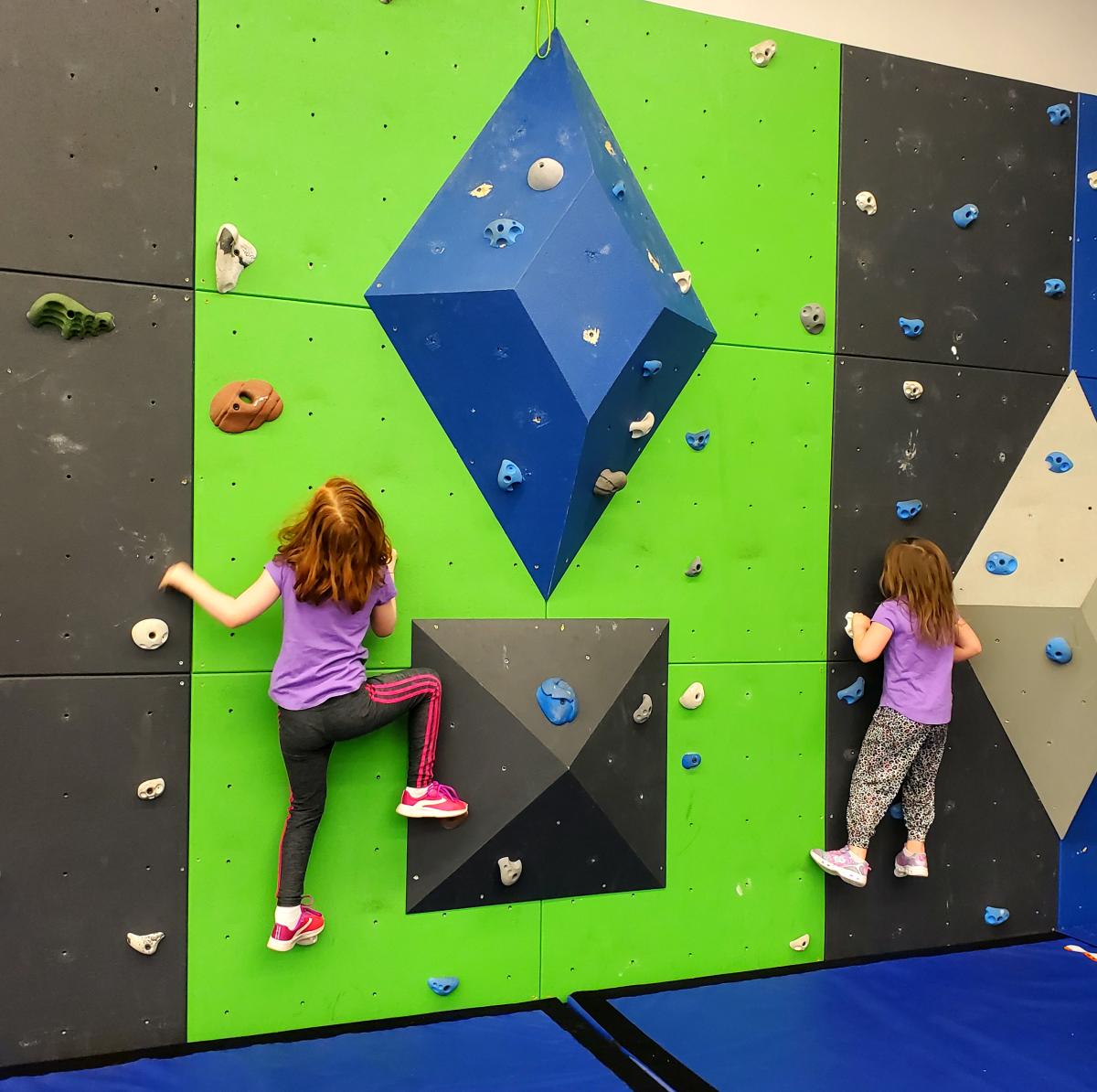 Climbing the Walls at LEAP (photo credit)
For kids who can't stop moving, check out LEAP Ninja Warrior Fitness! LEAP has an ever-changing ninja-warrior course and a variety of fitness machines. LEAP features summer "camps" for school-aged kids, classes, and an open gym. Parents can even work out while the kids play on the course with the assistance of helpful and knowledgeable coaches. Families can purchase a single visit, a punch card, or a monthly membership. 
All Points West
All Points West has everything from arcade games to inflatables to escape rooms. Kids will love laser target practice, virtual playgrounds, inflatables, bumper cars, and more. Kids can even win tickets to exchange for prizes. All Points West is fun for kids and adults alike.
Art & Soul Paint Your Own Pottery
Have an artistic kiddo? At Art & Soul, kids can choose a piece of pottery at a variety of price points and then paint their pieces with their choice of glazes. Pieces are then fired to achieve the final product. 
University of Wyoming Museums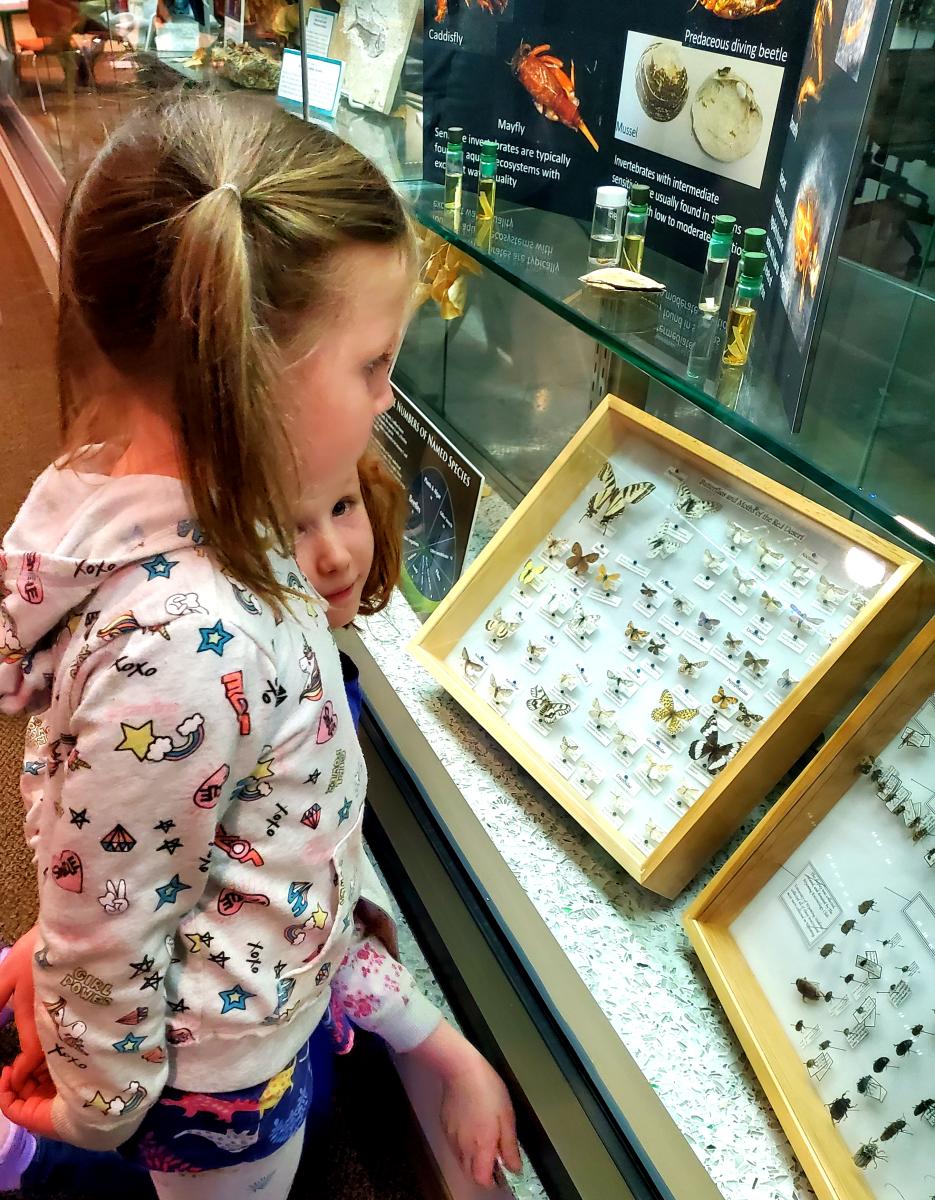 Checking out some specimens at The Berry Biodiversity Center (photo credit Leah Veinbergs)

The University of Wyoming campus boasts several museums and a planetarium. It is easy to spend a day or a half-day touring the many wonderful museums on campus. Kids of all ages are sure to enjoy the amazing Geological Museum. This amazing museum features real fossils, a variety of displays, rocks and minerals, and a fossil preparation lab. There is also the Berry Biodiversity Center which has displays of the natural world spread across two floors, as well as a fun Kid's Corner with games, puzzles, books, a sensory table, and real snakes (in cages). The Anthropology Museum has several displays featuring early humans from North America and around the world. The displays are informative and interesting even to elementary-aged children. The Art Museum has wonderful displays of art that change frequently. They also host monthly Art Buffets with family-friendly,  hands-on projects and activities. Finally, the Harry C. Vaughan Planetarium has wonderful shows, many of which are specially designed for kids and families. Kids will be transported to another universe as they view the fascinating images of stars, moons, planets, and much more.
All of the campus museums are free with the exception of the planetarium. Be sure to follow each of these museums on Facebook or check their web pages for special events. For more information on these and other area attractions see our post Indoor Activities and Entertainment in Laramie and Top 5 Museums for Kids in Laramie.
Sweet Spots
After all the activity, kiddos are sure to be hungry. What child doesn't enjoy cupcakes or ice cream? There are many great places to grab lunch or a treat, but three, in particular, stand out.
Sugar Mouse Cupcake House & Tea Shoppe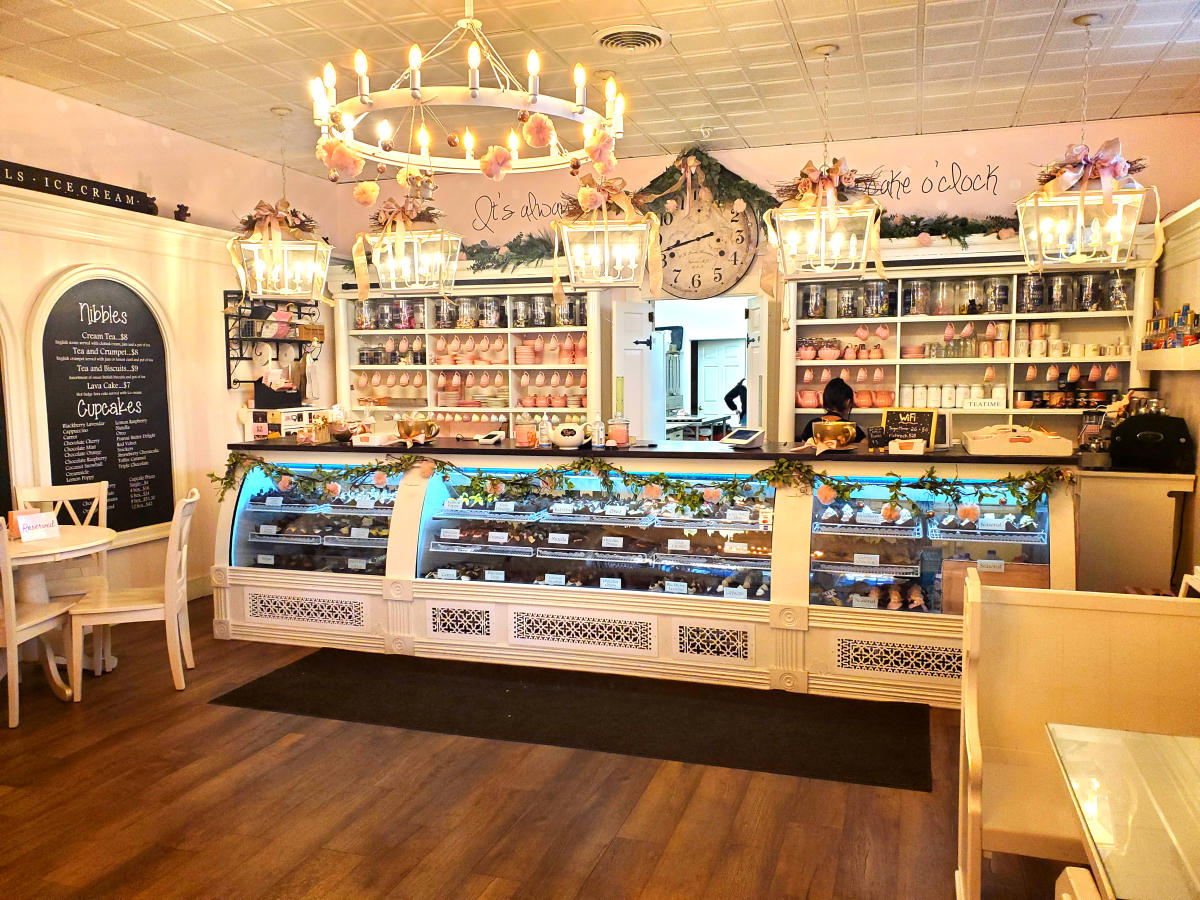 The magical interior of Sugar Mouse Cupcake House & Tea Shoppe (photo credit Leah Veinbergs)
This extraordinary shop is every child's fantasy. Bedecked in pink and white, the store itself resembles a confection. Adorable stuffed mice peak out from every nook, cranny, and cupcake! 
Sugar Mouse Cupcake House & Tea Shoppe brings a little bit of England to the old west.Have a real English tea, sample some traditional English fare like sausage rolls or crumpets, and don't leave without a delectable cupcake. There are even vegan, gluten-free, and dairy-free options. 
The owner of the store, Ruth William, began selling cupcakes to help fund an orphanage and education program in Cambodia. The organization,  Heart Mothers, strives to help girls rescued from sex trafficking. Read more about her story here.
Big Dipper Ice Cream
For a cold treat, Big Dipper Ice Cream can't be beaten. The amazing variety of ice cream, sorbet, and gelato flavors are homemade and delicious. The shop also offers ice cream sodas, sundaes, and other treats in its charming old-fashioned soda shop interior.
Chocolate Cellar
Last, but certainly not least, is The Chocolate Cellar. A fun candy store with every type of candy, sweet, and confection a kid could want. The Chocolate Cellar is a charming old-fashioned candy store and also sells a variety of gift items.
There is so much to do and see in Laramie! Kids of all ages are sure to find something to entertain, challenge, or educate them–maybe all three.
You may also enjoy these other blog posts: The Best Restaurants for Kids in Laramie, Camping With Kids in the Laramie Area, and Laramie Summer Road Trip Itinerary for Families.