Brrrrr! It's cold outside! But there is still plenty to do in Laramie. Round up the family and the winter gear and join us for all of the fun in our winter wonderland through the holidays. See below for our favorite budget-friendly finds:
Holiday Events
Laramie is illuminated with holiday cheer and magic during the month of December. Our Calendar of Events is the place to check to stay up to date on all the holiday happenings. There are far too many wonderful holiday events to list, but here are some highlights.
Winter Lights Festival at Washington Park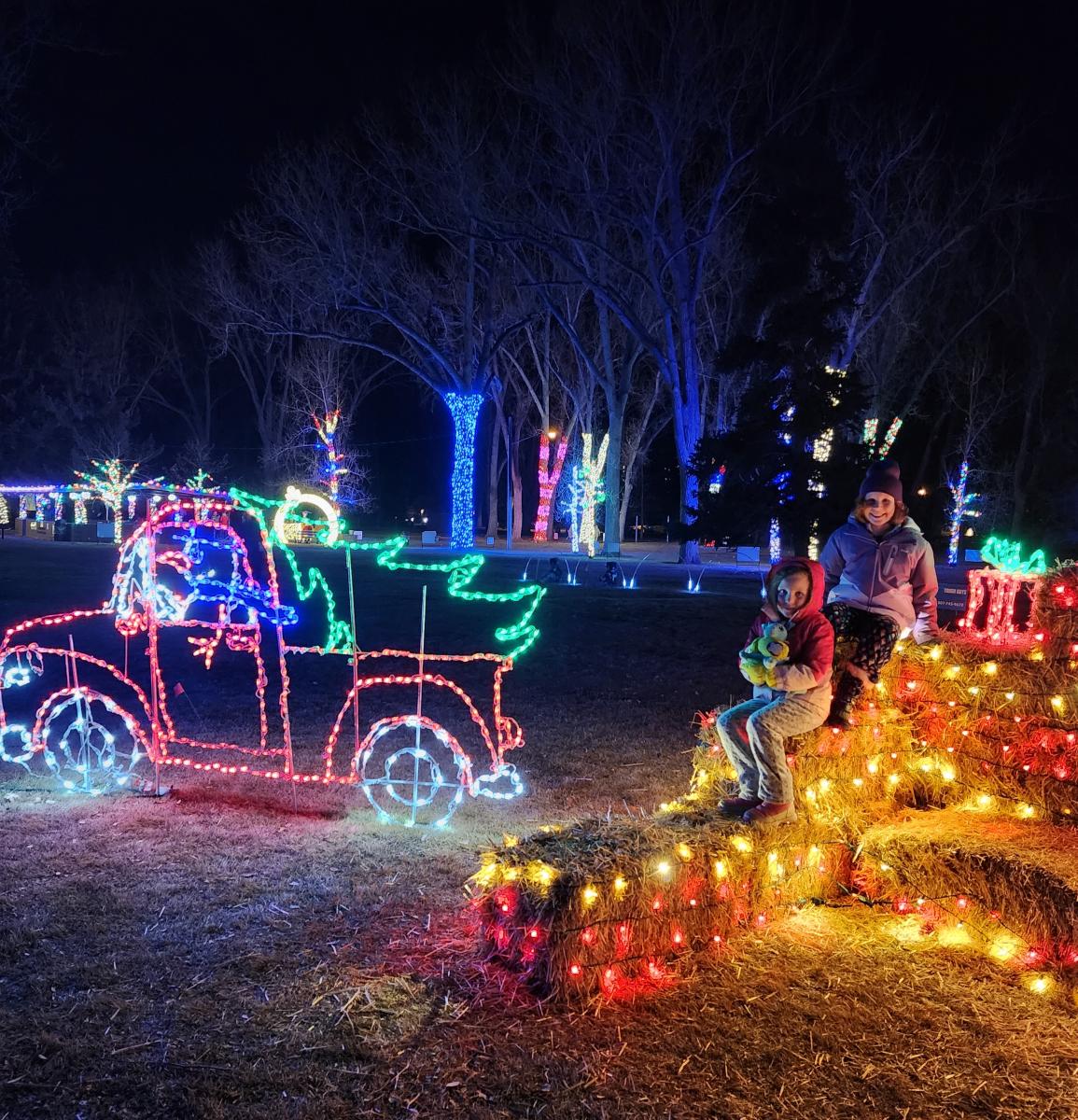 Winter Lights Festival at Washington Park (photo credit Leah Veinbergs)
The Winter Lights Festival at Washington Park is new this year. Washington Park is a-glow with over 29 trees and other displays lit with beautiful Christmas lights–including two tunnels of lights. The walk-through display follows art of the walking path at Washington Park and is free. The lights are on seven days a week between 4:00 and 9:00 p.m. On Friday and Saturday evenings food, beverages, and music will also be available. The display is up through the first week of January. It is truly magical experience–especially for families with young kids.
Wyoming Territorial Prison Holiday Music & Light Show
A returning favorite, the Wyoming Territorial Prison Music Show, is a chance for Christmas light enthusiasts to view a beautiful light display from the warmth and comfort of their vehicle. The light show consists of over 10,000 lights set to music. The free display is on nightly at the Wyoming Territorial Prison between 5:30 and 11:30. Tune your radio to 99.5 FM.
Downtown Laramie Christmas Parade & Train Lighting and Christmas at the Gryphon
Hurry! Don't miss the Downtown Laramie Christmas Parade and Train Lighting. This unique event showcases beautifully decorated parade floats decked out in holiday lights. This year's parade is on December 2nd. The event begins at 5:00, with the parade starting at 6:30.
Following the parade, at 8:00 (doors open at 7:30), is the annual Christmas at the Gryphon concert. Warm up with hot chocolate and enjoy local musicians performing holiday music.
Breakfast With Santa
This year's 16th Annual Breakfast with Santa will be held on December 3rd from 8:00 am to noon. There is a cost of $4.00 per adult and $7.00 per child. The price includes a breakfast of pancakes, eggs, and sausage, a picture with Santa, and a chance to decorate a Christmas cookie.
Santa Claus Appearances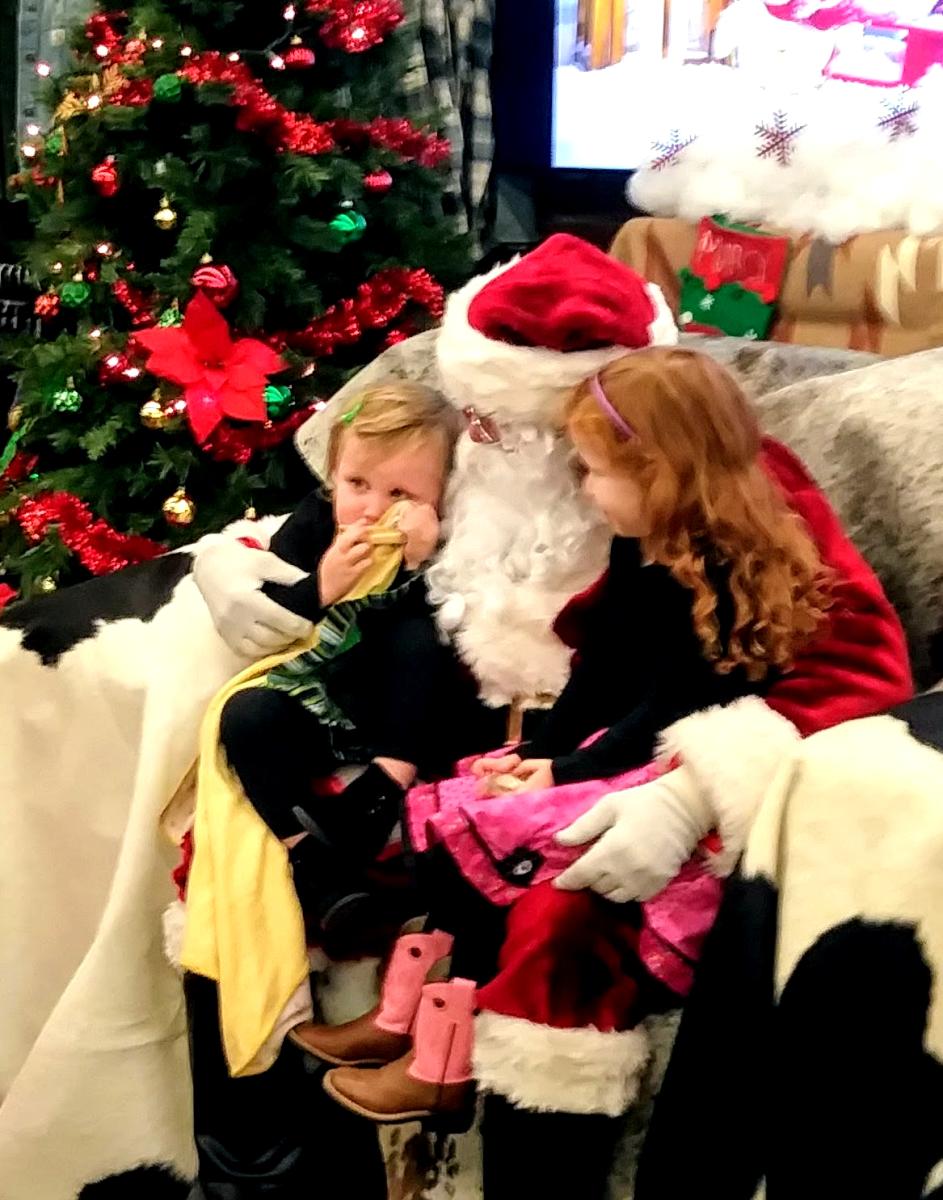 Visiting Santa Claus at Murdoch's (photo credit Leah Veinbergs)
Can't make Breakfast With Santa? Never fear. Santa and his holiday helpers will be making a variety of appearances around town in the weeks before Christmas. Most notably, he will be at the Pinecone Gift Shop Holiday Open House, Family Christmas Photos at Murdoch's, the UW Community Holiday Open House, and Pictures with Santa at ACPE Federal Credit Union.
Holiday Bazaars
There is an abundance of holiday art and craft shows during the month of December. There is no cost to attend these events, but it is a wonderful way to get into the holiday mood while perusing beautiful artwork, handicrafts, and more by local artisans. Often holiday bazaars offer complimentary refreshments and holiday music as well. Plus, it is a great opportunity to get some Christmas Shopping done. See our Calendar of Events for all the upcoming holiday bazaars and art shows.
Laramie Christmas Elf Hunt
Elf on the Shelf with a twist! Download the app and search Laramie for 12 hidden elves December 16th through the 18th. Enjoy lots of fun treats and surprises and a prize from Santa!
Museums
Laramie is home to some truly wonderful museums and exhibits. This is a great way to get your dose of culture and learning, while still having a fun time. The majority of the museums are on the University of Wyoming campus and within walking distance of each other. Even better, most are free or have small fee. 
University of Wyoming Art Museum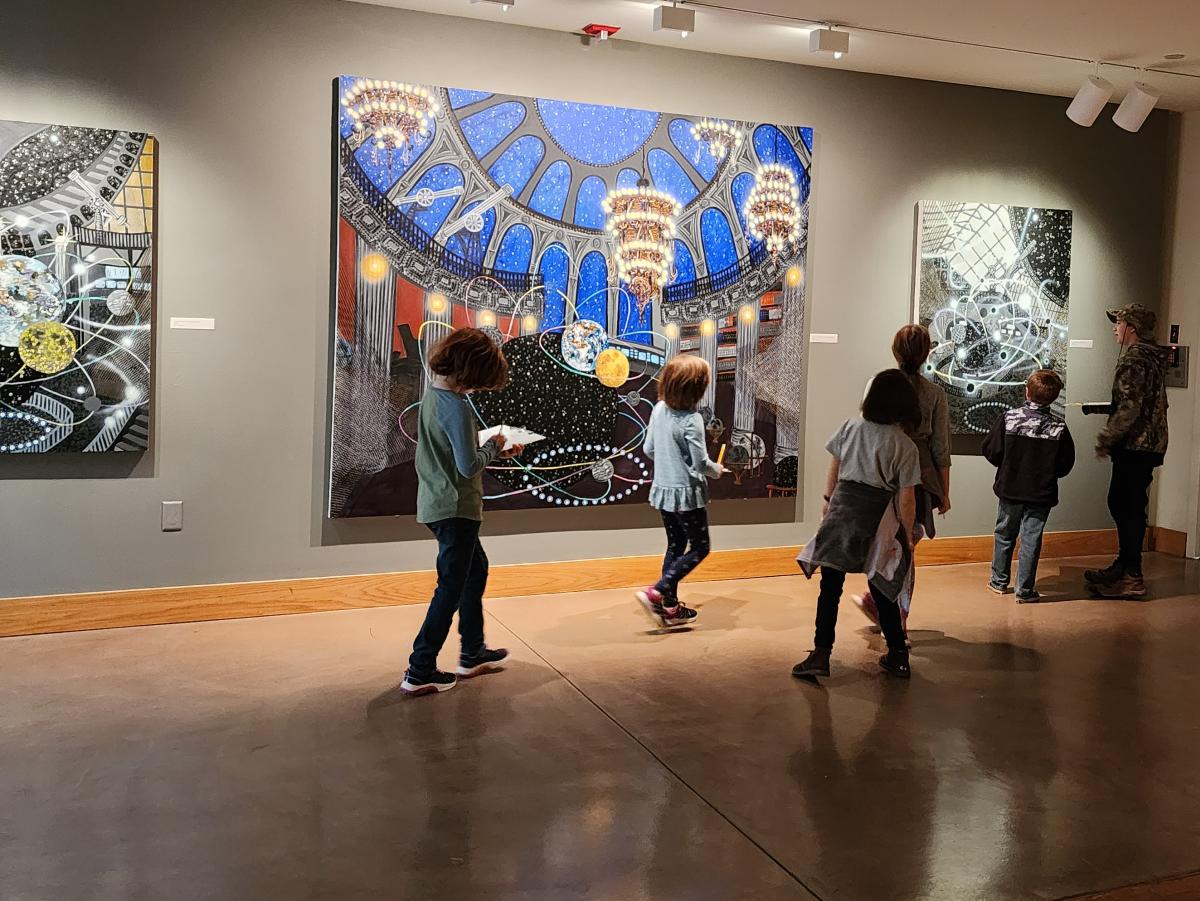 Amazing paintings at the UW Art Museum (photo credit Leah Veinbergs)
The University of Wyoming Art Museum is spectacular without and within. The huge teepee-shaped building is a Laramie icon. The museum itself showcases changing exhibits from a wide variety of artists. The free museum also offers kid-friendly, family-oriented, and other community events that provide opportunities to appreciate and create art. Don't miss their upcoming Tis the Season to Be Freezin' event.
University of Wyoming Geological Museum
A favorite museum, especially for kids, is the University of Wyoming Geological Museum. Both kids and adults will love exploring the museum's fossil, rock, and mineral exhibits. Highlights include a giant apatosaurus skeleton, a stegosaurus fossil, a mammoth fossil, and the most complete allosaurus fossil ever found. This museum is free.
Harry C. Vaughan Planetarium
The Harry  C. Vaughan Planetarium is also located on the UW campus. The planetarium is a wonder to behold and a stargazer's dream. The planetarium offers a variety of public shows that are sure to fascinate and entertain. Tickets for adults are $5.00, $3.00 for children, and free for children under 5.
Other University of Wyoming Museums and Exhibits
In addition to the museums mentioned above, the University of Wyoming is also home to several other smaller museums and exhibits, all of which are free. These include the UW Anthropology Museum, the UW Insect Gallery, the UW Museum of Vertebrates, and Kid's Corner locate at the Berry Biodiversity and Conservation Center.
The Laramie Plains Museum
The Laramie Plains Museum at the Ivinson Mansion is another "must-see" museum. This amazing museum is like a trip back in time to the late 1800s. The beautifully restored, historic Ivinson Mansion is truly exquisite. It is full of interesting memorabilia, facts, and artifacts of Laramie's past. There is usually a fee to tour the Mansion, however, they are offering free tours during their annual Holiday Open House on December 10th and 11th.
The Wyoming Territorial Prison
Yet another great museum is The Wyoming Territorial Prison State Historic Site. Tour the former prison, built in 1872, and get a feel for the lawless days of the wild west. There is a fee for adults and teens, but children 11 and under are free. 
Outdoor Activities
Winters in Laramie are beautiful. The sky is usually clear, and crystal blue, and the sun sparkling on the snow is stunning. Get out and enjoy the crisp, fresh air by enjoying one of many free winter sports. 
Snowshoeing and Cross-Country Skiing are popular activities in the Medicine Bow National Forest, Happy Jack Recreation Area, and Vedauwoo Recreation Area. Read more about favorite ski trails here.
You might also want to try Snow Biking or go Snowmobiling. The fresh powder snow is perfect for just about any outdoor winter activity.
Hotels with Free Breakfasts
Need a place to stay in Laramie? These hotels offer complimentary breakfasts to help offset some of your travel costs. At the Holiday Inn kids eat free (up to two per adult, or 4 per party) when dining at the in-house Perkin's Restaurant and Bakery. The following hotels offer complimentary, hot breakfasts: Best Western, Fairfield Inn and Suites,  AmericInn by Wyndham, Quality Inn & Suites, Comfort Inn & Suites, Hampton Inn, and Budget Inn. Hilton Garden Inn also has an in-house restaurant and offers a specific hotel package that includes breakfast for two adults and accompanying kids under 5.
Restaurants Where Kids Eat Free (or Almost Free)
Laramie has so many delicious restaurants! Diverse menus offer a variety of options at almost every price point. Let's be honest, kids can be picky eaters, and feeding a family of littles can get expensive quickly. While most Laramie restaurants offer great kid's menus with reasonably priced items, there are a few standouts that offer free meals for kids. These deals are valid only with the purchase of an adult entree, and some additional restrictions may apply.
Lovejoy's Bar & Grill is a standout among most of these restaurants because it is not a franchise. On Sundays, kids eat for just .99 cents(nearly free). Lovejoy's has been a Laramie staple since 1994 and had a fantastic menu of classic American entrees, as well as unique and tasty dishes. It is also a great place to enjoy a brew or cocktail and catch the game!
These are restaurants you know and love. They offer tasty dishes at budget-friendly prices and special discounts days for kids. Applebee's Bar & Grill provides free kids' meals on Wednesdays. Kids eat free at Dickey's Barbecue Pit on Sunday. And, a family favorite, Perkin's Restaurant & Bakery has free kids' entrees every Tuesday and Thursday after 4:00 pm.
There is so much to see and do in Laramie, even on a budget. Plan your next winter getaway to Laramie!
You may also enjoy: How to Extend Your Stay in Laramie, Laramie Winter Weekend Itinerary, and Best Laramie Hotels to Stay at When the Roads Close.