If you must travel for work, you should also travel for fun! Welcome to Laramie, WY also known as Laradise to locals. There are so many reasons to extend your conference trip to add a little fun for yourself. Offering great food, incredible western history, and plenty of outdoor recreation and wellness opportunities, we are excited to welcome you to Laradise. Continue reading to learn our top ten recommendations on ways to turn your conference into a vacation by adding a few extra days.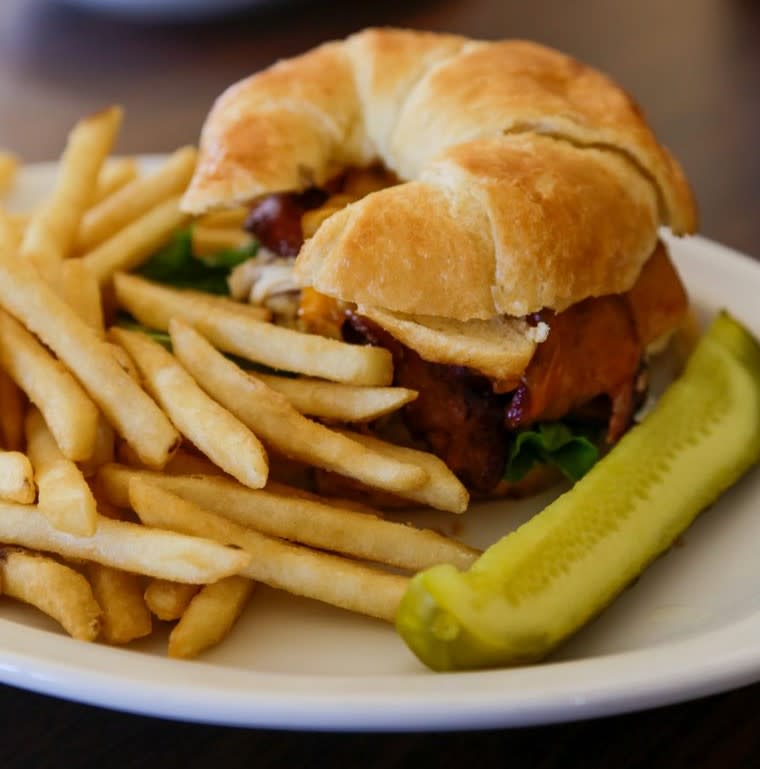 (Croissant Sandwich from Albany Lodge)
1. Food
Connections are important at conferences. Whether connecting with the new contacts you have made or catching up with your family that has come with you, make sure that you do it over a great meal. Laramie has something special when it comes to food. From cozy coffee shops to brewpubs, steakhouses, and international culinary experiences, Laramie even had 5 restaurants featured on Guy Fieri's Diners, Drive-Ins, and Dives tv show.
2. Breweries
Are you a craft beer enthusiast or simply an enjoyer of great beer? Laramie has five high-quality local breweries, all situated within a few blocks of one another. Try one a day or make your own pub crawl as you explore new craft brews.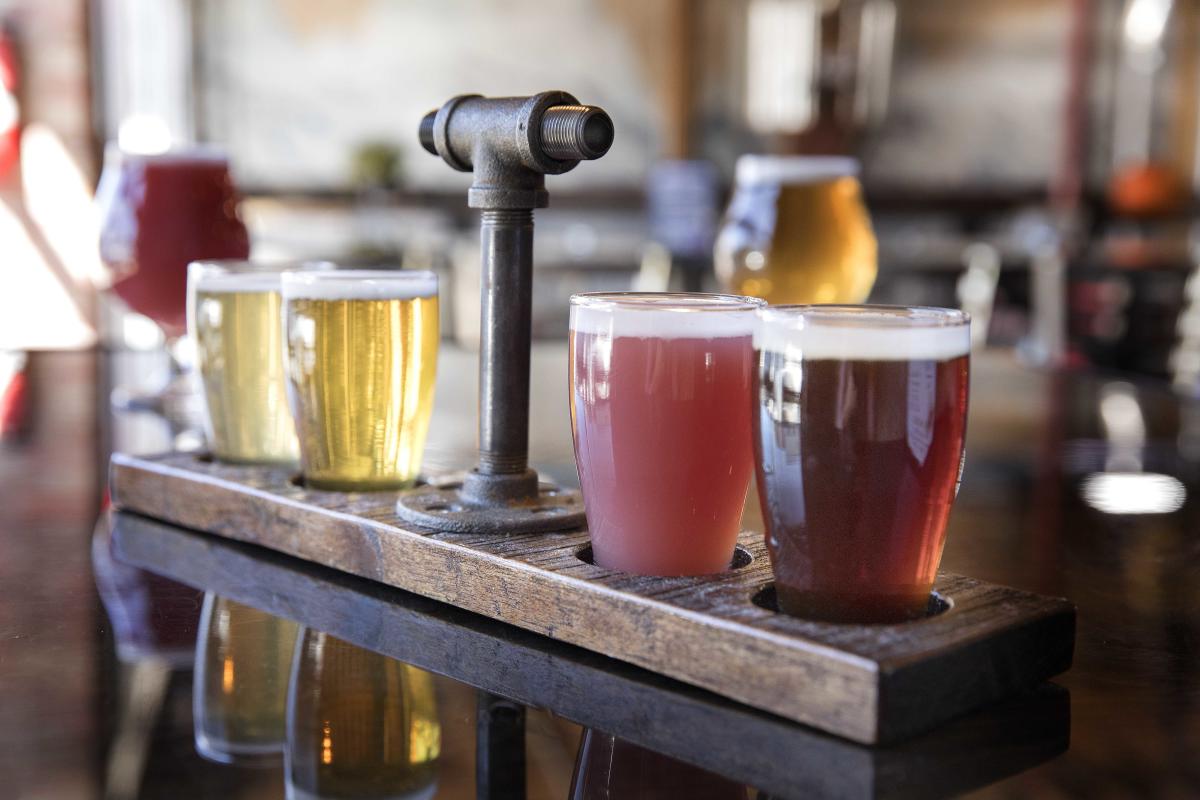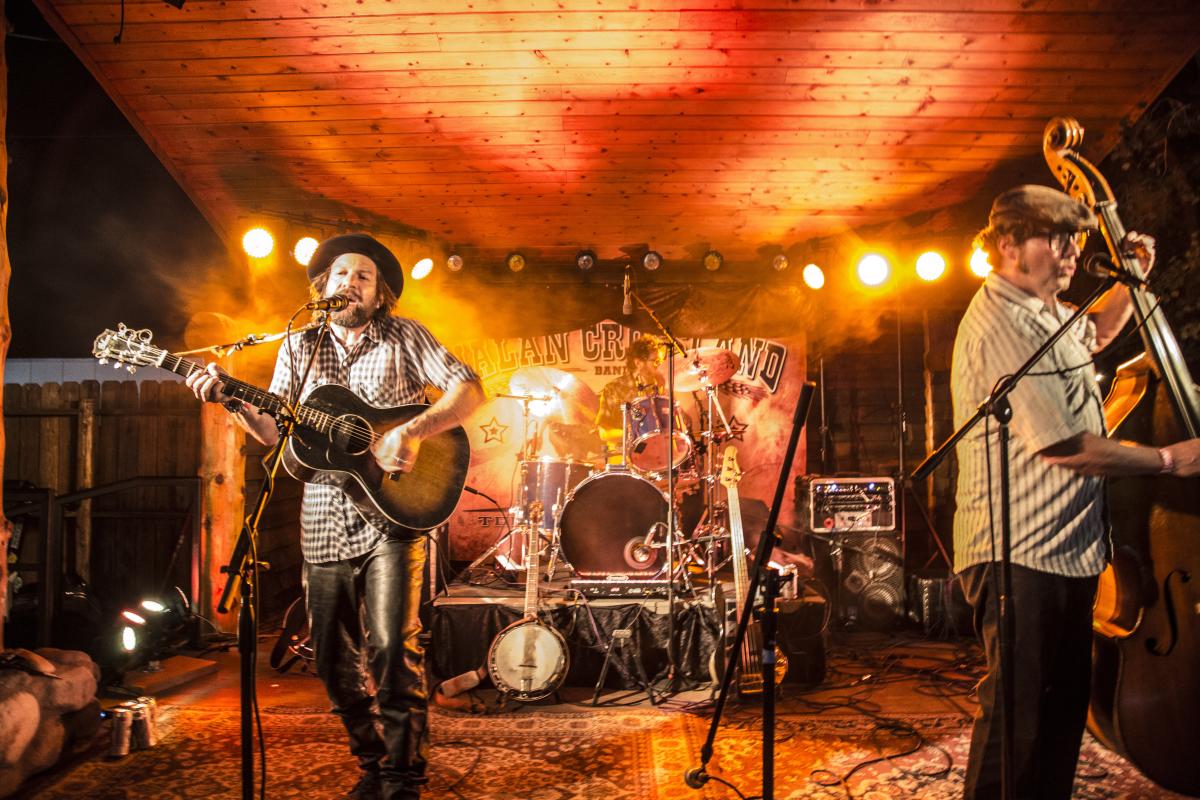 3. Events
There are more events than your conference happening in Laramie! Music, local markets, sports, film festivals, and block parties are just a few of the events that we see in the Laramie area.
Vibrant music from both local and national artists can be heard throughout the week in Laramie's and Centennial's smaller venues. From punk to alt-rock, folk, and country you will be introduced to some great new artists and local venues. You may want to try and extend your stay to fit in a Cowboys sports game if they are playing. Since the University of Wyoming is the only four-year college in Wyoming, the state is united in support of the UW football, basketball, and volleyball teams. While the festivals and local markets can be more seasonal, make sure you check the event's calendar to see if you will be in town during one or more of them.
4. Outdoor Recreation
No matter the season, Laradise is a paradise for outdoor recreation enthusiasts. Nestled between two mountain ranges, the Laramie area has an abundance of different recreational activities that you can experience. ATVing, Biking, Camping, Climbing, Hiking, Fishing, Golf, Horseback Riding, Hunting, Paddling, Snowshoeing, Skiing, Snowboarding, Snowmobiling, Stargazing, Wildlife Watching, and XC Skiing are all within an hour of Laramie. You can explore the alpine habitats of the Snowy Range, the meadows and pine/aspen forests of Happy Jack Recreation Area, the gravity-defying Sherman granite outcrops of Vedauwoo, Pilot Hill's shortgrass prairie foothills, and more.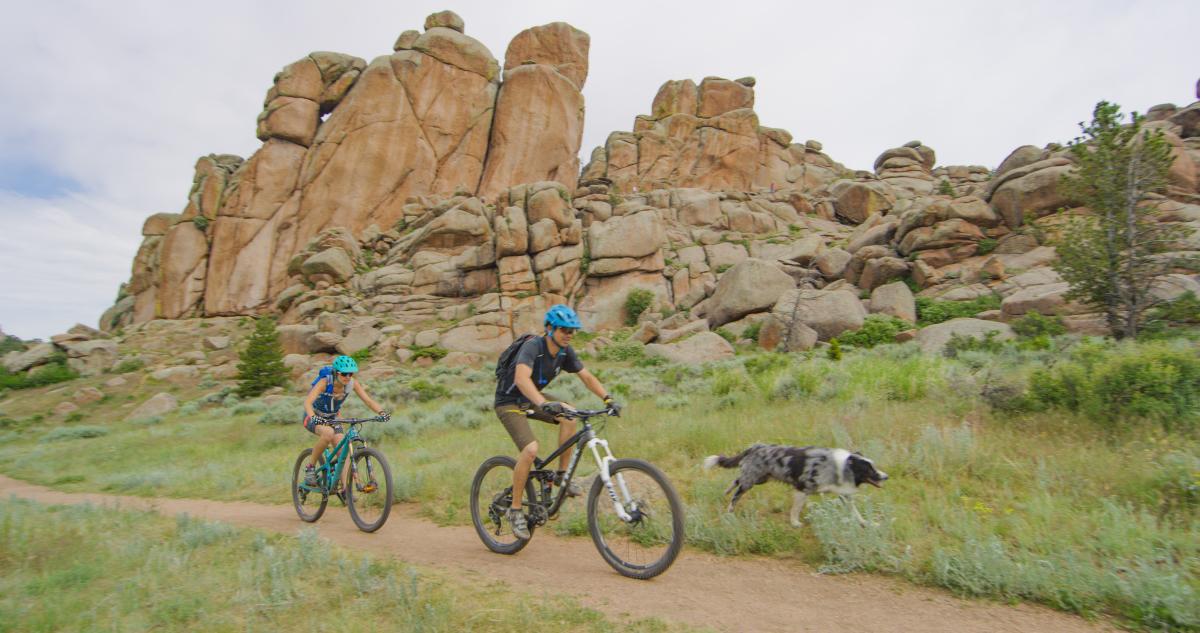 5. Activities
If you want a day to relax and enjoy Laramie after your conference and are looking for some low-key activities you can…
Take a walk along our river walk called the Laramie Greenbelt. It is 5.75 miles of paved trails so you can enjoy the nature sounds while potentially spotting a beaver, horse, fish, or bird. Most of the path meanders between treed and grassy areas, helping you escape the bustle for a time. Make time for a sunrise or sunset by heading to one of the local's favorite viewing spots like Vedauwoo, the train bridge, and Mirror Lake.
And/Or
Take a couple of hours to paint a piece of pottery at Art & Soul Pottery or make an art project and don't miss one of their wine nights. Their goal is to provide a fun, therapeutic atmosphere that cultivates creativity and lasting memories. Pop Up Paint Party also provides fun painting parties where you will receive instruction from the Paint Lady – you can schedule a private paint party with a group of family and friends. You can also order a cool art kit from 4th Street Studio and enjoy the experience of making Suminagashi Japanese Marbling Art, Glass Fusing, Paint Pour, or Bookbinding kits.
6. Shop
Local boutique shops promise hidden gems inside. With a multitude of shopping options, you'll have to take a day to explore downtown. While most shops open after 10 am, it gives you plenty of time to sleep in or enjoy a great cup of coffee downtown. There are many antique shops with finds from the old west, local art shops to browse and marvel over, outdoor gear shops to get ready for your next adventure, and of course – a local chocolate shop!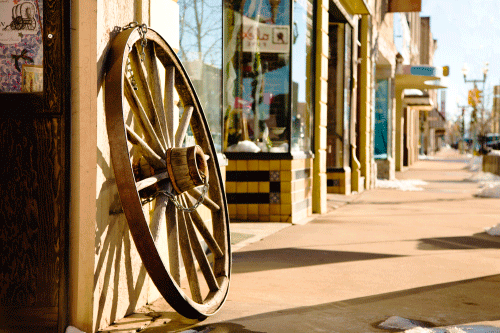 7. History
There is a rich western history in Laramie, WY that has been preserved through museums, storefronts, and events. See the only prison to have ever held Butch Cassidy (Wyoming Territorial and Historic Prison), a monument to a railroad ghost town, and a historic mansion. It is not only western history, you can also immerse yourself in the tropical atmosphere of the conservatory and view the art at the art museum.
8. Family Fun
If you have children, add on a family vacation to experience a western mountain town with plenty of dinosaur and cowboy/cowgirl fun. Your family can explore the area during the conference and then take you to some of their favorite places they have discovered after the conference ends. A mother of two wrote a great blog detailing where the local kids like to explore. Be sure to check it out as it goes through a wide variety of fun activities for all ages.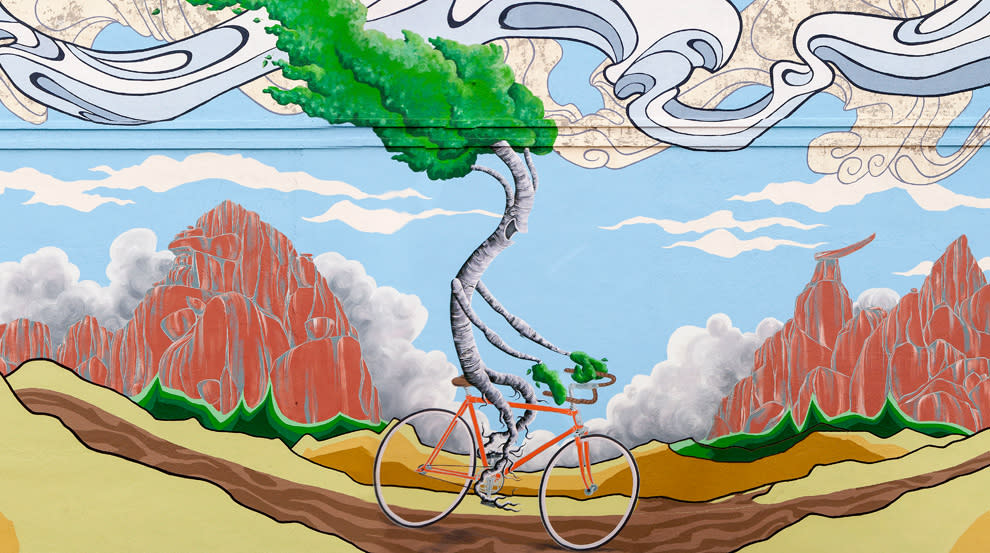 9. Murals
Splashes of color and vibrancy abound throughout downtown Laramie. Fantastical fish swim across brick walls and if you are lucky, you may get the treat of seeing a tree riding a bike (in mural form of course). These are just some of the many Laramie murals that reflect the cultural assets and values of the community. This feast for your eyes can be explored by going on the mural tour which takes you through local businesses, restaurants, and coffee shops.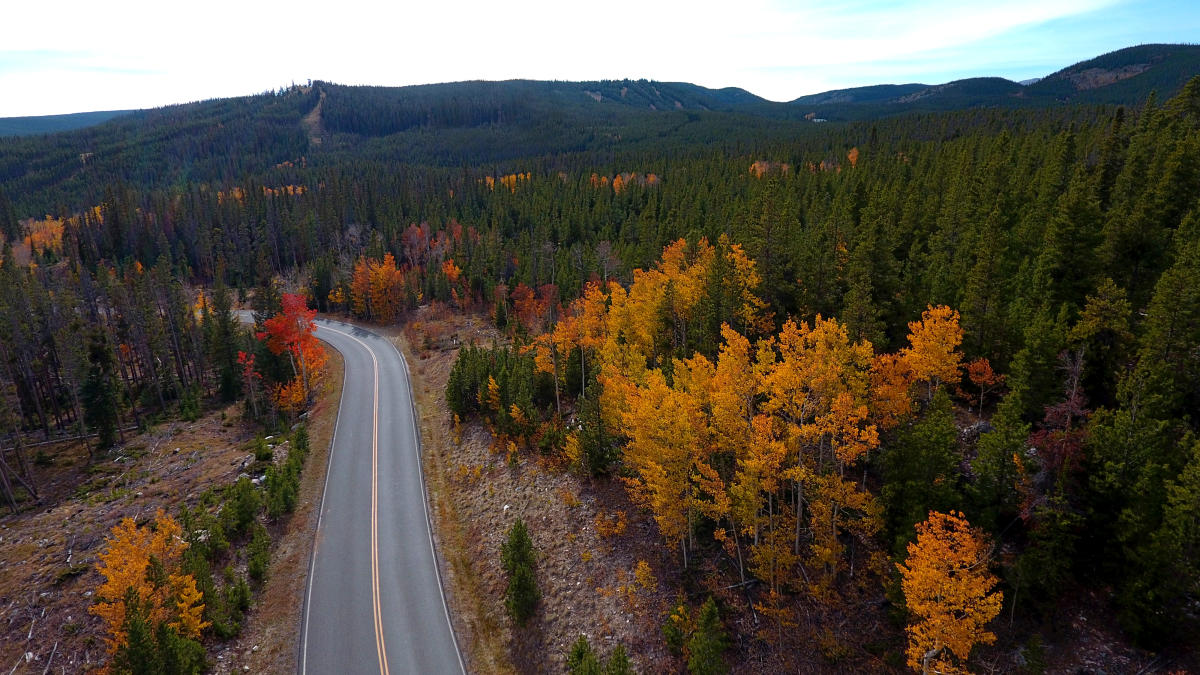 10. Scenic Drives
We believe in taking the scenic route where you never know what sight is awaiting you around the next bend and Wyoming's scenery is spectacular along these roads. 
Happy Jack Road – Where gravity-defying Vedauwoo rocks, Curt Gowdy State Park, and the sagebrush fields where antelope forage can be seen.
Sybille Canyon- Cutting through a wildlife refuge, in this canyon you could see elk, bison, and big horn sheep just off the roadside.
Old Lincoln Highway – Drive back through history along sections of America's first coast-to-coast highway where license plates and speed limits were not required for many years.