Wyoming is a truly wonderful place to live. It has stunning mountains and breathtaking vistas. It is home to diverse and plentiful wildlife. There are few places quite like it. Those considering moving to Wyoming might find a few aspects of life in the Equality State to be quite surprising. Read on to find out what it's really like to live in Wyoming.
Everything is Really Far Apart
Wide Open Wyoming Spaces (photo credit Leah Veinbergs)
One of the first things many people notice when they move to Wyoming is the distance between towns. This is especially true for people moving from densely populated areas of the country. However, even if you come from a small town, you may be surprised by how far you have to drive to find a Target (there are only three in the whole state). One of the benefits to this is that many local businesses are able to thrive and offer truly amazing products and services.
The reason towns and cities are so far apart in Wyoming is that, despite being the 10th largest state by land area, we have the lowest population.  Only 576,851 people call Wyoming home according to the 2020 census. So, if you are looking for wide-open spaces and plenty of peace and quiet, Wyoming might just be the place for you.
You may enjoy these posts about shopping and dining in Laramie: Local Favorites—Downtown Shopping, Laramie Locally Made Shopping Guide,  The Top 7 Laramie Restaurants With Outdoor Seating, Guy Fieri's DDD Favorites in Laramie, and 1-Day Shopping and Dining Itinerary.
The People Are Very Warm and Genuine
Another characteristic that stands out to many transplants or visitors from other parts of the country is how friendly the locals are. Many people are surprised by how strangers will strike up conversations in the grocery line and ranchers will wave or nod to each driver they pass on a country road.
People in Wyoming are also known for their willingness to help each other out. Whether it is assisting a neighbor or a stranded motorist, most Wyomingites won't hesitate to help someone in need.
Wyomingites Bleed Brown and Gold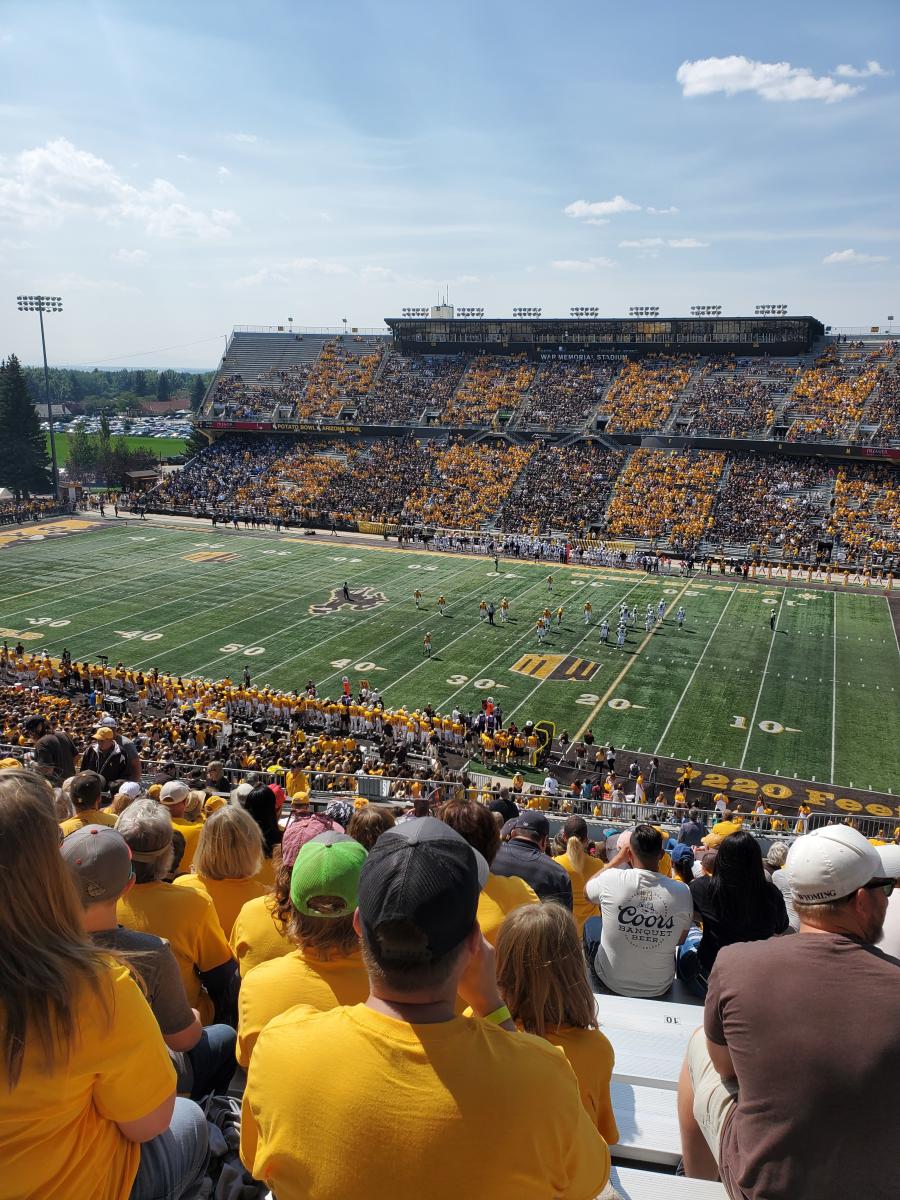 Go Pokes! (photo credit Leah Veinbergs)
Most states have a few popular sports teams, and fans everywhere are known to support their team through thick and thin. However, there are no fans quite like Cowboy fans. Wyoming has no professional NFL, NHL, MLB, or NBA teams. What we do have is the University of Wyoming Cowboys. The University of Wyoming (located in Laramie) is the state's only four-year university and is a Division 1 school. 
Football games and basketball games are big events in Laramie. War Memorial Stadium and Arena Auditorium fill with ardent fans decked out in brown and gold. Sports bars across the city (and state) host watch parties. There is no doubt that Wyoming has plenty of "Poke Pride!"
For more information about the University of Wyoming and Cowboy sports, check out these posts: Visiting Laramie on a University of Wyoming Game Day, Best Laramie Sports Bars for Watching Wyoming Cowboys Games, and How to Spend a Day on the University of Wyoming Campus.
Wyoming is Rich with the History of the West
Laramie Jubilee Days Parade 2022 (photo credit Leah Veinbergs)
No, people don't still ride their horses to the grocery store (well, not often). Nevertheless, Wyoming retains much of its western identity and historic charm. The open stretches between towns are ranchland that is still owned and operated by many of the families that were first to settle the frontier. Many highways and roads cross open range with loose stock (watch out for cows). And cowboys can still be seen riding into the sunset.
True to the cowboy spirit, rodeo is an important part of Wyoming culture. Annual rodeos like Sheridan Rodeo and  Laramie Jubilee Days are the biggest community events of the year. Cheyenne Frontier Days attracts visitors from all over the world to see the world-class rodeo, huge midway, and musical headliners.
Read more about Laramie's history and western celebrations: The Best Laramie History Museums & Sites, Laramie History Itinerary for Kids and Families, and Ultimate Laramie Jubilee Days Weekend.
Weather: Expect the Unexpected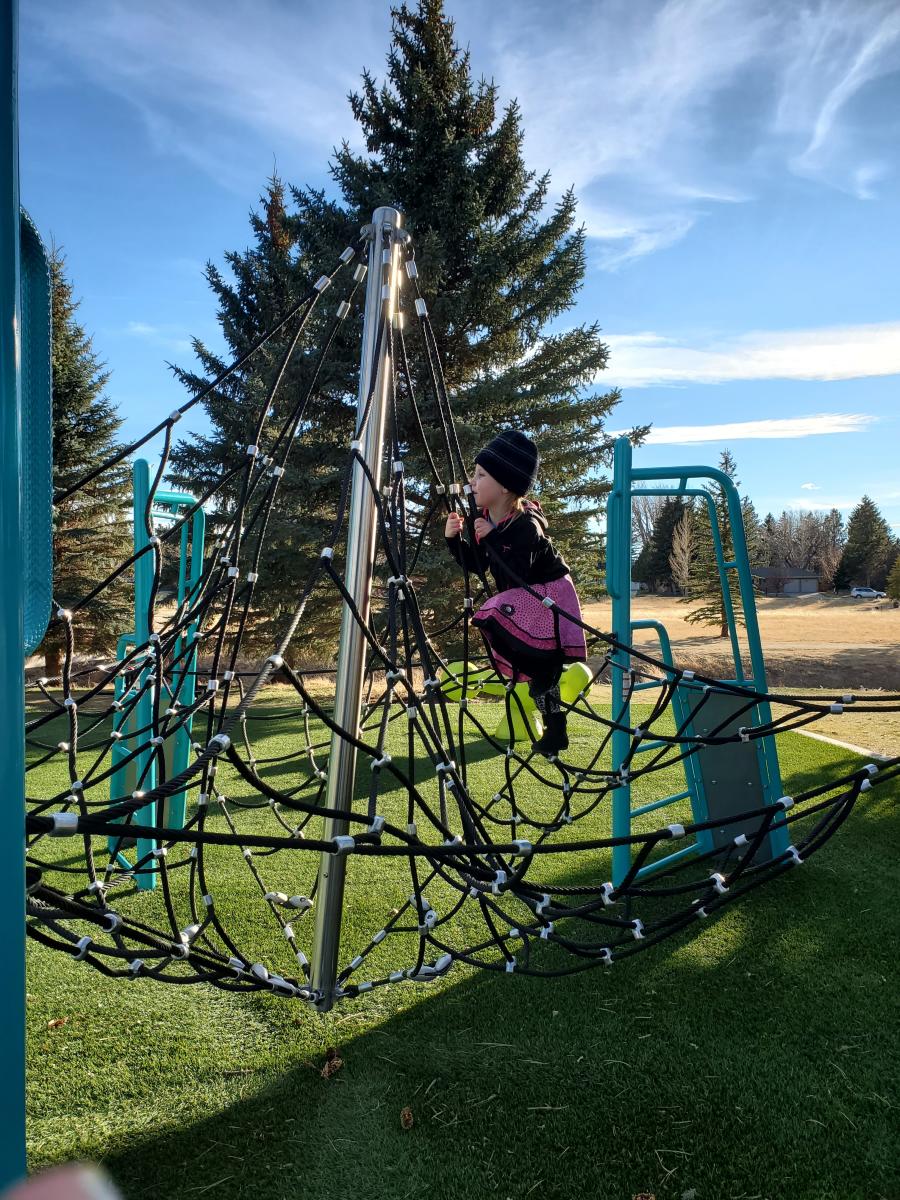 Indian Summer: A Beautiful November Day at LaPrele Park in Laramie (photo credit Leah Veinbergs)
The number one thing that surprises folks about the weather is the wind. Wyoming is one of the windiest places in the country. You get used to it, and it does tend to carry away bad weather pretty quickly.
Spring, unfortunately, is virtually non-existent. Especially at higher altitudes, like in Laramie, spring is just a series of snowstorms and melt-offs until at least May. This can make starting a garden a bit of a challenge, however, Laramie still manages to produce a vibrant display of late spring and summer flowers.
Many people don't expect Wyoming to have such absolutely gorgeous summers and falls. Summer is filled with almost endless sunny days and very low humidity. Heat with low humidity is much more comfortable. The beautiful summers turn into stunningly lovely (and long) falls with warm days and cool evenings.
Whatever you expect from winter in Wyoming, you're probably wrong. Folks from warm climates will most likely be unprepared for the cold and wind that invariably accompany a Wyoming winter. Be prepared to be snowed in periodically. It is not unusual for roads in Wyoming to close due to inclement weather. However, those coming from the midwest or east coast might be pleasantly surprised to discover that Wyoming winters are very sunny and we have frequent melt-offs throughout the season. Our first major snowfall might happen in September or October and our last in May, but there will be beautiful, warm, sunny days sprinkled throughout.
You may enjoy these posts on seasonal activities in Laramie: Snowy Range Scenic Byway in Spring, Summer Water Activities Itinerary for Families, Fall Activities, and  Top-5 Winter Experiences in Laramie.
Nature is Never Far Away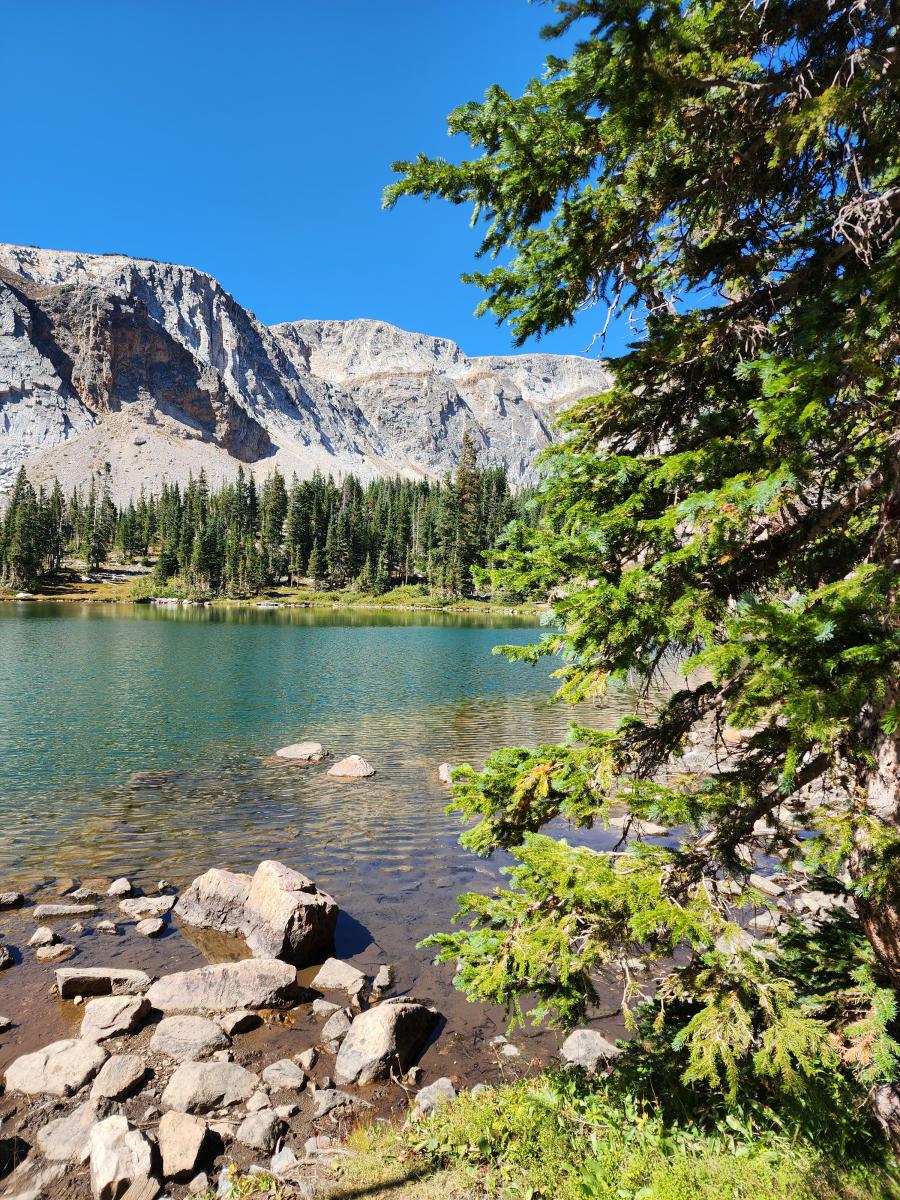 Beautiful Lake Marie in the Snowy Range Mountains Near Laramie (photo credit Leah Veinbergs)
The best part of Wyoming is, of course, the diverse landscape and wildlife. Wherever you are in Wyoming, nature isn't far away. Anywhere in Wyoming, you are never more than 15 minutes from the wide-open prairie or the breathtaking mountains. Even in the largest cities of Cheyenne and Casper, the lack of urban sprawl means that wonderful hiking, mountain biking, camping, skiing, hunting, or wildlife watching is only a quick trip.
Also, Wyoming's landscape is incredibly varied. The eastern portion of the state is similar to the Great Plains with seemingly endless stretches of golden prairie, teeming with pronghorn and prairie dogs.
The western half of the state, by contrast, is crowned with the granite peaks of mountain ranges that are part of the Rocky Mountains. The mountainous portion of the state also has gorgeous coniferous forests and clean, sparkling rivers. The mountains and forests are home to bears, mountain lions, deer, elk, and moose. The northwestern corner is particularly stunning and lush and is home to Grand Teton National Park and Yellowstone National Park—two absolute must-see, bucket list destinations. 
Where the prairie meets the mountains, as in near Laramie, the landscape is particularly interesting for its juxtaposition of natural features and the incredible rock formations in places like Vedauwoo Recreation Area. Laramie itself is a valley on the high plains -- surrounded by mountains, but itself a windswept prairie.
Read more about how to enjoy the natural beauty of Laramie: Best Places for Viewing Wildlife in the Laramie Area, Nature Activities for Families, Vedauwoo: Land of the Earth-born Spirit,  Local Favorites—Laramie Area Hiking Trails, and Local Favorites—Camping.
Clearly, Wyoming is a special place to live. Laramie brings together many of the best features of the state. Laramie has the small-town feel and proximity to nature that attracts so many to Wyoming in the first place. However, due in large part to the University of Wyoming, we have fantastic shopping, dining, and entertainment. We also are less than an hour from Cheyenne and about two hours from Denver. Laramie is situated where the high plains meet the Medicine Bow National Forest, giving us spectacular views, unique recreation opportunities, and a diversity of wildlife.
Though the weather may be challenging for some, and the lifestyle a little sleepier than a city pace, there is plenty to love about Wyoming. For those of us who fall in love with this amazing place, it is, as the locals call it, Laradise.
Considering relocating to Laramie? Read more: Top 10 FAQ's About Moving to Laramie, Laramie Chamber Business Alliance, Laramie Visitor's Guide, The Laramie Home Guide, Albany County School District, Medicine Bow Routt National Forest, and Wyoming Game & Fish.